REVOLUTION SAINTS
Revolution Saints
Frontiers Records





Review By Duane Vickers

Frontier Records has once again managed to give fans of real music a reason to go out and buy an album or CD. And for all of you that are fixed on downloading you can go to iTunes, but which ever your preference you'll want to get your hands on the debut album from REVOLUTION SAINTS, the latest "super group" made up of Deen Castronovo (JOURNEY, BAD ENGLISH, HARDLINE) on lead vocals and drums, Jack Blades (NIGHT RANGER, DAMN YANKEES) on vocals and bass and Doug Aldrich (DIO, WHITESNAKE, LION) on guitar.

There's no denying that this album has a heavy JOURNEY influence and even features JOURNEY lead vocalist Arnel Pineda on "You're Not Alone" and JOURNEY lead guitarist Neal Schon on "Way To The Sun" and given Castronovo's time in JOURNEY this is not surprising. What will come as a big surprise, are the lead vocals delivered by Castronovo on this album. He's always been hidden behind the drum kit in his previous bands but the cat is out of the bag now, he's a vocal talent. And while there may be a dose of JOURNEY here or there, Castronovo's vocal performance combined with the commanding presence of guitarist Doug Aldrich and bassist/vocalist Jack Blades' knack for delivering the big chorus, make no mistake, REVOLUTION SAINTS are here to Rock you!

There are a couple types of albums. There are the ones that have a couple of catchy songs that you play every now and then and then there are the ones that you wear out because they're loaded. Get ready to wear out REVOLUTION SAINTS! From the opening track "Back On My Trail" you are reminded that the good musicians didn't go away, they're still here doing what they've always done, delivering music that touches you and that you can identify with and blistering guitar solos that will melt your face off.

It's ironic that the second track is entitled "Turn Back Time" because if we could turn back time to say the mid 80's, "Turn Back Time" would be a smash radio hit. But who knows, maybe this album will force a lot of people out of the deep sleep they've been in and they'll wake up and realize that it's music like this that endures and stands the test of time.

This album works on so many levels, "Here Forever" is a power ballad that demonstrates that Castronovo can go from delivering a heartfelt lyric to a high energy vocal performance. It's a beautifully written song with changing tempos and Castronovo nails it.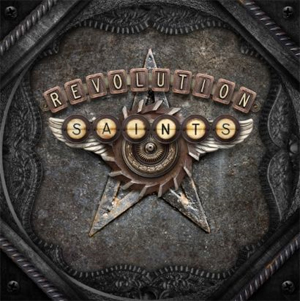 It's hard to believe that this is the first collaboration between these three and that this isn't their full time band because what they've delivered here is melodic rock at its best. "Locked Out Paradise", "Dream On" and "Stranger To The Life" are prime examples with well written lyrics, melodic verses and masterfully played guitar solos by Doug Aldrich.
I wasn't sure how REVOLUTION SAINTS would work when I heard that Jack Blades would not be on lead vocals, but knowing that everything Blades has signed off on has not only been a huge success but has also kept me wanting more sold me on the idea of REVOLUTION SAINTS. And so you take this Rock N Roll cocktail consisting of JOURNEY, NIGHT RANGER, WHITESNAKE, DIO, DAMN YANKEES, HARDLINE, BAD ENGLISH, LION and more, add in some fresh new ideas by three extremely talented and accomplished musicians and shake it up, you come up with REVOLUTION SAINTS. The star on this album however is Castronovo. If this is his coming out party as a vocalist, he's hit a grand slam and it's obvious he's poured his heart and soul into delivering a vocal performance on this album that not only is a perfect fit for the lyrics and music, but that won't soon be forgotten. On "To Mend A Broken Heart" Castronovo shows us his range, there's no denying that he is the real deal!
Fans of Doug Aldrich will immediately recognize his stamp on this album. Aldrich has never held back as a guitarist but he's out of the cage here with some of his finest work to date. And as with every project that he's associated himself with whether it's been as a song writer, player or producer, Jack Blades has managed yet again to elevate the play of everyone around him to make Revolution Saints what I feel will be the most talked about release for years to come.
There's undeniable chemistry with this trio, so unlike other recent "super group" releases, I sincerely hope that schedules allow for some live dates and a follow up album because the demand will be there for REVOLUTION SAINTS. Sometimes on a rare occasion an album comes out that tends to stay in your player forever, and you just wear it out because it's that good. Revolution Saints is such an album, find it and see what I'm talking about.
5.0 Out Of 5.0
Pre-order your own copy of Revolution Saints in the KNAC.COM More Store right HERE.