JULIET SIMMS
All Or Nothing
Self Released




Gritty, soulful and solid are words to describe All Or Nothing, the self-released EP by alternative rocker JULIET SIMMS. After breaking onto the scene, and having a stint on television's The Voice, Simms became the darling of the Vans Warped crowd and was featured as a backing vocalist on several tunes by BLACK VEIL BRIDES. But let's face it, she's not just Andy Biersack's (BLACK VEIL BRIDES) girlfriend. She has the chops to stand on her own and she has done just that with the songs on this record.

The CD features 6 songs and starts off strong with the title track. Simms can be classified as good, steady rock and roll. She's not pop, she's not metal. She's something in between. The CD debuted at #1 on the BillBoard New Alternative Artist chart and and at #4 on the Billboard Top New Artist chart.

The CD smoothly rolls into songs like "Mystified" and "Evangeline" and Simm's voice keeps the momentum going. She doesn't let up at all on this record and as she belts out the lyrics it's clear that she chose songs for the record that had deep, personal meaning for her. She has said more than once that she had to find her place, to maintain the confidence and defiance that she was looking for and the rebellious tone of her songs are testament to the heart she has put into making this record.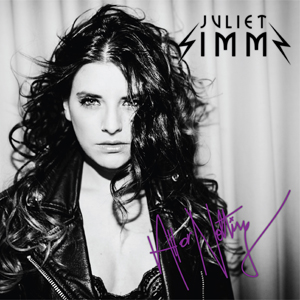 Solo artists may have some of the harshest criticisms because a voice is all he or she is showcasing, but Simms rises above that. She has great tone, her pitch is near perfect and her voice has character that intensifies with each tune on the EP.
"End Of The World" is a lovely ballad and "Before It Rains" is a heavier tune on the record, but the standout for a lot of fans will be the tune that features Biersack on backing vocals; "Not Broken Yet". This is a good song and Biersack does not overshadow Simms in any way. They work very well together and they have carried that working relationship over to her record in much the same way they work together on BVB tunes. You can hear the collaboration but it is very much her song.
While Simms' music is not all out heavy metal, she is a solid rocker, she will appeal to a variety of audiences and I have to give her 5 Stars on this one. Check out All Or Nothing. You'll be glad you did.
5.0 Out Of 5.0