SECRET OF BORIS Your Ghost


By Wendy Jasper, Black Metal Aficionado
Friday, March 6, 2015 @ 2:24 PM


| | | |
| --- | --- | --- |
| | | |
SECRET OF BORIS
Your Ghost
Cabo Records




Texas has long been home to some of the most talented bands in the music world and I find that I can firmly put Dallas' own SECRET OF BORIS in the category of up and comers to watch for. The band has done well regionally and over the past few years have been the protégé's of SAVATAGE and TRANS-SIBERIAN ORCHESTRA mastermind Jon Oliva.

The band's debut album, Your Ghost, hits shelves next week and it is a good, solid, rock and roll record. It has the right amount of heavy to fall into the metal category, but it also has enough catchy riffage to make it more radio friendly than your average metal band. There are even a few tunes with a pop appeal that may enable the band to cross over to the alternative playground.

Comprised of vocalist Cameron Taylor, guitarist Ryan Byrd, bassist Ryan Ragus and drummer Ryan Arthur, the band has an impressive body of work that has lead up to this release. I have had the opportunity to see the band live and if they continue in this vein they should do well.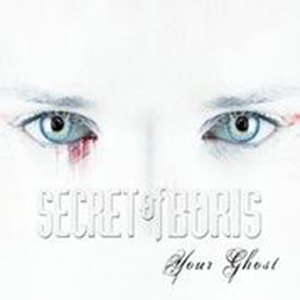 The CD leads off with the track "Virus" and it sets the tone for the rest of the album. It is fast paced and fun and transitions cleanly into the tune "Desert Blood". There is a total of twelve songs on the CD and some of the standouts are "Retro", "Something Else", "The Watcher" and the title track, "Your Ghost".
Each of the songs on the album offers something different which means that the band can't truly be categorized. Their live shows have been held in a number of different venues that cater to all styles of live music, so they have not backed themselves into a corner as far as genre.
The music is emotionally stimulating and with the intro to each song sending you into a different direction than the one before it, you find that they are innovative and energetic as well as intellectual and inspiring. If you like bands like A DAY TO REMEMBER, SLEEPING WITH SIRENS and MEMPHIS MAY FIRE from the newer set of bands, you will like this record. It has a lot to offer someone who is willing to branch out and check out something different.
Track Listing:
"Virus"
"Desert Blood "
"What You Became"
"Lost In A Daze"
"Retro"
"Fall Down"
"Something Else"
"The Difference"
"The Watcher"
"What Have You Done"
"From Now On"
"Your Ghost"
4.0 Out Of 5.0

Please log in to view RANTS