BLACK STAR RIDERS The Killer Instinct


By Alex Yarborough, Orlando Contributor
Tuesday, March 10, 2015 @ 4:55 PM


| | | |
| --- | --- | --- |
| | | |
BLACK STAR RIDERS
The Killer Instinct
2015 Nuclear Blast




In 2012, THIN LIZZY turned into BLACK STAR RIDERS, a band whose debut album All Hell Breaks Loose impressed me. BLACK STAR RIDERS consists of Scott Gorham (THIN LIZZY) on guitar, Ricky Warwick (ex-THE ALMIGHTY) on vocals, Damon Johnson (ex-BROTHER CANE) on guitar, Jimmy DeGrasso (ex-MEGADETH) on drums and new bassist Robbie Crane (ex-RATT, replacing Marco Mendoza). The members of this band have so many past bands to glean from, it boggles the mind; yet they have managed to come up with another fresh, inspired album of excellent rock n roll songs.

This review is for the 2-disc version of the new album, ,I>The Killer Instinct. Blasting out of the gates are a stellar trio of songs, all written by Warwick and Johnson; "The Killer Instinct", the upbeat title track featuring exquisite harmony guitars, "Bullet Blues", (which quickly became a favorite of mine with its LIZZY-like swagger and blistering solos by Gorham and Johnson), and "Finest Hour", an infectious and bonafide hit single. The exemplary ballad "Blindsided" follows, leading to "Through The Motions", which has a huge groove and ends with a killer Gorham solo. The rocker "Sex, Guns & Gasoline" weaves a great story and "Turn In Your Arms" brings back in the harmony guitars with attitude. There are hat tips and classic THIN LIZZY-isms here and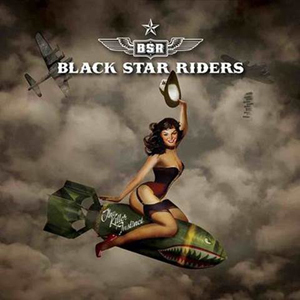 there, like the outstanding "Soldierstown", which bears a similar riff to THIN LIZZY's "Emerald" and features an interesting Celtic chant in the backing vocals. "Charlie I Gotta Go", another great song written by Warwick and Johnson, sounds like it could have come from the Johnny The Fox-era. The first disc ends with "You Little Liar", an instant classic that clocks in at over seven minutes. Disc two features two bonus tracks, the acoustic "Gabrielle" and electric "The Reckoning Day". Acoustic versions of "The Killer Instinct", "Blindsided", "Charlie I Gotta Go" and "Finest Hour" follow to round out disc two. Both discs combine for over 69 minutes of material.
Warwick's lyrics are even better than before; they are one of the vital components of this band. His phrasings and references to characters would make Phil Lynott proud. Also, Damon Johnson is allowed more room to shine, as his songwriting and playing are part of what makes The Killer Instinct so enjoyable. The production and engineering are full and crisp and the album sounds great on every system I played it on. The artwork and packaging are once again top-notch and a perfect fit for BLACK STAR RIDERS.
The Killer Instinct as a whole is an improved, tighter and catchier offering than the debut album. Listening to it immediately put a smile on my face. This CD was stuck in my player for quite a long time. I highly recommend it.
4.5 Out Of 5.0
Grab a copy of The Killer Instinct in the KNAC.COM More Store right HERE.

Please log in to view RANTS