DEATH, ABYSMAL DAWN, LOUDBLAST Live In Dublin, Ireland With Photos!


By Larry Petro, News Monkey
Sunday, March 15, 2015 @ 9:59 AM


| | | |
| --- | --- | --- |
| | | At Dublin's Academy Venue |
Review by Justin Ryan
To mark the occasion of the twentieth anniversary of their brilliant, Symbolic album, DEATH have embarked on a fourteen country tour of Europe which commenced in Bochum, Germany on the 27th of February. Show number five of a total of twenty four saw the band booked to play Dublin's Academy venue tonight (Tuesday, 3rd March, 2015). The original bill for tonight's event included support from MASSACRE and LOUDBLAST. However, advance notice was given of MASSACRE's non-appearance; they were replaced by Los Angeles' ABYSMAL DAWN.
The venue doors early opening time of 6pm resulted in a small crowd in attendance to see the set of Stéphane Buriez's LOUDBLAST. Taking the stage just before 7pm, the French four piece of Buriez (guitars, vocals), Drakhian(guitars), Alex Lenormand(bass) and Hervé Coquerel(drums) delivered a thirty five minute, seven song set of impressive thrash and death metal numbers. In promotion of their most recent studio effort, The Bitter Seed(2014), three of the seven songs played, namely "Bloody Oath", "Abstract God" and "From Dried Bones" were taken from that album.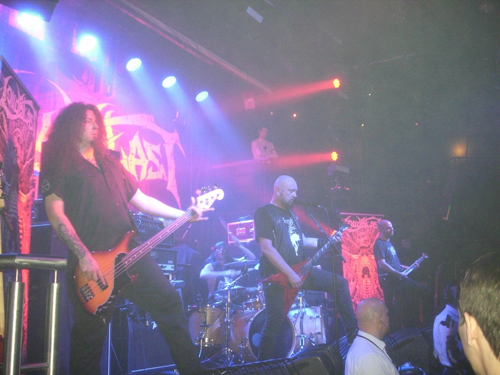 LOUDBLAST Setlist:
"Bloody Oath"
"Bitter Seed"
"Abstract God"
"From Dried Bones"
"Presumption Of Survival"
"Disquieting Beliefs"
"My Last Journey"
Main support on the night was handled by ABYSMAL DAWN, who recently released their fourth studio album, Obsolescence, on Relapse Records. Although not full, the venue had filled up considerably by their stage time of 7:45pm. Sole surviving original member, guitarist and vocalist Charles Elliott informed the audience before the third song of the night, "My Own Saviour", that it was their first time in Dublin, Ireland and judging by the quality of the material, it shouldn't be their last. Forty five minutes of one hundred mile an hour shredding riffs, unexpected time changes and tight guitar solos results in a sound which is best described as a heady mix of dark and light sonic brutality.

ABYSMAL DAWN Setlist:
"Perfecting Slavery"
"Perpetual Dormancy"
"My Own Savior"
"Rapture Renowned"
"By My Demons"
"The Inevitable Return To Darkness"
"In Service Of Time"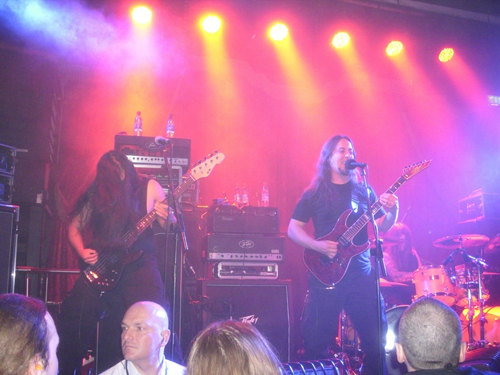 "Tonight is all about one man, his life and his life's work; Chuck Schuldiner", was how bassist Steve Di Giorgio paid tribute to the late, great Schuldiner in advance of performing "Overactive Imagination", the fourth song of the night. From his position on the left hand side of the stage, Di Giorgio's apt words were cheered loudly and then a deafening chant of "Chuck,Chuck,Chuck" emanated from the heaving floor standing section, one of many spine tingling moments throughout the night. The band had appeared onto the stage at 7:50pm and without a moments hesitation tore into "The Philosopher" from 1993's essential Individual Thought Patterns album. The atmosphere in the venue was absolutely electric from the moment the house lights were cut for the headliners. By the opening number's conclusion, the atmosphere had reached fever pitch. The band, who were clearly eager to harness the crowd's energy, continued into "Leprosy" and "Left To Die" without a pause. Coupled with serious facial expressions, the steely focus of the players on stage resulted in the flawless delivery of the sets first three tunes. This high standard of professionalism and musicianship was exhibited by the band throughout the evening, which resulted in an exceptional performance; a real desire by the band to do justice to Schuldiner's stunning musical legacy was quite apparent.

Eight songs and the concert's halfway mark was reached when the title track from the brilliant Spiritual Healing record was played. This track had been preceded by "Without Judgement", a song which contains a guitar solo of such staggering beauty that a round of applause broke out in the audience at the solo's conclusion, before the song had actually finished. A goose bump inducing moment that would surely have brought a smile to Chuck's face. Two in a row, namely "Lack Of Comprehension" and "Flattening Of Emotions" from 1991's Human album followed. Before performing the latter, Di Giorgio took time to wish Eric Greif a speedy recovery from his present illness. "Eric would have loved to have been here tonight. Dublin is a favorite city of his". Without stating why, Greif recently has said via DEATH's Facebook page that it will be quite some time before DEATH tours again. The reasons for this may be business based but had he been well enough to witness the incredible vibe at tonight's showhe'd surely do everything he could to tour DEATH's material on at least a semi-regular basis. There would be no better tribute to Chuck than that. Following "Flattening Of Emotions", vocalist and guitarist Max Phelps who, along with the rest of the band must be credited with a job well done on the night, made way for Steffen Kummerer. Kummerer has been a touring member of DEATH since 2012 and stood in for Phelps' vocal and guitar duties for three songs, including, "Bite The Pain", the only track from the album, The Sound Of Perseverance, played on the night.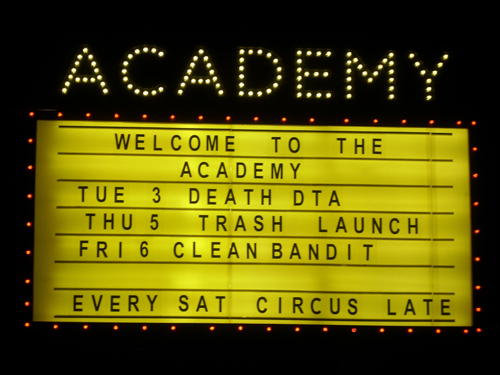 A four song encore concluded the night's memorable show. Before "Crystal Mountain" was played, Di Giorgio took time to comment on the crowd's reaction and participation in the concert. "What a crowd, what adrenaline. Dublin, the energy and appreciation you've shown us here tonight is why it means so much for us to be part of this band. This year is the twentieth anniversary of Symbolic and I can see quite a number of faces in the crowd here tonight who wouldn't even have been born when that record came out, it's absolutely incredible that you're here tonight. The storming "Pull The Plug" from Leprosy concluded the incredible nineteen song show which ended at approximately 11pm.
DEATH Setlist:
"The Philosopher"
"Leprosy"
"Left To Die"
"Suicide Machine"
"Overactive Imagination"
"Trapped In A Corner"
"1,000 Eyes"
"Without Judgement"
"Spiritual Healing"
"Within The Mind"
"Lack Of Comprehension"
"Flattening Of Emotions"
"Symbolic"
"Zero Tolerance"
"Bite The Pain"
"Zombie Ritual"
"Baptized In Blood"
"Crystal Mountain"
"Pull The Plug"
Check out some more photos from the show!
All Photos By Justin Ryan

Please log in to view RANTS




YNGWIE J. MALMSTEEN, GLENN HUGHES In Worcester, MA With Photos!

ALICE COOPER Road

RAT ROD Four On The Floor

GIRLSCHOOL WTFortyFive?

DANKO JONES Electric Sounds

AVATAR, ORBIT CULTURE, THE NATIVE HOWL In Houston, TX With Photos!

THE DEAD DAISIES In Hollywood, CA With Photos!

KILL DEVIL HILL Seas Of Oblivion

THE DEAD DAISIES In Ottawa, Canada

MAMMOTH WVH In Santa Ana, CA

UADA Crepuscule Natura

BARONESS Stone

KAMELOT, BATTLE BEAST, XANDRIA In Houston, TX With Photos!

CRYPTOPSY As Gomorrah Burns

RAY ALDER II

GHOST, AMON AMARTH In Houston, TX With Photos!

U.D.O. Touchdown

DETHKLOK Dethalbum IV

STEVE VAI In Ottawa, Canada

PANTERA, LAMB OF GOD In Houston, TX With Photos!