PIERCE THE VEIL, SLEEPING WITH SIRENS Live In Houston, Texas With Photos!


By Larry Petro, News Monkey
Sunday, March 15, 2015 @ 1:13 PM


| | | |
| --- | --- | --- |
| | | Sold Out Show At Bayou Music Center |
In late February two young and up-and-coming bands, PIERCE THE VEIL and SLEEPING WITH SIRENS, made a swing through Texas. If you're old enough to have teenagers, particulars daughters, who are into today's modern hard rock then chances are they and/or you have heard of these bands. Let's face it Pure Rockers, the bands we loved and grew up listening to aren't getting any younger and quite a few of them have already retired, broken up or are just touring the nostalgia circuit these days. PTV and SWS are carrying the torch into a generation and, like it or not, they're here to stay. The bands rolled into Houston at the end of what was already the Second Leg of their U.S. co-headlining World Tour. The band will be headed overseas by the time you read this review. Both bands are touring with new albums on the way and, as with the last time PIERCE THE VEIL played in Houston, the show was sold out well in advance, as was most if not all of the tour thus far.

In a testimony to the popularity and drawing power that these two bands carry one only has to see what I witnessed on this particular day. The Bayou Music Center where this concert was held is in the heart of downtown Houston and it sits at the corner of one of the city blocks, with a variety of different clubs and restaurants lined around the whole block, with the Houston Hard Rock Cafe sitting right next door. When I arrived at 3pm for the meet-n-greet at 4, the line of kids waiting to enter the venue stretched to the end of the block, even though the venue doors weren't scheduled to open until 6. There was also another line for people doing the meet-n-greet and never before had I seen so many people for one that was paid. All told there were probably about 100.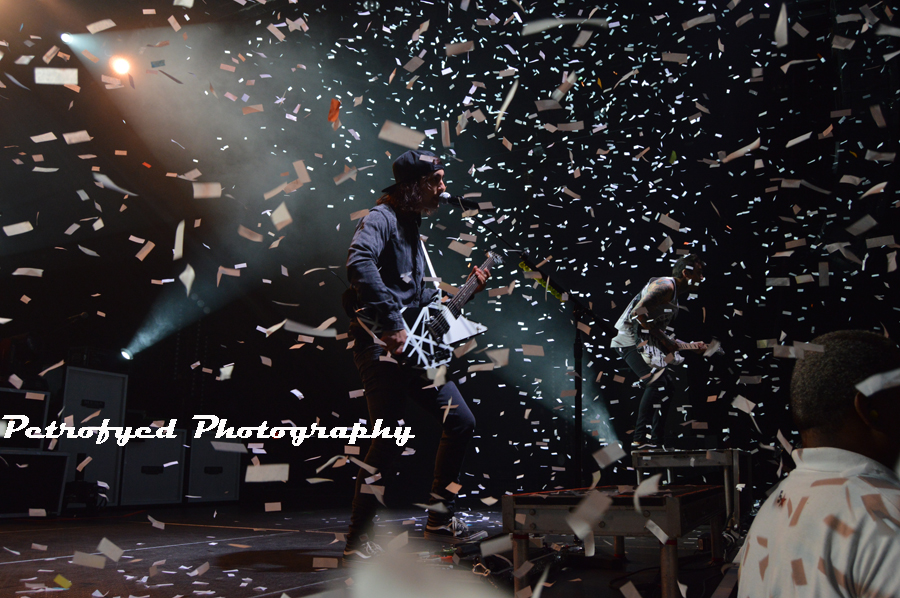 The meet-n-greet was done in a very nice, organized fashion and once inside, unbeknownst to me, the m-n-g was with both bands, not just PTV which I had assumed it was. They had a curtained-off section inside the venue set up and once inside you could see a backdrop for SLEEPING WITH SIRENS on one side with the band standing in front of it and then right next to it was another backdrop for PIERCE THE VEIL with that band also in front it theirs. Both bands, with the exception of SWS vocalist Kellin Quinn, who looked rather disinterested in the whole affair, were very friendly and personable, smiling, cutting up and taking pics with everyone who came through. It was announced as we were in line that there would be no signing of things, which seemed pretty evident based on the time it finally got started, the sheer number of people involved and the time the venue doors were set to open. However, to make up for that we were all given a duel band poster that was signed by both, a very nice bonus. Once we had our photo opportunity we didn't have to go back outside to wait in line with the throng of others as we were allowed to be the first to enter the venue.
Up until the night of the show I thought there were only the two bands on this bill. Not so, as there were two other bands in tow. The first band up on this night was a female-fronted rock band from the East Coast by the name of PVRIS (pronounced PARIS). I had never heard of them before but that must be my age showing as a good portion of the crowd not only had heard of them, but were familiar with their music. I actually ended up missing their set but heard them soundchecking while the meet-n-greet was going on and they sounded pretty good.
The second additional band on this tour was MALLORY KNOX, an alternative group from the UK who on this tour were making their first trip to the United States. The band has two albums to their credit, 2013's Signals and Asymmetry, which was released last year. These guys gave a very nice performance in the first Houston appearance, playing about 30 minutes or so with a 7 song set that included the tunes "Wake Up", "Getaway", "Death Rattle" and set closer "Lighthouse". After this leg of the tour ended it was announced that MALLORY KNOX had been added to this year's Vans Warped Tour.
After another brief set changeover it was time for SLEEPING WITH SIRENS. They took the stormed the stage, kicking off their 11 song, hour long set with "Kick Me", from the band's brand new album Madness, which was comes out March 17th. The group's previous effort, 2013's Feel, topped out at #3 on the Top 200 chart and it's probably a given that Madness will enjoy similar success. The shriek of teenage girls was deafening as they started things off and thankfully no glass containers are allowed inside the venue, for if they had, they would have been shattered by the high pitched screams. The band, comprised of the previously mentioned vocalist Kellin Quinn, guitarists Nick Martin and Jack Fowler, bassist Justin Hills and drummer Gabe Barham, were firing on all cylinders, no doubt having their set routine down to a fine art by this time in the tour as they forged through a set of tunes like "Here We Go", "Low", "A Trophy Father's Trophy Son" and "We Like It Loud". The set even included a cover of the GOO GOO DOLLS hit, "Iris", before closing things out with the hit "If You Can't Hang". There was some occasional confetti flying and lots of fog pillars shooting off throughout the set and the crowd roared with every opportunity presented to them. My first time to catch SLEEPING WITH SIRENS live and I wasn't disappointed. A very nice job from these upstarts.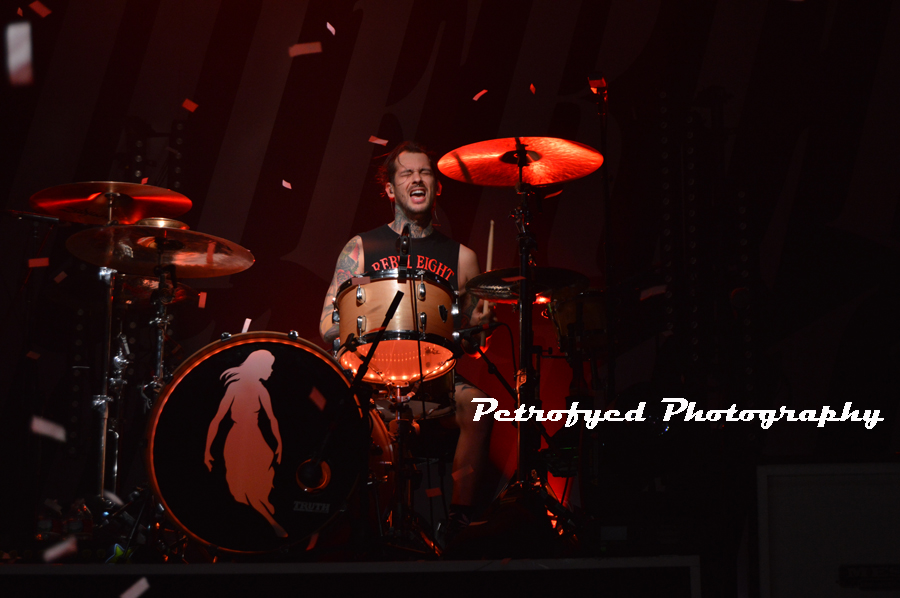 Setlist:
"Kick Me"
"Congratulations"
"Here We Go"
"Low"
"A Trophy Father's Trophy Son"
"Scene Two: Roger Rabbit"
"Iris" (GOO GOO DOLLS Cover)
"Go Go Go"
"We Like It Loud"
"If I'm James Dean, You're Audrey Hepburn"
"If You Can't Hang"
During the set changeover, what could have been a disaster occurred when the bar holding the PTV front-of-stage curtain became disconnected from the lighting truss it was hooked to and dropped to the venue floor, narrowly missing falling into the crowd but just a few feet. With no harm actually done, it was reattached and the changeover continued without further incident. It was then time for tonight's headliners, PIERCE THE VEIL. PTV, a post-hardcore act from San Diego, also has a new album coming out, though at press time it is still unknown what the exact release date will be. When I interviewed PTV bassist Jaime Preciado back in September (interview HERE) the band's singer, Vic Fuentes, was in the studio working on his vocal tracks and the anticipated release was supposed to be early 2015. The band's last album, Collide With The Sky, was their breakthrough effort, producing the smash hit single, "King For A Day", the video for which has amassed a whopping near 45 million views since its August 2012 release and features SWS vocalist Kellin Quinn as well.

We photographers had to wait to the side for the band to take the stage and the curtain drop for us to take our positions and when the silhouettes of the band's members took form behind the curtain the crowd erupted into screams once more. This was one night I actually could have used earplugs. The curtain dropped and the band launched into their 11 songs set with "May These Noises Startle You In Your Sleep Tonight", off of the aforementioned Collide With The Sky album. The show started with confetti cannons going off full blast from the front of the stage as well as from the sound board area and by mid-song the confetti was so thick you could hardly see the band onstage (see pics below)! The band, bassist Jaime Preciado, vocalist Vic Fuentes, drummer and brother of Vic, Mike Fuentes and guitarist Tony Perry (who celebrated a birthday just days prior) were absolutely on fire as they rolled through their stage time. The most animated of the guys had to be bassist Preciado, who quite often was seen hopping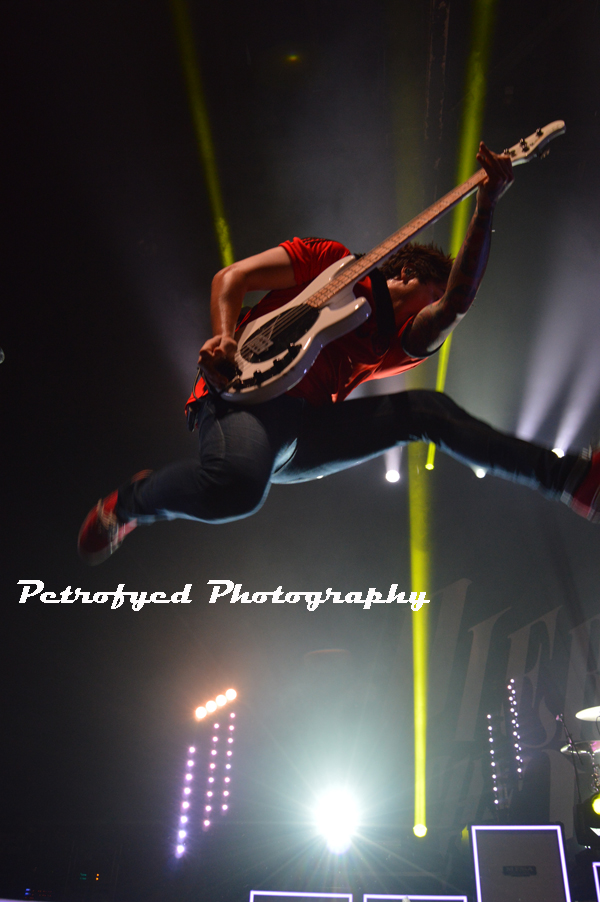 around and jumping through the air ala Eddie Van Halen-style. From my interview with Perciado it was mentioned that the band would be performing a song or two from the forthcoming album but that was not the case, at least on this night as 8 of the band's 11 songs were from the Collide With The Sky release, such as "Hell Above", "Bulls In The Bronx" and "Props & Mayhem", and the other 3 were from the 2010 album, Selfish Machines, including "Bulletproof Love". The only slowdown in the show came during the song "I'm Low On Gas & You Need A Jacket", which saw Vic Fuentes onstage alone with an acoustic guitar. Then things revved back up again. Before one song (I can't remember which one) Vic Fuentes asked for a volunteer from the audience to come up onstage for him to sing the song to. Some lucky teenage girl named Jill was the lucky selectee and was serenaded by Fuentes before the packed house. PVRIS vocalist Lyndsey Gunnulfsen joined the group during the song "Hold On Till May" and for PIERCE THE VEIL's encore, "King For A Day", SWS frontman Kellin Quinn joined in the festivities. The band was tight and having a blast like the always do and could have played another hour and still would have had the crowd clamoring for more. A great set from these guys!
Setlist:
"May These Noises Startle You In Your Sleep Tonight"
"Hell Above"
"Caraphernelia"
"Bulls In The Bronx"
"Disasterology"
"Props & Mayhem"
"Hold On Till May"
"I'm Low On Gas & You Need A Jacket" (acoustic)
"A Match Into Water"
"Bulletproof Love"
Encore: Check out some more photos from the show!
All Photos By Larry Petro




Please log in to view RANTS

If you don't have a username, click here to create an account!






BLACK LABEL SOCIETY, PRONG And OBITUARY In Portland, OR With Photos!

GEMINI SYNDROME 3rd Degree - The Raising

DORO/WARLOCK Triumph And Agony Live

BETWEEN WORLDS Between Worlds

ALCATRAZZ V

BEHEMOTH Sventevith (Storming Near the Baltic) Reissue

ALICE COOPER, ACE FREHLEY In Nashville, TN With Photos!

CARNIFEX Graveside Confessions

BLOOD RED THRONE Imperial Congregation

GUS G. Quantum Leap

BILLY IDOL The Roadside EP

AVATAR, MAGIC SWORD In Houston, TX With Photos!

APRIL WINE, MONKEYJUNK At The Ottawa Bluesfest

MINISTRY Moral Hygiene

CRYPTA Echoes Of The Soul

SKILLET In Houston, TX With Photos!

Immortal Axes: Guitars That Rock Book

IRON MAIDEN Senjutsu

GRINDER BLUES El Dos

GEORGE LYNCH Seamless Review #2

IN THIS MOMENT, BLACK VEIL BRIDES In Houston, TX With Photos!

WARLANDO Festival 2021 Photo Gallery

KISS In Ridgefield, WA With Photos!

LAURENNE/LOUHIMO The Reckoning

TREMONTI Marching In Time

ROCKLAHOMA 2021 Day 3 Photo Gallery

ROCKLAHOMA 2021 Day 2 Photo Gallery

ROCKLAHOMA 2021 Day 1 Photo Gallery

CARCASS Torn Arteries

SETH La Morsure de Christ

GEORGE LYNCH Seamless