IMPELLITTERI Venom


By Alex Yarborough, Orlando Contributor
Wednesday, March 18, 2015 @ 2:03 PM


| | | |
| --- | --- | --- |
| | | |
IMPELLITTERI
Venom
Frontiers Records




"It's time to rock— let's tear it up!" With their tenth album, IMPELLITTERI raises a fist high and throws down the gauntlet. How does a band that has been around for almost 30 years—and has not released an album in nearly six years—produce an album with this intensity? Their 2009 release Wicked Maiden set the bar high, but IMPELLITTERI is back with a vengeance; Venom tops Wicked Maiden and then shreds the competition.

In case you aren't aware of who this band is, let me just describe them like this: they are the masters at what they do. Vocalist Rob Rock has sung on over 30 albums since 1986. His work has been consistently great. His lyrics on Venom are uplifting yet downright venomous at times. He is known as "The Voice of Melodic Metal" for a good reason. Guitarist Chris Impellitteri has laid down quality shred-work for his band on all their releases, and he refuses to slow down his playing. To that end, he spent the last three years developing a new picking technique that allowed him to play with even greater clarity and speed. James Pulli is a monster on the bass; his skills are on full display here. Drummer Glen Sobel does not play on Venom. (He is currently kicking ass for Alice Cooper). Fortunately, drum god Jon Dette stepped in to replace Glen. Who's he? Well, he has played drums for SLAYER, ANTHRAX, TESTAMENT, HEATHEN and ICED EARTH, to name a few, and he also played with Chris in ANIMETAL USA. They let a thrash metal drummer loose and his playing is phenomenal on this album!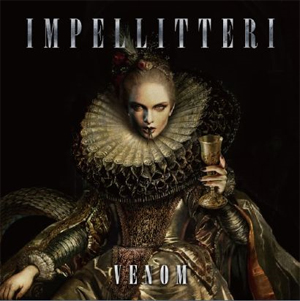 From the opening countdown and scream of "Venom!!!!", this album grips you by the throat and does not let go. It begs to be cranked to the heavens, and beyond. My stereo simply would not go loud enough. The title track is an instant classic, featuring Rob's howling vitriol over Chris' insane riff and blistering solo. "Empire Of Lies" features the trademark IMPELLITTERI chorus. Check out the solo on this track as well. "We Own The Night" is a standout track; the statement this song makes cannot be refuted. "Nightmare" features some of Rob's best vocal work on the album. "Face The Enemy" is a great track, which probably has the most potential as a single. "Domino Theory" is one of the heaviest songs and features one of Chris' nastiest riffs and solos. Rob also hits his highest note on this song. "Jehova", "Holding On" and "Time Machine" all keep the tempo way up and your head banging. "Rise" is another standout track, and a solid anthem; it is probably my favorite track on the entire album.
The songs are all in the three to four minute range in length. The production is clean, crisp and well done. The incredible album artwork is the cherry on top. Without a doubt, Venom is a true winner. Fans of real Heavy Metal, who love up-tempo melodic vocals and shredding guitar work, will no doubt find what they desire on Venom. This album is a masterstroke, it will easily contend for my favorite album of 2015. Venom will be released on Frontiers Records with two bonus tracks, so be sure to look for that release.
5.0 Out Of 5.0
Pre-Order your copy of Venom in the KNAC.COM more Store right HERE




Please log in to view RANTS

If you don't have a username, click here to create an account!