HAMMERFALL (R)Evolution


By Cary Gordon, Metal Geek
Thursday, March 19, 2015 @ 1:48 PM


| | | |
| --- | --- | --- |
| | | |
HAMMERFALL
(R)Evolution
Nuclear Blast




Hailing from Sweden, HAMMERFALL is one of those bands that you either get right away or you don't. Personally, it took quite a number of years for to actually "get" them, and then it was like a light bulb switched on. I rabidly devoured their entire catalog, and they quickly became a favorite. It was with great excitement I was looking forward to their new album, (R)Evolution, and what it delivers is what you would expect, and I mean that in the best possible way. In no way is this album (R)Evolutionary, but it is definitely a fan pleasing album, and one that will satisfy the hungry Power Metal fan. It definitely satisfies your itch for new HAMMERFALL!

After a 16 year absence, producer Fredrik Nordstrom is back at the helm, and it feels like a revitalized band, and sort of back to basics. The return of the mascot character, Hector is a welcome one, and leads back to a rekindled flame with cover artist Andreas Marschall and it all leads full circle into the first track on the album. The band is firing on all cylinders, with Joacim Cans taking stage front and center with his powerful melodic vocals that never overpower the rest of the band. The twin guitars of Oscar Drunjak and Pontus Norgen are some of the best in the genre, and the new drummer David Wallin fits the band like a glove. The choruses are big and catchy, and the guitar work is intricate and well thought out.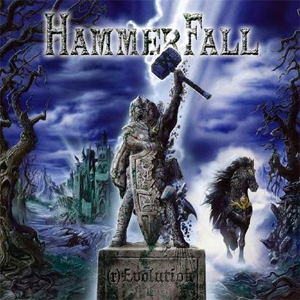 The album kicks off in a retro way with the track, "Hector's Hymn". This is a throwback to all the previous HAMMERFALL albums, and is a nod to the fans that have stuck around during their career. Using previous album titles and song titles to make an homage to their past career really works with the band returning to their past with artwork and producer for their new album. Other standout tracks include "Bushido", which according to songwriter Oskar Drunjak is a continuation of an older song, "The Way Of The Warrior". The geek in me loves the almost acoustic ballady "Winter Is Coming" which is based on the Game Of Thrones series of books, and Joacim's vocals really soar on this particular track.
Just like with every album, there are always a few tracks that I can live without, and this one is no different. "Live Life Loud" is an attempt at an anthemic power house of a song that just falls a little flat.
The one thing about HAMMERFALL that always helped them stand out from the rest of their power metal brethren is their guitar riffage. When the band first started out, they were joined by IN FLAMES guitarist Jesper Stromblad, and he brought that chugging melodic death metal style to a Power Metal band, and it always worked. This is one of those difficult albums to pull out your favorite tracks. While some of their albums failed, even though there were always stand out tracks, (R)Evolution is a true return to form, and one I never tire of listening to. What you have here is another collection of catchy anthemic Heavy Metal songs that will leave you humming long after the album is done, and that in itself, is what true Heavy Metal is all about!
4.5 Out Of 5.0
Grab a copy of (R)Evolution in the KNAC.COM More Store right HERE.




Please log in to view RANTS

If you don't have a username, click here to create an account!