MIKE TRAMP/RON KEEL Live In Houston, Texas With Photos!


By Larry Petro, News Monkey
Tuesday, April 14, 2015 @ 5:48 PM


| | | |
| --- | --- | --- |
| | | Double Acoustic Set Satisfies The Concert Pub North |
On Saturday, April 11, fans at the Concert Pub North in Houston, Texas got a rare chance to rest their heads and necks as they were treated to a full night of acoustic material from former WHITE LION frontman Mike Tramp and KEEL namesake, Ron Keel. No drums, no electric guitars or bass, just each guy and his acoustic guitar, each playing a set of songs from their respective careers in their simplest form. The atmosphere was very relaxed and laid back in an almost storyteller-type environment.

Singer Michael McVey and guitarist Mark Bankston, otherwise known as half of the Houston rock quartet TAME FURY, were added to the show at the last minute and seeing as how, even though the full band has opened for a number of national acts around the city, they had never played acoustically before, no one was exactly sure what to expect, including Mike and Mark themselves.

Now, before I mention their set I must digress for a moment to relate this story: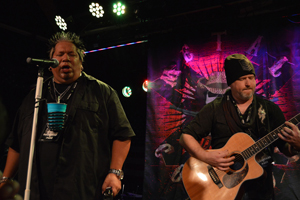 TAME FURY's drummer, Phred Williams, has been in ICU at a local hospital now for a couple of months waiting on a heart transplant after suffering a heart attack on his way home from a gig. He has wanted to meet Ron Keel since he was 15 and was really looking forward to attending the show, but for obvious reasons it just wasn't going to happen. Keel, who was already in Houston the day before the show for a private event, had heard about Phred's plight through his (Phred's) best friend and, in an incredible act of kindness, took time out of his day to go to the hospital and pay Phred a surprise visit!
Now, back to the acoustic set by TAME FURY, the band did quite well for having never played acoustically before, with the crowd that was in attendence giving them encouragement along the way. After about their third number they took a few minutes to address the crowd and let them know how their drummer was doing and then proceeded to tell the story of Ron's surprise visit to Phred the day before, eliciting a nice cheer from the crowd. Vocalist McVey then picked up his cell phone to call his drummer from the stage while he was in the hospital so that he could hear the crowd and feel like he was there. Holding the phone to his microphone the crowd could hear the brief conversation going on between the two when Keel, hearing what was transpiring from the comforts of the Green Room, came out into the club, through the crowd and up to the front of the stage where he took the cell phone and lifted Phred's spirits yet again by engaging in another conversation with him, much to the delight of those who witnessed another classy move by Keel and roared their approval. The band then finished up their short set and were done for the night.
With no equipment to breakdown and switch out the changeover between sets didn't take long at all and before we knew it, it was time for Ron Keel. As he himself would admit during his set, it had been over 25 years since he had last performed in Houston and the majority of the crowd was well aware of this fact and I would venture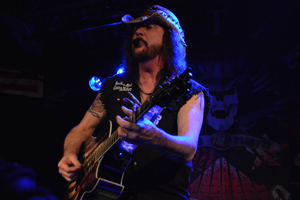 that most of those in attendence were there for that specific reason. Ron strolled out on stage, picked up his American flag-adorned acoustic and kicked off his hour-long set with a pair of tracks from his first ever solo CD, Metal Cowboy, playing "Wild Forever" and "Long Gone Bad". Kell was about as animated as you can be doing an acoustic set, but it was evident that he was clearly enjoying himself and being back in Houston again where, consequently, his daughter (who was in attendence) and granddaughter now live.
Although he has been involved with countless bands over his career, his set was really limited to only his solo album material, of which he played the only video from it thus far, "Just Like Tennessee", in addition to the two songs to get things started. Sometimes sitting on a stool and other times moving around the stage, he kept things tossed up, playing the old STEELER tune, "Serenade", and quite a few KEEL tracks as expected like "Tears Of Fire", "Because The Night" and "Somebody's Waiting", before finishing things off with a cover of BAD COMPANY's "Shooting Star" and then the KEEL anthem, "The Right To Rock". It was an incredible set and Keel sounded absolutely fantastic, probably the best he's ever sounded and the crowd certainly showed its appreciation. At one point during his set he noted that he had been given an hour to play but wasn't watching the time so if he ran over, "just pull the plug on me because I could play all fucking night", and indeed he could have and no one would have said a thing. Thanks for returning to Houston, Ron.
Setlist
"Wild Forever"
"Long Gone Bad"
"Serenade"
"Because The Night"
"Tears Of Fire"
"Does Anybody Believe"
"Somebody's Waiting"
"Just Like Tennessee"
Hell Medley ("Rock N Roll Hell"/"Heaven And Hell")
"Shooting Star" (BAD COMPANY)
"Right To Rock"
I did not envy Mike Tramp, as he had the dubious distinction of having to follow Ron Keel's set but, taking nothing away from the fine show Tramp put on, it was somewhat anti-climactic. Tramp did not get the same crowd response as Keel did, though I'd chalk that up to the length of time it had been since Keel had been to Houston (Tramp played at this club last year) and the amazing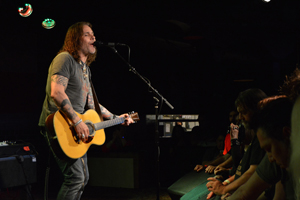 display of compassion on Keel's part for a local favorite drummer. Still, as Tramp began his set it was apparent that he's a different style of performer. He didn't move around onstage that much and was less animated than Keel. He did, however, put on a fine performance, kicking off his set with "Hungry", from the Pride album of 1987, then "And You Were Gone" from his most recent solo release Museum. Of course he played the WHITE LION favorites you would expect like "Little Fighter", "Wait" and "When The Children Cry", but also some other cuts like "Cry For Freedom", "Lady Of The Valley" and "Broken Heart". The highlight for me had to be his song "Hymn To Ronnie", a bonus track on the Danish version of his 2011 album, Stand Your Ground, which was dedicated to the legendary Ronnie James Dio. He wrapped his 16 song set with the cover of GOLDEN EARRING's "Radar Love".

Setlist
"Hungry"
"And You Were Gone"
"Little Fighter"
"Cry For Freedom"
"Better Off"
"Trust In Yourself"
"Lady Of The Valley"
"Hymn For Ronnie"
"Wait Not For Me"
"Broken Heart"
"Mother"
"Tell Me"
"What Am I"
"Wait"
"When The Children Cry"
"Radar Love"
Afterwards both guys did a joint meet and greet and signed autographs, took pictures and chatted it up with the fans, staying until everyone was satisfied. Definitely a memorable night.

Check out some more photos from the show!
All Photos By Larry Petro

Please log in to view RANTS




YNGWIE J. MALMSTEEN, GLENN HUGHES In Worcester, MA With Photos!

ALICE COOPER Road

RAT ROD Four On The Floor

GIRLSCHOOL WTFortyFive?

DANKO JONES Electric Sounds

AVATAR, ORBIT CULTURE, THE NATIVE HOWL In Houston, TX With Photos!

THE DEAD DAISIES In Hollywood, CA With Photos!

KILL DEVIL HILL Seas Of Oblivion

THE DEAD DAISIES In Ottawa, Canada

MAMMOTH WVH In Santa Ana, CA

UADA Crepuscule Natura

BARONESS Stone

KAMELOT, BATTLE BEAST, XANDRIA In Houston, TX With Photos!

CRYPTOPSY As Gomorrah Burns

RAY ALDER II

GHOST, AMON AMARTH In Houston, TX With Photos!

U.D.O. Touchdown

DETHKLOK Dethalbum IV

STEVE VAI In Ottawa, Canada

PANTERA, LAMB OF GOD In Houston, TX With Photos!