NIGHTWISH Endless Forms Most Beautiful


By Alex Yarborough, Orlando Contributor
Thursday, April 16, 2015 @ 6:03 PM


| | | |
| --- | --- | --- |
| | | |
NIGHTWISH
Endless Forms Most Beautiful
2015 Nuclear Blast



Endless Forms Most Beautiful is Finnish symphonic metal band NIGHTWISH's eighth studio album, and their first to feature new lead vocalist Floor Jansen (AFTER FOREVER/REVAMP). Floor joined NIGHTWISH in 2012 on the tour for their last album, Imaginaerum, after Anette Olzon's departure from the band. This is also the first NIGHTWISH album that drummer Jukka Nelalainen has not played on; he was replaced by Kai Hahto (WINTERSUN) for the recording of this album.

This is a concept album about evolution, nature, biology, science and spirituality. The works of Richard Dawkins, Charles Darwin, Christopher Hitchens and Carl Sagan heavily influenced the songs. Songwriter Tuomas Holopainen has described the album as "an equal tribute to science and the power of reason". The album opens with a brief spoken intro by English evolutionist Richard Dawkins, before exploding into "Shudder Before The Beautiful", an uplifting track featuring lush orchestration and powerful vocals. A fantastic twin solo from guitarist Emppu Vuorinen and keyboardist Toumas Holopainen makes this one of the best tracks on the album.

"Weak Fantasy" follows and keeps the tempo up. Bassist Marco Hietala makes his first lead vocal appearance of the album alongside Floor on this track. The first single from the album, "Elan" follows and is probably the most accessible track on the album, with a mid-tempo sing-along chorus. Long-time live contributor (and now an official member) Troy Donockly appears on the track playing his Uilleann pipes, which gives it a Celtic flavor. "Yours Is An Empty Hope" is an excellent track that has a brief symphonic opening before getting right to the double bass, power chords, and chorus, with Marco once again contributing some of the lead vocals.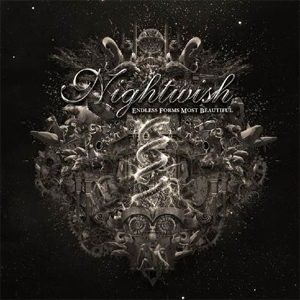 The beautiful ballad "Our Decades In The Sun" follows, segueing into what I think are the four of the strongest tracks on the album: "My Walden" (which features Donockly contributing some lead vocals); "Endless Forms Most Beautiful", the dynamic title track; "Edema Ruh" (which again features Donockly contributing some vocals); and "Alpenglow". "Edema Ruh" is a more commercial track, which could easily be the next single or video. The album ends with the sprawling 24-minute epic "The Greatest Show On Earth", which is strongly influenced by the Dawkins' book with the same title. It explores the evolution of Earth over the course of millions of years. The track features narration by Richard Dawkins himself.
This album is a symphonic metal masterpiece. Toumas Holopainen's songwriting continues to be prolific and inspiring. Floor Jansen has truly found her new home with NIGHTWISH, and the band were lucky to find her. Her vocal delivery is sometimes reserved on EFMB, but it serves the material perfectly. I feel like we are hearing a new side of her voice. This is a long album, clocking in at nearly 80 minutes; it has fantastic production values and every instrument and voice is heard clearly. The digibook has gorgeous album artwork and design. Nuclear Blast has released no less than 20 versions of the album from single disc, multiple discs and a variety of different colored vinyl editions.
4.5 Out Of 5.0
Grab your copy of Endless Forms Most Beautiful in the KNAC.COM More Store right HERE.




Please log in to view RANTS

If you don't have a username, click here to create an account!