SALIVA with ERA 9 Live In Kent, Ohio With Photos!


By Geoff Ketler, Cleveland Contributor
Tuesday, April 21, 2015 @ 6:50 AM


| | | |
| --- | --- | --- |
| | | At The Outpost |
After scheduling, canceling and rescheduling their performance at the Outpost in Kent, OH, SALIVA was healthy, hungry and back at it. Having re-grouped a few years ago with new vocalist Bobby Amaru, SALIVA put together a new, full-length album In It To Win It, which was rearranged and re-released under the title Rise Up just last year. Originally slated for February, this show was postponed due to guitarist Wayne Swinny having some health issues. I had heard that he was hospitalized with pneumonia, however I did not get a chance to catch up with him and ask. At any rate, the band was here and ready to rock.

This tour crossed paths with another tour; ERA 9, who was billed as direct support for SALIVA, was already across the border from Montreal, Canada to support their EP and pending, full-length release. Their "trap rock" was a melodic blend of effects, haunting choruses, and heavy breakdowns. Their set was highlighted by a great rendition of "The Kill" by 30 SECONDS TO MARS. Generally this is not my cup of tea, but they made it work, and the crowd adored their performance.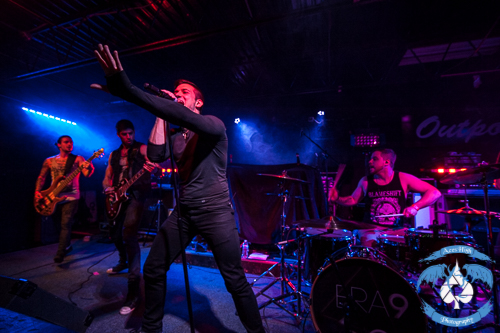 https://www.facebook.com/era9official
At approximately 11pm, SALIVA hit the stage. I immediately realized that there were some new faces up there and no, I am not talking about vocalist Bobby Amaru. SALIVA had been touring for the last few years as a four piece, but now rhythm guitarist Jonathon Montoya had rejoined the band; filling all the holes left by Wayne Swinny's solos. The band sounded much fuller with the added guitar. Flanking Jonathon was bassist Brad Stewart (ex-SHINEDOWN, FUEL). With a little research after the show, it appears as though original bassist Dave Novotny has left the band, although I cannot say that definitively. I got the gist of it from reading Facebook posts, comments, etc., but there has been no direct statement from the band and I am not sure if Brad is a permanent addition or not. We shall see.
Naturally, SALIVA opened with "Ladies And Gentlemen". Bobby Amaru really seems to be wielding the mic with better command. The last time I saw them, Bobby was very fresh to the group and he seemed a little timid; like he was trying to get a better feel for the band's chemistry. Now he is much more forceful with his vocals and spoke a lot to the audience. He even cracked the occasional PUDDLE OF MUDD joke. The vocals were a little less clean as well. He added a little raspy growl and attitude to them. Jonathon Montoya looked like he had never left in the first place. There was a case of Michelob Ultra stacked on his amp and he would constantly keep grabbing them and use them to spray down himself and the crowd. The audience ate it up. He was like a one-man show.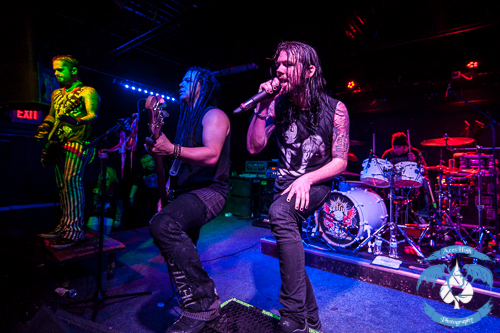 Brad Stewart was plagued with technical issues. The roadies kept running up there and messing with his bass amp. He tried not to let it bother him, but I could tell things were getting a little frustrating. The already brief set, was cut even shorter when the band opted to leave out the title track off of their latest album, Rise Up. All technical issues and beer spewing aside, the set was tight and raunchy, just like it should be. I would have liked to have heard more material off their new album, like "Redneck Freakshow" or "Rise Up", but all of the hits were packed in there and in full disclosure, the setlist below is based off of memory as I did not get a clear picture of it from my vantage point.
Setlist:
"Ladies and Gentlemen"
"Army"
"Superstar"
"All Because of You"
"Survival of the Sickest"
"After Me"
"Always"
"TNT" (AC/DC Cover)
"Rest in Pieces"
"Click Click Boom"
"Your Disease"
Check out some more photos from the show!
All Photos By Geoff Ketler/Aces High Photography

Please log in to view RANTS




RAT ROD Four On The Floor

GIRLSCHOOL WTFortyFive?

DANKO JONES Electric Sounds

AVATAR, ORBIT CULTURE, THE NATIVE HOWL In Houston, TX With Photos!

THE DEAD DAISIES In Hollywood, CA With Photos!

KILL DEVIL HILL Seas Of Oblivion

THE DEAD DAISIES In Ottawa, Canada

MAMMOTH WVH In Santa Ana, CA

UADA Crepuscule Natura

BARONESS Stone

KAMELOT, BATTLE BEAST, XANDRIA In Houston, TX With Photos!

CRYPTOPSY As Gomorrah Burns

RAY ALDER II

GHOST, AMON AMARTH In Houston, TX With Photos!

U.D.O. Touchdown

DETHKLOK Dethalbum IV

STEVE VAI In Ottawa, Canada

PANTERA, LAMB OF GOD In Houston, TX With Photos!

OVERKILL, EXHORDER, HEATHEN In Los Angeles With Photos!

PUPIL SLICER Blossom