KROKUS Live In Houston, Texas With Photos!


By Larry Petro, News Monkey
Tuesday, May 5, 2015 @ 5:21 PM


| | | |
| --- | --- | --- |
| | | At The Concert Pub North On Tour's Opening Night |
Well, it only took them a little over 25 years but Swiss metal merchants KROKUS finally made their way back to the good ol' US of A for a two week tour across the country. Fresh off the band's first ever appearance on the annual Monsters Of Rock Cruise, KROKUS kicked off their tour 2 days later in Houston, Texas at, where else but the premiere rock club in this area, the Concert Pub North.

As I had an interview scheduled with Marc (Storace) and Chris (Von Rohr) following their soundcheck I arrived at the venue early and, along with my concert partner in crime and videographer for the evening Stephen, we were brought in to the club to watch the band soundcheck. I had last seen KROKUS play live back in 1987 or 1988 here in Houston at the Coliseum, a midsize venue that isn't even standing anymore, having been replaced with a new downtown aquarium complex many years ago. Watching the band soundcheck took me right back to that last time, the band seemingly not having aged at all as they sounded fantastic and I knew we were in for quite a show.

Once the soundcheck was finished I waited patiently for my interview time as the band's tour bus had arrived earlier that day and the band hadn't even seen it yet and were quite excited to check out their digs for the next two weeks. Finally, it was my time and I was led to the Green Room for my interview, which you can check out right HERE.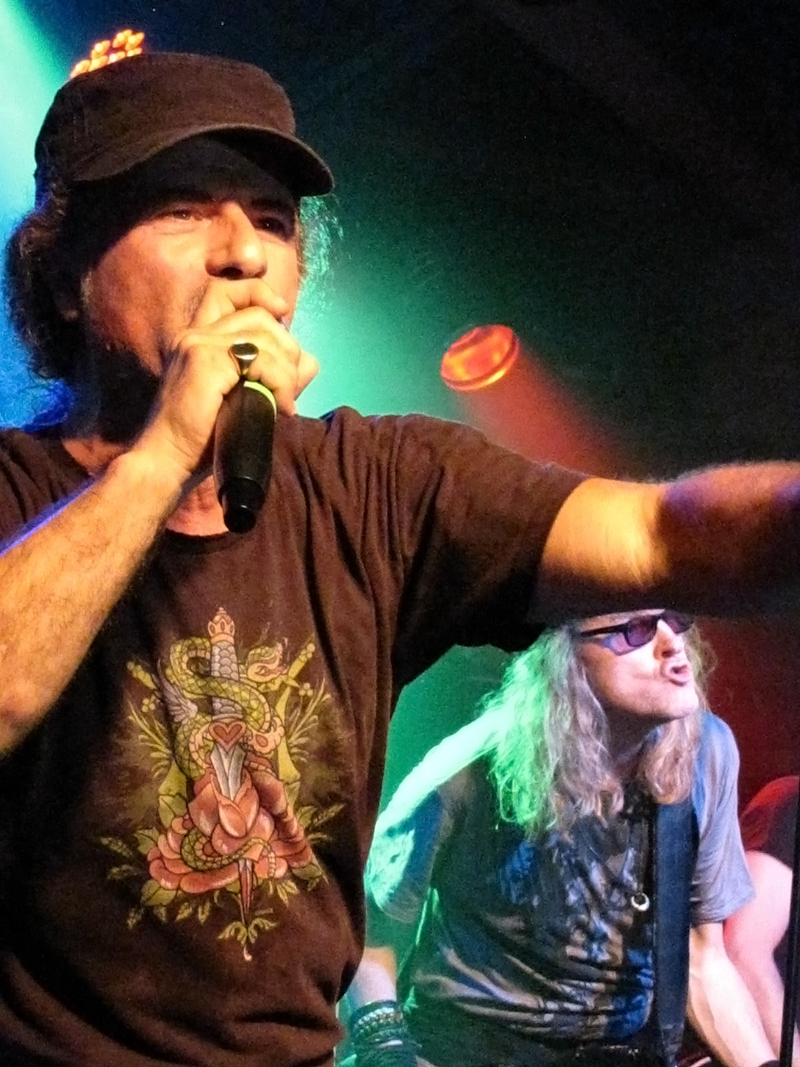 There were 3 opening bands for this event, the openers being a last minute addition to the lineup, a band from L.A. by the name of THE CHIMPZ. Their sound to me was a mix of rap and rock and kind of a KID ROCK hybrid. I didn't catch too much of their set and I have to say that I wasn't overly impressed, but then again I never cared for that particular subgenre of rock anyway. The band has a few tour dates coming up, including stops at the Loudwire Festival and this year's Rocklahoma, which I'll be attending, so maybe I'll give them a second listen and see if anything catches my ears this time around.
Next up was one of my absolute favorite Houston based acts, RED TIGER. IT had beeen a couple of months since I last caught them live and, being a big fan, was eager to get my TIGER fix. This band has yet to disappoint live and it seems like with every gig they play their fanbase grows that much larger. Their stage presence and energy are infectious and by the end of their set you could look around the club and see people nodding their heads to the beat of their music and the crowd's cheers and applause said it all.
The last opening act for the evening was yet another of my Houston favorites, LOVE & WAR. I've known the guys in the band for several years now and have seen them open for countless national acts that have come through town so I've all but memorized the setlist they play. They're quite popular around these parts and the crowds usually follow them whereever the go and tonite was no exception. LOVE & WAR took the opportunity this evening to showcase several new tunes that they have diligently been working on and I have to admit, the new stuff sounded killer! I can't wait for the new CD from these guys!
At long last, the 25+ year wait was over and the mighty KROKUS took the stage and by this time the Concert Pub North was practically filled to capacity. It was difficult to know what to expect because usually at the beginning of a tour there seems to always be kinks that need to be ironed out, the band is a little 'off' and things just don't seem quite to be fully in synch. Not so for KROKUS. They were like a well-oiled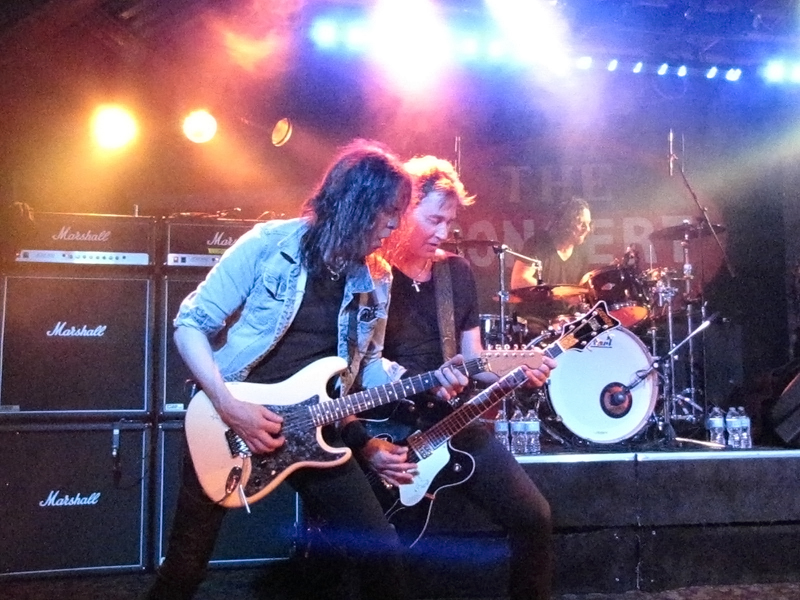 machine as they launched into their hour and a half set with "Long Stick Goes Boom", from 1982's One Vice At A Time album. The band put the pedal to the heavy metal and didn't let up the intensity as they rolled along right into the GUESS WHO cover, "American Woman", also from the same One Vice album. The band then went back to the Hoodoo album for the track "Hoodoo Woman", complete with audience participation in singing the chorus. It's hard to believe that Storace and Von Rohr are into their 60's because they certainly didn't perform like it. Storace sounded as good as I've ever heard him and the entire band, rounded out by Von Rohr, drummer Flavio Mezzodi, guitarist Mandy Meyer and another guitarist (whose name escapes me at the moment) who was brought in to replace Fernando Von Arb (who couldn't make the tour for health reasons), was incredibly stoked to be back on US soil. Their set included gems like "Screaming In The Night", "Hellraiser", "Heatstrokes" and "Easy Rocker" before closing out the pre-encore portion of the night's festivities with "Eat The Rich". The band returned once more for "Headhunter" and "Live For The Action" before closing things out with the classic Bob Dylan tune "The Mighty Quinn (Quinn The Eskimo)".
Even though we were told that there wouldn't be a meet and greet afterwards, most of the band made it a point to come out anyway and hang with the fans, take pics and sign autographs. It was a triumphant return for KROKUS and this reviewer certainly hopes that it won't be last time the US gets its taste of Swiss metal.
Check out some more photos from the show!
All Photos By Larry Petro




Please log in to view RANTS

If you don't have a username, click here to create an account!