HELLYEAH, IMPENDING LIES Live In Cleveland, Ohio With Photos!


By Geoff Ketler, Cleveland Contributor
Monday, May 11, 2015 @ 7:56 AM


| | | |
| --- | --- | --- |
| | | Getting Drink, Drank, Drunk with HELLYEAH At The House Of Blues |
It was a beautiful day in Cleveland as I headed up to the House of Blues early for my interview with HELLYEAH vocalist Chad Gray. Little did I know that Chad was nursing a chest cold and the band's bus had broken down causing a logistical nightmare. My chat with Chad quickly became a visit with Vinnie. Check out my interview with metal's drumming gold standard, Vinnie Paul here. With all of the issues surrounding the show, from the get go, most bands would throw in the towel or waive the white flag. Would HELLYEAH do the same? Hell no!

Direct support for HELLYEAH was the Cleveland-natives, IMPENDING LIES. The quintet has been gaining plenty of attention the last few years with their GEMINI SYNDROME-esque mix of industrial rock and metal. Although I thoroughly enjoyed their catchy original material, what really caught me off guard was their fantastic cover of JOURNEY's "Separate Ways (Worlds Apart)". Vocalist Matt Hayes can really belt it out in Steve Perry fashion. Guitarist Davo Billock threw down some haunting vocal harmonies with Matt. The group, as a whole, has plenty of energy and charisma. There was never a dull moment on stage. With one full-length album and 1 EP (with another on the way) under their belts, IMPENDING LIES are going places and definitely worth checking out. I was extremely impressed with their performance, stage presence, and intensity. I was, however, a little upset that I didn't realize that I had a gem of band grinding out tunes in my stomping grounds.
https://www.facebook.com/ImpendingLies
Setlist
"Let Go"
"Chaos"
"Over Again"
"Separate Ways (Worlds Apart)" (JOURNEY Cover)
"Revenge"
"Just Stop"
"In Time"
"Fall to Pieces"
"Shine"
"Scream to Whisper"
The photo pit was shoulder to shoulder as HELLYEAH took the stage. Yahoo was there to record the concert for a later broadcast date; filling all voids with cameras, cabling and crew. I asked around, but the only answer I could get was that it should air sometime over Memorial Day weekend, so be on the lookout for that. Another added bonus was watching artist Rob Prior paint during the set. I have seen him do this before with Zakk Wylde, but never in-person. He gets his creative juices flowing by painting while the band is performing. It was very interesting to watch and the results turned out fantastic.

Things got stirred up in a hurry as HELLYEAH ripped through "War In Me" to kick things off. At some point during the band's transition into the next song, "Sangre Por Sangre (Blood For Blood)" I managed to have blood splatter hit me and my cameras. I looked up to find vocalist Chad Gray and his blood-soaked face, standing over me, grinning from ear to ear. I would spend the remainder of the evening explaining to security that I was, in reality, fine, nothing was actually bleeding and that the singer managed to spout fake blood on me and the majority of the photo pit. If Chad Gray's music career hadn't panned out the way it did, he could have easily been a motivational speaker. Nothing gets you fired up like a pep talk about metal, brotherhood, and buying concert tickets from Mr. Gray. Chad was his usual chatty self between songs. Whether it was about drinking and partying or having their bus break down earlier in the week, he always had something to say. As a side note, when I spoke to Chad earlier in the day he mentioned that he was battling a chest cold and was trying to rest his voice, but I would have never guessed that based on his performance and I don't see how anyone in attendance would have been able to tell he was sick.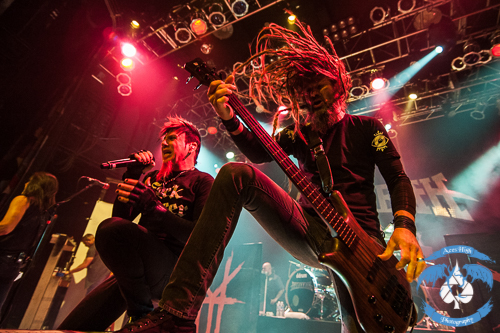 There is a certain kind of intensity to HELLYEAH that few bands possess. They are true professionals and veterans of the stage with an ability to work the crowd like none other. Crowd surfers came pouring over the barricade all night long. Tour manager-extraordinaire, Jake Lawson spent the entire set in the pit, helping security handle the barrage of fans. Things only calmed down briefly for the latest single off of Blood For Blood, "Hush". Vinnie Paul was Vinnie Paul. There is not much to add there, nor does it require any embellishment. He would often stand, spinning his sticks and pointing to the audience coaxing a rise out of the crowd. Guitarists Tom Maxwell and Christian Brady traded riffs effortlessly and bassist Kyle Sanders, dreadlocks and all, commanded the center stage alongside Chad Gray. It was a messy, blue-collar, bottle-tipping, metal blast! See HELLYEAH, currently on tour with GODSMACK or later this summer on the Mayhem Festival. They are a must-see live act.
http://hellyeahband.com/
https://www.facebook.com/hellyeahband
Setlist
"War In Me"
"Sangre Por Sangre (Blood For Blood)"
"Demons In The Dirt"
"Moth"
"Cross To Bier (Cradle Of Bones)"
"DMF"
"Drink Drank Drunk"
"Say When"
"Hush"
"Cowboy Way"
"You Wouldn't Know"
"Hellyeah!"
Check out some more photos from the show!
All Photos By Geoff Ketler/Steve Keller - Aces High Photography




Please log in to view RANTS

If you don't have a username, click here to create an account!