TREMONTI
Cauterize
Fret12 Records




For many artists creating a sophomore release can be an enormous hurdle to overcome, but Mark Tremonti is not just any artist. He already has three Grammy Award nominations and one Grammy Award win (Best Rock Song – CREED/2001) to his credit along with countless other accolades during his 25 year career as a member of CREED, ALTER BRIDGE and as a solo musician.

After completing a solo tour and one with ALTER BRIDGE, Tremonti immediately set about writing his second record in early 2014. By the time he'd left the studio with fellow TREMONTI members: guitarist Eric Friedman, drummer Garrett Whitlock and bassist Wolfgang Van Halen, the band had enough material for two full-length albums: Cauterize, out June 9, 2015 and Dust, to be released in the very near future.

It's very evident that Tremonti didn't just hop into the studio and quickly lay down ten tracks. He put a great deal of thought into the making of this record. Musically and lyrically this album is very well executed. The band definitely brought its 'A' game with Cauterize. Here's a breakdown of what each of the songs has to offer.

"Radical Change", the first track from this album, opens with a thrash metal tour de force, but there's a lot more depth to it as there is to all of the songs on the release. Its blindingly fast guitar lead-in gives way to a heavy pre-chorus followed by a melodic chorus and an even mellower bridge/guitar solo. As is clear from the song's title, the lyrics take the listener through the struggle and loneliness of going through a difficult life event.

Things slow down on the second track "Flying Monkeys". Thrash metal yields to detuned guitars and a homage to the best of the '90s metal-infused grunge sound. Its chunky, driving power-chords are broken but momentarily for the song's somber, harmonized chorus and a brief guitar solo. This whole song is about maintaining a grudge indefinitely and, rightfully, you can feel that darkness when listening to it.

Something that really sets this album apart is the complexity in the composition of each of its songs. TREMONTI could have very easily put out a pure thrash album or something in the post-grunge vein. Like the album's opener, its title track, "Cauterize", launches with blazing guitars, but again gives way to a melodic chorus with lyrics that, while expressing the pain of being wounded, provide a clear path on the road to healing.

By the fourth track, even if you never got into CREED or ALTER BRIDGE, you're a fan of Tremonti's. "Arm Yourself" is a rock anthem. It jumps right in with driving thrash power chords and double-kick drums and is one of those songs that just have a way of lifting you up. Once again, the bridge and guitar solo bring the tempo down a bit, a theme that permeates most of the record. But the song retains a strong undercurrent and pretty much everyone can identify with its message of finding a way to dig deep and fight through life's struggles.

As the title implies "Dark Trip" is indeed a dark song. The music and lyrics take the listener on a painful journey into the 'home' of a lonely person who feels 'forsaken.' The lyrics make it clear that you're welcome to visit if you think you can handle it. The guitar solo alone in this song is filled with palpable emotion.

"Another Heart" brings back the high-speed guitar riffs and double-kick drums, all while maintaining the album's commitment to breaking the storms with periods of melodic calm. As with all of the tracks on the release, while the music moves in and out of raucous, Mark Tremonti's vocals match well with its overall tenor and attitude. There's a decided edge in the lyrics of this track. It goes straight after the heartbreak we all feel when hurt by the lies and hypocrisy of another or in the world around us.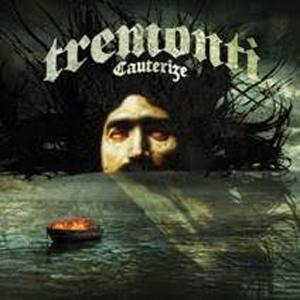 The seventh track, "Fall Again", is a powerful, ballad-like song if you will and Mark Tremonti takes off the gloves showing the full strength and power of his vocals. While earlier songs on the album were more guitar focused, Tremonti is really in his own vocally on this one and he doesn't disappoint. Again, we find that while the song deals with the difficulties of life's troubles, it gives the listener a feeling of solidarity knowing that we're all in it together.
"Tie The Noose" begins to bring it all together as the heavy guitar riffs return with a vengeance and combine equally with strong vocals from Tremonti. This track is essentially a culmination of the album's theme. It's yet another fast-paced, fist-pumping track on an album chock full of rock solid songs. This track provides a lyrical commentary on a world filled with overindulgence and overconsumption without concern of right, wrong, or consequence. Eventually, there'll be a price to be paid.
The last two songs on the album are a complete departure from the rest of the release, but are nonetheless terrific tracks. "Sympathy" is an upbeat, rock song the lyrics of which are all about putting past hurts in the past and moving forward in a positive direction. Kudos Mark Tremonti for getting that message out whether through music or in any manner.
Cauterize closes out with the song "Providence" a rock song with an acoustic guitar lead-in. The song continues to build, featuring very powerful sections, emotional guitar solos, and harmonized vocals. Lyrically, this is a song about learning to grow as people. Providence comes when we break down the barriers that keep us all apart and at odds. The song then closes out this very powerful album with an acoustic guitar outro.
Mark Tremonti's 25 years of experience really shows on this album. It's a terrific blend of thrash metal, great rock guitar riffs and solos, perfectly matched with periods of slow, melodic breakdowns, all combined with thought provoking lyrics. It crosses several genre barriers and does so without sounding contrived. All in all, it's a very well conceived and produced record.
5.0 Out Of 5.0
Grab your copy of Cauterize in the KNAC.COM More Store right HERE.