ROB ZOMBIE Live In Warren, Ohio With Photos!


By Geoff Ketler, Cleveland Contributor
Saturday, June 13, 2015 @ 7:31 PM


| | | |
| --- | --- | --- |
| | | ZOMBIE Brings His Epic Show To The Sold Out Packard Music Hall |
I found myself driving down winding back roads with little or zero traffic through areas of Ohio that looked like they were straight out of the movie Wrong Turn – rather fitting for tonight's show. I was heading to the WD Packard Music Hall, situated in a suburb of Youngstown, but basically in the middle of nowhere. This gem of a venue has only recently started to play host to large national acts on a more frequent basis and tonight it was the site of ROB ZOMBIE's "Super Monster Sex Action Tour". Once inside the doors, it had the look and feel of a 1970s high school gymnasium, but the acoustics were excellent and the fans turned out in droves filling the 3,500 seats.

Leading off the night was drummer Ginger Fish doing a short DJ set. Yep…go ahead and read that again. I did not get to see too much of it. I basically heard a few songs like RAMMSTEIN's "Du Hast" and some PANTERA mixed in with the occasional "scratch" on the records. This was not widely advertised, nor was it even listed on the flyer, but apparently they needed to fill time and with no other openers, Ginger went out there and did his thing.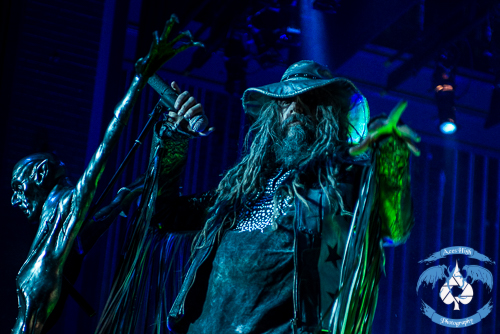 At about 9pm, ROB ZOMBIE and Co. took the stage to "Teenage Nosferatu Pussy". Guitarist John 5, done up with a gas-mask, and bassist Piggy D crept out on stage to the song's crushing blows. At the helm was Rob Zombie, leaning over his Nosferatu mic stand, belting out the lyrics. Things were then quickly stirred up with "Super-Charger Heaven". The WHITE ZOMBIE classic got the place jumping and sweaty in a hurry. Rob's intensity only seemed to grow as the night progressed. In all of his dreaded glory, he would posture, spin, point and motion along with the lyrics. Drummer Ginger Fish was often masked by dense fog and his piles of cymbals. He was steady as he spun the sticks and kept the tempo slammin'. Stage production seemed to be a little rolled back since the last time I caught the band about four years ago. There were no video monitors, just giant backdrops of the Universal Monsters, including King Kong centered in the back. Maybe things were a little stripped down because of the venue's smaller size, I can only speculate, but it didn't change the energy or the atmosphere one bit.
The performance was as tight as ever. Rob warned the audience before performing "Mars Needs Women" during the bands second of three, yes three, encores that they hadn't played it in a very long time, but honestly, they could have fooled me. "Thunder Kiss '65" included John 5's blazing guitar solo, which was actually a performance of "Flight Of The Vulcan Kelly" from his Careful With That Axe solo record. During "Sick Bubble-Gum" giant balloons were tossed out into the crowd and audience participation was initiated to sing the chorus. I was surprised that they threw three covers (seemed like a bit much) into the set, even though they were all great and well received. But who am I to question Rob's set selections? Once again, it was a non-stop, action-filled, helluva rockin' show. Pound for pound, Rob Zombie is one of the best touring acts around. They are the complete package with excellent musicianship, over-the-top production, and a stage presence that just cannot be matched.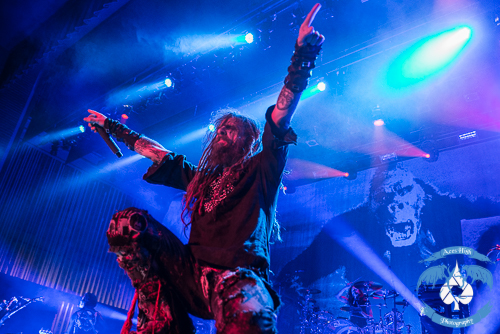 Setlist:
"Teenage Nosferatu Pussy"
"Super-Charger Heaven"
"Superbeast"
"Living Dead Girl"
"Dead City Radio And The New Gods Of Supertown"
"More Human Than Human"
"Sick Bubble-Gum"
"House of 1000 Corpses"
"Meet The Creeper"
"Never Gonna Stop (The Red, Red Kroovy)"
"Blitzkrieg Bop" (RAMONES Cover)
"Thunder Kiss '65" (Included "Flight Of The Vulcan Kelly" John 5 guitar solo)
"School's Out" (ALICE COOPER Cover – Abbreviated)
Encore 1:
"Star Spangled Banner" – Performed by John 5
"We're an American Band" (GRAND FUNK RAILROAD Cover)
Encore 2:
"Mars Needs Women"
"The Lords Of Salem"
Encore 3: Check out photos from the show!
All Photos By Geoff Ketler/Aces High Photography




Please log in to view RANTS

If you don't have a username, click here to create an account!