TOM KEIFER Live In Akron, Ohio With Photos!


By Geoff Ketler, Cleveland Contributor
Sunday, June 28, 2015 @ 2:19 PM


| | | |
| --- | --- | --- |
| | | Tom, Solo Band Rock The Akron Civic Theater |
While CINDERELLA has been on hiatus the past couple of years, vocalist and main songwriter, Tom Keifer has been keeping busy, releasing his first-ever solo record and touring to support it. If you have followed Tom's career, you already know that he has had struggles with ruptured vocal cords, neurological damage, and multiple surgeries. I can't even begin to imagine what it would be like to possibly lose the one ability that you used to build a career; the one thing that stands you apart from everyone else in such a brutal industry. That being said, Tom has worked extremely hard, warming up and training his voice for hours every day and re-learning how to sing to get back to 100% - and after his performance in Akron, I'd say he is at more like 110%.

This Akron show was dedicated to another great voice in the industry; one that we recently lost - Jani Lane of WARRANT fame. Proceeds from ticket sales were to go to benefit his two daughters. Family, friends and bandmates of Jani were all there to celebrate the life and music of the home-town music icon. Former WARRANT guitarist Billy Morris, another musician that calls NE Ohio home, and his band paid tribute to Jani by performing a full WARRANT set of all the classics. Opening with "Down Boys", Billy and the gang ripped through a catalogue of hits and song-writing mastery. Highlight of the set was hearing "Heaven" and "Uncle Tom's Cabin". I tend to think that Jani Lane's talent would sometimes get overshadowed by the imagery and stardom brought on by the mega-hit "Cherry Pie". Billy Morris spoke about how Jani was such a great storyteller, like his father, which he could easily translate into songwriting. One look at his lyrics and it is easy to see that. It was a heartfelt tribute and I was happy to see the folks come out in droves, wearing their old WARRANT tour shirts from back in the day and acting like it was 1988 all over again.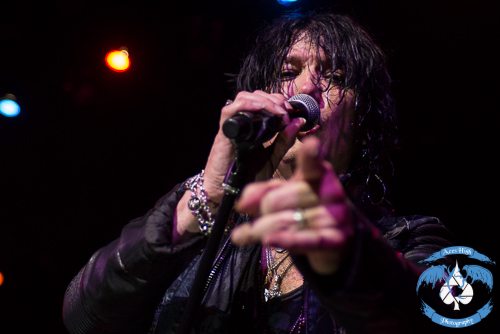 After a quick set change it was time for CINDERELLA's Tom Keifer to strut out on stage. The intro to "Bad Seamstress Blues/Fallin' Apart At The Seams" played through the house sound and as the first verse approached, bam! The band, collectively jumped right into the song on cue. This was quickly countered with "It's Not Enough" off of his first solo effort, The Way Life Goes. That would be the mantra for the night; plenty of CINDERELLA material with solo songs peppered in. Tom was joined by his wife Savannah to sing a few acoustic songs, which she had co-wrote with Tom on the solo record. They were both front and center on bar stools in front of the monitors, which Tom commented that they were "breaking the rules" by doing that. Savannah stuck around for a unique acoustic duet rendition of "Nobody's Fool", which quickly escalated into the full-electric version. The band was tight as could be. I had seen CINDERELLA a few times before and I could have been blind folded and not known the difference. Tom's voice was spectacular. There was no cracking; his clean vocals were equally as good.
Now since this was his solo act, the over-the-top production, grand piano, fake snow flakes, double necks, saxophones, etc were all left at home. This was more of a stripped down production with just a small drum riser and a large backdrop, but this was more than made up for with just pure musicianship and raw energy. They looked like they had all been playing with one another for years and as if they truly enjoyed each other's company. The set concluded with "Shelter Me" and then they encored with "With A Little Help From My Friends" (THE BEATLES Cover) and "Gypsy Road". Before leaving the stage, Tom introduced the entire band and said goodnight. The crowd of 1,200+ responding with cheer. Be sure to catch Tom Keifer as he tours across the states this summer. You will not be disappointed.
Setlist:
"Bad Seamstress Blues/Fallin' Apart At The Seams"
"It's Not Enough"
"A Different Light"
"Save Me"
"Shake Me"
"Heartbreak Station"
"The Flower Song"
"Ask Me Yesterday"
"Don't Know What You Got (Till It's Gone)"
"Nobody's Fool"
"Solid Ground"
"Cold Day In Hell"
"Coming Home"
"Shelter Me"
Encore:
"With a Little Help From My Friends" (THE BEATLES Cover)
"Gypsy Road"
Check out some more photos from the show!
All Photos By Geoff Ketler/Aces High Photography




Please log in to view RANTS

If you don't have a username, click here to create an account!






BEAST IN BLACK Dark Connection

MASSACRE Resurgence

DREAM THEATER A View From The Top Of The World

JAY JAY FRENCH Twisted Business: Lessons from My Life in Rock 'N' Roll

BLACK LABEL SOCIETY, PRONG And OBITUARY In Portland, OR With Photos!

GEMINI SYNDROME 3rd Degree - The Raising

DORO/WARLOCK Triumph And Agony Live

BETWEEN WORLDS Between Worlds

ALCATRAZZ V

BEHEMOTH Sventevith (Storming Near the Baltic) Reissue

ALICE COOPER, ACE FREHLEY In Nashville, TN With Photos!

CARNIFEX Graveside Confessions

BLOOD RED THRONE Imperial Congregation

GUS G. Quantum Leap

BILLY IDOL The Roadside EP

AVATAR, MAGIC SWORD In Houston, TX With Photos!

APRIL WINE, MONKEYJUNK At The Ottawa Bluesfest

MINISTRY Moral Hygiene

CRYPTA Echoes Of The Soul

SKILLET In Houston, TX With Photos!

Immortal Axes: Guitars That Rock Book

IRON MAIDEN Senjutsu

GRINDER BLUES El Dos

GEORGE LYNCH Seamless Review #2

IN THIS MOMENT, BLACK VEIL BRIDES In Houston, TX With Photos!

WARLANDO Festival 2021 Photo Gallery

KISS In Ridgefield, WA With Photos!

LAURENNE/LOUHIMO The Reckoning

TREMONTI Marching In Time

ROCKLAHOMA 2021 Day 3 Photo Gallery

ROCKLAHOMA 2021 Day 2 Photo Gallery

ROCKLAHOMA 2021 Day 1 Photo Gallery

CARCASS Torn Arteries

SETH La Morsure de Christ