ARMORED SAINT
Win Hands Down
Metal Blade Records - 2015
http://www.armoredsaint.com




Despite my belief that ARMORED SAINT is one of the most underappreciated metal bands still active these days, I have to wonder what exactly happened to make Win Hands Down one of the more disappointing albums I've listened to this year.

I hate to damn with faint praise by saying that there are some decent tracks on the disc, but overall a lot of the album just sounds completely out of sync with what the band is normally capable of doing.

The album opens with the title track and while it is a pretty enjoyable track, it struck me that the extended musical break halfway through the song only served to artificially inflate the song's run time. An excessive length to the song "In An Instant", combined with a slow pace and vocal delivery choices made it the first ARMORED SAINT song I've ever listened to that made my eyes and ears gloss over in a lack of interest. On "Dive", the song starts out boring and only gets more ponderous as it goes along. There is a decent solo, but that's about it.

Someone apparently pissed in the Wheaties of songwriters Joey Vera (bass/producer) and John Bush (vocals) when it came to writing lyrics this time around. Those two wrote all but one of the songs and they seem to be really ticked off at the world. The track "Mess" had a great up tempo sound while Bush lyrically attacked the wasteful culture of modern day. And assuming I'm not missing a deeper meaning to the lyrics of "An Exercise In Debauchery", it is a song that rings off as being anti-pornography. Of course, the funny thing about that song is that it is actually pretty good with a fantastic eye catching title.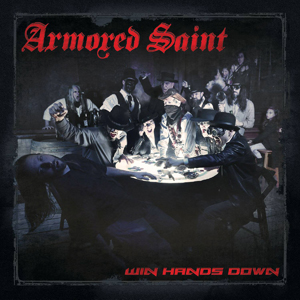 And while I find it hard to hide my disappointment is what I think is a subpar album from the band, there are indeed some high water marks as well. The track "Muscle Memory" starts out slow and restrained, then breaks out into a more aggressive fashion. The tempo alternates that way for the entirety of the track. The opening lyrical stanza is superbly fantastic as well. I've seen the song getting high praise from fans online and I have to say that on this number I completely agree.
All five members of the band are credited with writing "With A Full Head Of Steam" and perhaps that combination of ideas helped give the song that little something extra to make it stand out above the rest of the material. A perfect use of guest vocalist Pearl Aday (the wife of ANTHRAX's Scott Ian...and MEAT LOAF's daughter) gave another bit of shine to the song.
The album closes out with the less-than-subtly titled "Up Yours" and the killer pacing helped end things on a high note. I really liked the vocal delivery from Bush at the beginning of the song.
So why didn't more of this album hit home with me? It isn't like the band hasn't given me a musical thrill for the last few decades. But for whatever reason, there is just something missing here. I'm not going to say that this is an album you should pass on, but it is definitely the first album from the band that I can't give my heartiest endorsement to.
2.5 Out Of 5.0
Grab your copy of Win Hands Down in the KNAC.COM More Store right HERE.