VAN HALEN Live In San Bernardino, CA With Photos!


By Junkman, On-Air Personality
Wednesday, July 15, 2015 @ 6:52 AM


| | | |
| --- | --- | --- |
| | | At San Manuel Ampitheater 7-11-15 |
All Photos By Junkman
In support of their latest release Van Halen - Tokyo Dome In Concert, the mighty VAN HALEN made a stop through Southern California and gave the people what they wanted, a good ol' fashioned rock n roll show. To paraphrase singer Diamond David Lee Roth during the performance of "Dirty Movies" from 1981's Fair Warning album, it was indeed "Lights, Camera, AAAAction!"
Opener Kenny Wayne Shepherd and his band got things started with a 7 song set that spotlighted his bluesy guitar riff's and a killer band that featured, as always, his lead singer Noah Hunt and former DOUBLE TROUBLE drummer Chris "Whipper" Layton. Hunt has some great chops, but always looks awkward onstage. But there is no denying his soulful baritone and it really stood out on songs like "Deja Voodoo" and the 1997 radio hit "Blue On Black".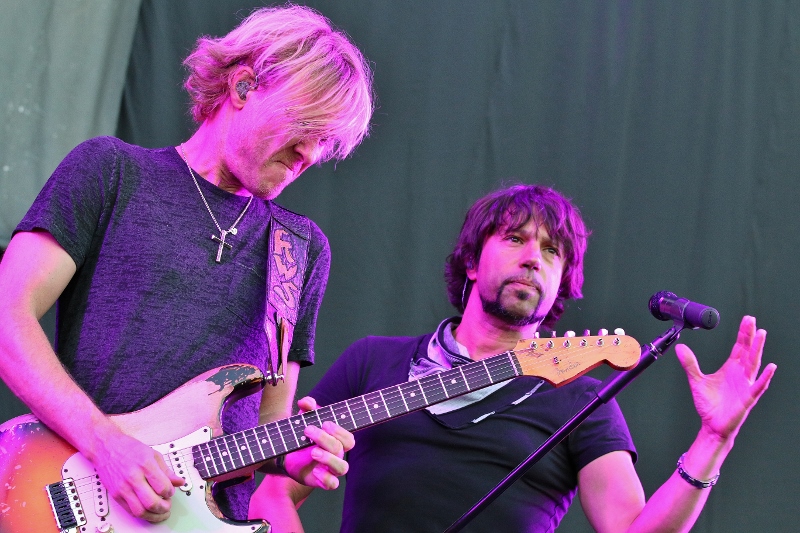 Layton lays down a smooth groove throughout the set, seemingly effortlessly. He is one of my favorite drummers in the business, never even working up a sweat. He just drives every tune as if he were giving everyone in the band a ride home. But the show was clearly all about guitarist Shepherd who burst onto the scene years ago during his teens. This guitarist out of Shreveport, Louisiana can do things with his Fender Stratocaster that seem to come out of nowhere. The set ending "Voodoo Chile" gave me shivers as he channeled his inner Jimi Hendrix with every note. As most guitarists would say, "The kid's got chops for days."
Setlist:
"Never Lookin' Back"
"Heat Of The Sun"
"Deja Voodoo"
BB Medley
"Blue On Black"
"King Bee"
"Voodoo Chile"
But tonight there was a different guitar hero that the crowd wanted to see, and when the stage lights flickered, their wish was granted by one Eddie Van Halen guitar yelp, and the band exploded onstage with "Light Up The Sky", a rarely played song from VAN HALEN's second album originally released way back in 1979. Edward Van Halen, sporting a white shirt and jeans, looked about as comfortable onstage as he did in his casual wear, and cranked note after thundering note out of his worn cream colored "Wolfgang" guitar, much to the delight of the sold out crowd.

In contrast to Eddie Van H, singer David Lee Roth was a man in constant motion. And "Mr Quotable" was certainly his old self, peppering each song's breakdown with some choice quips and stories. During "Everybody Wants Some", he went into a long rant about playing the Hollywood club Gazzarri's back in the day, and how much more fun the back alley behind the club was when they were first starting out. "We didn't spend a whole lot of time in the dressing room, did we?' he asked EVH, who then went about his business blasting out huge riffs through his five double stacked EVH amplifiers. Hell yeah it was loud!

Roth, resplendent in black pants and vest with a canary yellow shirt and spats, and an assortment of shiny colored jackets, was again, his "Diamond Dave" persona throughout the show, dancing, jiggling, mugging, twirling his karate staff, and even attempting some Spanish flamenco dancing. Even when he messed up, he made it look fun. During the opening chords to "Chinatown" he exclaimed "Don't look at me, I never know the set. That way it's special every night". Let's hope so.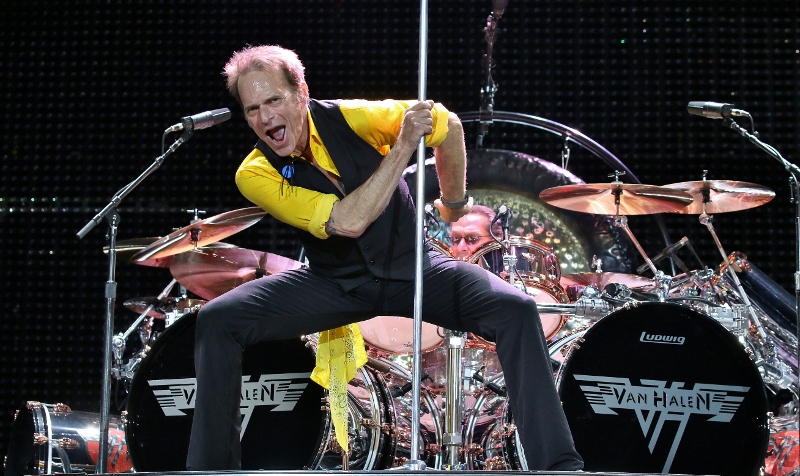 This tour so far has some really great additions. Due to the decisions of Ed's son, bassist Wolfgang Van Halen, some "deep tracks" have been performed live, some like "Drop Dead Legs" from 1984 and "Dirty Movies" from the Fair Warning release in 1981, have never been performed live. Like most VH fans, I was thrilled and so were the rest of the audience, who looked to be a big mix of young and old, and they screamed their approval, all night long. "Feel Your Love Tonight", from the first record went over so well, that Roth ranted that Edward and Wolfgang's harmony vocals sounded "like angels". Yeah, something like that.
Instrumentally, this band just flat out kicks ass. Drummer Alex Van Halen's solo midway through the set featured lots of different pre-recorded rhythm tracks that went along great with his signature drum sound. A great sign of a great drummer is that you can always hear the consistency in his sound, and with Alex, his live kit sounds exactly as it does on the recordings. I guess we should tip our hats to the drum tech and soundman as well, for doing a fine job. Roth punctuated the end of that one with "Bet you never heard a drum solo like THAT before. EMERSON, LAKE AND VAN HALEN." Indeed.
That incredible drum sound was never more evident than the intro to "Hot For Teacher" and I could not help but yell "Siddown Waldo" in reference to the video of said song. That is until Edward Van Halen just electrified everything with the guitar. Still one of my favorite tracks the band has ever recorded. And live it comes off even more dynamic. Another outstanding rarity, "In A Simple Rhyme (Growth)" from 1980's Woman And Children First spotlighted Edward Van Halen's mastery of his guitar. So many different styles, and fat tones, it's just awesome to see and hear a true master at his craft, and clearly enjoying himself onstage. Something that many other musicians, who are just going through the motions every night, should take note of.
Speaking of which, after a great one-two punch of "Unchained" and "Ain't Talkin' Bout Love", Van Halen went to work, and played a scorching ten minute guitar solo, featuring a treasure chest of his most famous guitar licks, spliced together seamlessly into a steaming, spicy, tasty dish of guitar magic. It truly is jaw dropping to watch and listen to this man do, with ease, what so many other have tried all their lives to do. There is and always will be only one EVH.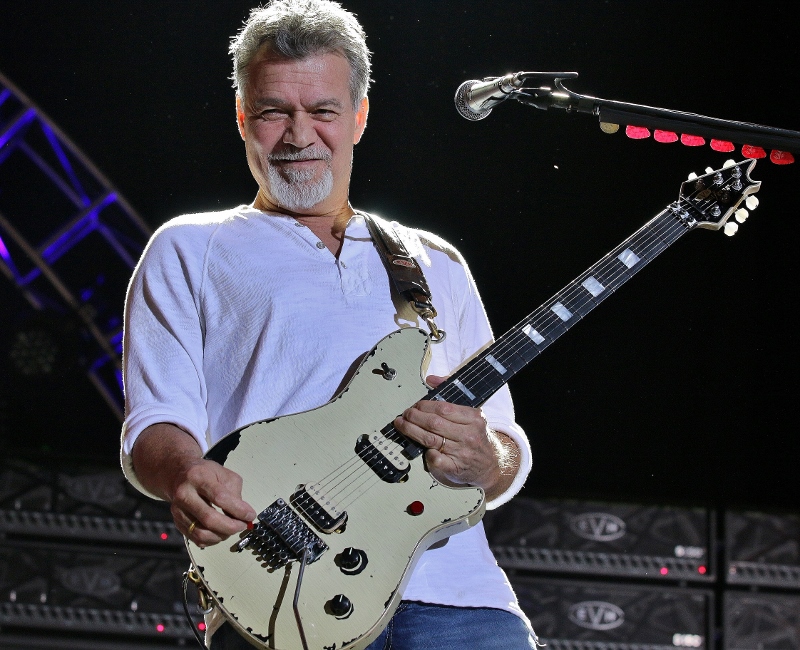 Then again, that goes for Diamond Dave as well. His time in the solo spotlight consisted of just him, seated with an acoustic guitar and a harmonica. He went into a long rant, about the story behind the famous "Brown M&M's" contract rider and what that meant to the band's spending of money on their crew during their heyday of the late 70's-early 80's. He then launched into the intro of "Ice Cream Man" before the whole band joined in and brought that one up to ramming speed.
And the hits just kept coming and leading to a grand finale. "You Really Got Me" and "Panama" set the stage for the set closing "Jump", not my favorite, but hey, it's their biggest hit. They can do whatever they want. It's great to see this band on the road again. There was a time when I wasn't sure if I'd be able to see them, but things somehow have a way of working out. Go see them when they come to your town . You won't be disappointed. They will be touring right up until October. Check out the live CD as well. A huge thank you to all that made this possible for me and the rest of the fans.
Setlist:
"Light Up The Sky"
"Runnin' With The Devil"
"Romeo Delight"
"Everybody Wants Some"
"Drop Dead Legs"
"Feel Your Love Tonight"
"Somebody Get Me A Doctor"
"She's The Woman"
"Chinatown"
"I'll Wait"
Drum Solo
"Little Guitars"
"Dance The Night Away"
"Beautiful Girls"
"Women In Love"
"Hot For Teacher"
"Simple Rhyme (Growth)"
"Dirty Movies"
"Ice Cream Man"
"Unchained"
"Ain't Talkin' Bout Love"
Guitar Solo
"You Really Got Me"
"Panama"
"Jump"
Check out some more photos from the show!
All Photos By Junkman




Please log in to view RANTS

If you don't have a username, click here to create an account!