SYMPHONY X Underworld


By Alex Yarborough, Orlando Contributor
Friday, July 17, 2015 @ 4:54 PM


| | | |
| --- | --- | --- |
| | | |
SYMPHONY X
Underworld
2015 Nuclear Blast




A lot has happened with New Jersey-based progressive metal band SYMPHONY X since the Iconoclast album was released four years ago. Singer 'Sir' Russell Allen recorded and toured behind several releases with ADRENALINE MOB, toured with TRANS-SIBERIAN ORCHESTRA and recorded the album The Great Divide with ALLEN-LANDE. Bassist Mike Lepond toured with HELSTAR and released his excellent solo album under the name SILENT ASSASSINS. Keyboardist Michael Pinnella released a solo album and guitarist Michael Romeo made guest appearances on some albums. Drummer Jason Rullo battled and successfully recovered from heart failure in 2013.

Four years later, SYMPHONY X delivers another fantastic album, the band sounding just as powerful as Iconoclast, and amazingly never missing a beat. Titled Underworld, it is sort of a concept album, loosely based on Dante's epic poem Inferno. Dante's Inferno is not a totally original topic in the metal world; ICED EARTH featured an epic song based on it on their 1995 album Burnt Offerings and SEPULTURA wrote a concept album based on it with 2006's Dante XXI, while SYMPHONY X themselves included references to it on their 1997 album The Divine Wings Of Tragedy. Several other metal bands have also been influenced by the poem.

SYMPHONY X do not follow the tale word for word, but use it more as an inspiration. Michael Romeo is quoted as saying that the album has a theme of "going to hell and back for something or someone you care about." He also said that this album is more about "the song" instead of the album as a whole, allowing it to flow better from song to song. This doesn't mean every song is an attempt at a single. Romeo's intent when writing songs for Underworld was for people to be able to take in the whole album in one listening. (The total album length is just over an hour, compared to Iconoclast's two discs that were around 83 minutes).

To be honest, the last two SYMPHONY X albums, 2007's Paradise Lost and 2011's Iconoclast were my favorite albums released by the band so far. I refer to them as the "angry" SYMPHONY X, mainly due to Russell Allen's vocal delivery and the aggressive music on those particular albums. So, I waited to see if we would get a third album in this same vein from SYMPHONY X. The songs on Underworld seem to alternate between prog and aggression, but for the most part, the album is not as "angry" as Iconoclast. The album strikes a perfect balance between prog and power. Some songs are aggressive without being "angry". There are definitely more classic SYMPHONY X elements here than on recent releases.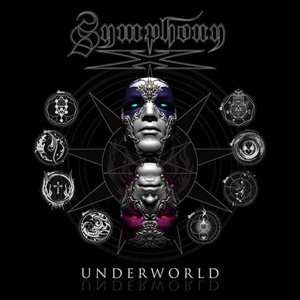 The album is much more accessible than previous albums. The songs overall are shorter (most clocking in at around the 5-6 minute mark), and more to the point than on previous albums. For example, "Kiss Of Fire" is one of the best tracks I've ever heard by SYMPHONY X. It immediately became a favorite of mine on this album, with the verse, "Bring down the hammer, with serious anger – It's me against the world!" section and the chorus becoming some of my favorite moments. This song probably represents the album to me more than any other, but the album is filled with classics, such as opener "Nevermore", a ferocious track that is aggressive in the verses, while the chorus is more melody-driven. The title track follows, with many twists, turns and speed sections. "Without You" is a standout track. With its guarded delivery by Allen and acoustic guitar flowing in the background, it is probably the mellowest moment on Underworld, but that's not a bad thing. The chorus is the focus of the track, with Allen performing some of his best work. The song probably has the most potential as a single. Another solid track, "Charon", named for the ferry boatman of the underworld, follows. This track has a middle-eastern flavor to it.
The longest track on the album (9:24 in length) follows, the excellent "To Hell And Back". This song has so many great parts, it's hard to pick a particular favorite, possibly Allen's soaring vocal on the chorus or the "on and on and on / no quarter asked, no quarter given" section. "In My Darkest Hour" follows and is another favorite of mine, featuring speed riffing parts, mixed with a melodic chorus. Allen really shines on this song. "Run With The Devil" is even more up-tempo and another one of the more accessible songs due to the chorus. "Swan Song" finds keyboardist Pinnella taking the bulk of the spotlight with his piano flourishes. The album closes with the excellent "Legend". Allen's aggressive pre-chorus vocals and melodic chorus vocals make this an instant classic.
I believe the playing on Underworld is at another level for the band. Lepond's bass work is spectacular throughout and Jason Rullo makes a real statement with his drum performance. Fantastic work from keyboardist Michael Pinnella and of course guitarist Michael Romeo's amazing riffs and solos are worth the price alone. But you get more, don't you? You get one of the best singers in metal, Sir Russell Allen, making yet another classic album even better with his voice.
The album's exquisite cover artwork (once again by illustrator Warren Flanagan) features the return of the SYMPHONY X masks, around which are eight symbols that represent the circles of hell: limbo, lust, gluttony, greed, anger, heresy, violence, and fraud. The symbol for treachery, the ninth circle, is underneath the masks, and hopefully will be revealed in full inside the album packaging.
Underworld is a great album, which grew on me the more I listened to it. SYMPHONY X are masters of American prog metal, and have been for quite some time. Underworld further cements that reputation, and will undoubtedly please fans of all eras of the band.
4.5 Out Of 5.0
Pre-Order your copy of Underworld in the KNAC.COM More Store right HERE.

Please log in to view RANTS