URIAH HEEP Live At Koko


By Rob McNees, Vinyl Aficionado
Monday, July 20, 2015 @ 6:14 PM


| | | |
| --- | --- | --- |
| | | |
It's amazing how differently you feel about certain bands and band members. Take IRON MAIDEN for example; I hate hearing Bruce Dickinson sing Paul Di'Anno songs. Just don't care for it. But I loved it when Ripper Owens joined JUDAS PRIEST and sang Rob Halford's songs. Which brings us to the legendary URIAH HEEP.

One of the founding fathers of Heavy Metal, along with DEEP PURPLE, BLACK SABBATH, etc., HEEP were formed in 1969!! They've sold more than 40 million albums worldwide but yet are practically unknown here in the Colonies. Think I'm full of shit? Name the last time you heard a URIAH HEEP song on ANY radio station, including Sirius. Can you even name a song?? Uh-huh, thought so. I can say that I luckily found out about HEEP as a teenager, and I have such landmark albums in my collection as Innocent Victim, Sweet Freedom, Demons & Wizards and more. But URIAH HEEP have been putting out new albums and touring (although I certainly missed it if they've played here in Texas anywhere) virtually non-stop.

In searching thru my Dungeon of Vinyl it donned on me that I only know or have the classics with such amazing vocalists as David Byron & John Lawton. I was rather floored to learn that vocalist Bernie Shaw has been with URIAH HEEP since 1986!!!! Wow. That shows you how much I've missed in the HEEP world, much less their discography. So it was a pleasant surprise to be given the opportunity to check out their double live cd Live At Koko. Recorded in London on home turf, this was my chance to see what I've been missing. And it's a great mix of classics that I know like "Traveller In Time", "Stealin", "Gypsy" and "Easy Livin" along with new to me tracks like "Against All Odds" (the cd opener) and "Nail On The Head".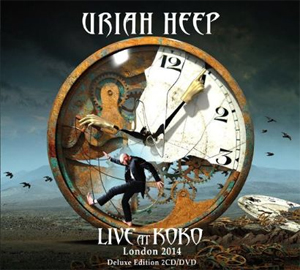 The production is stellar with a great mix, especially lone original member Mick Box's guitar. The band is rounded out by Phil Lanzon on Keyboards, Russell Gilbrook on drums and Dave Rimmer on bass. So what did my rant to start this review have to do with URIAH HEEP you ask? Well, I have to say it was very odd to hear the classics I've known for decades sung by Mr. Shaw, the 'new guy'. But I can say that I was pleasantly surprised that I did not find his versions offensive. Quite the contrary, this is URIAH HEEP at its best, playing some of their brilliant Hard Rock songs both new and old in front of an enthusiastic crowd of fans from all points on the globe.
Am I ready to say that I love these versions more than the beloved versions of my youth? Erm....no. But I am saying that if you've never had the pleasure to hear one of the godfathers of Heavy Rock ply their wares then by all means go and search this out and give it a spin. Or if you enjoy all things visual, this is also a DVD. Broaden your horizons my friends, there are millions of bands new and old waiting to be discovered. Cheers!
3.9 Out Of 5.0 Order your copy of Live At Koko in the KNAC.COM More Store right HERE.




Please log in to view RANTS

If you don't have a username, click here to create an account!