ACT OF DEFIANCE Birth And The Burial


By Alex Yarborough, Orlando Contributor
Tuesday, August 18, 2015 @ 4:37 PM


| | | |
| --- | --- | --- |
| | | |
ACT OF DEFIANCE
Birth And The Burial
2015 Metal Blade




ACT OF DEFIANCE is a supergroup that features guitarist Chris Broderick (MEGADETH, JAG PANZER, NEVERMORE), drummer Shawn Drover (MEGADETH, EIDOLON), vocalist Henry Derek (THROWN INTO EXILE, ex-SCAR THE MARTYR) and SHADOW'S FALL guitarist Matt Bachand on bass.

This album was a surprise for me, both in the intensity of the songs and the band's choice of vocalist. When Broderick and Drover both left MEGADETH and announced this new band, I didn't think it would be this heavy and formidable. You can hear elements of thrash, melodic death metal, speed metal, and metalcore garnered by the veterans in the band. There is an intentional modern metal approach to the music. Chris Broderick described the band's sound as "appealing to fans of all kinds of metal, from thrash to Scandinavian metal to modern American metal - and if you had them all in a mosh pit, ACT OF DEFIANCE would be their soundtrack". I couldn't agree more. The aggression here is distinct, bordering on anger. Were Chris Broderick and Shawn Drover merely going through the motions in MEGADETH? It appears so, because Birth And The Burial is their glorious release, their inauguration to something greater. This album just totally smokes on every level!

Opener "Throwback" gets things going immediately, featuring a nice melodic guitar intro by Broderick. The song sets the tone for the album right from the start. But things really open up on the second track "Legion Of Lies" (video HERE), one of the best songs on the album. The band gets into extreme metal territory on "Thy Lord Belial", featuring a crushing groove, double bass drumming and screaming vocals that permeate this track. An acoustic/electric intro segues "Refrain And Re-Fracture", which features a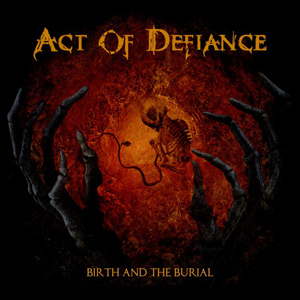 nice change in tempo, and allows Derek to do some more melodic clean/death style vocals. "Dead Stare" is a decent track, with Broderick's guitar work keeping me interested. "Poison Dream" is a good song with a solemn piano and cello intro. "Obey The Fallen" is another standout track on the album, featuring some of Derek's best vocals and Drover's best drumming. Broderick's rhythm track is awesome, as is his solo. "Crimson Psalm" features some metalcore-style breakdowns and one of Broderick's longest solos on the album. The album ends with the title track, which is pretty good. There is a total of 10 songs clocking in at around 48 minutes. If there's any hang-up for fans, it might be the singer. I was expecting this band to have a different vocal style than Henry Derek's hardcore growl. Some might find his vocals to be harsh, but Derek is in fact a vocal acrobat. (He used a hardcore voice as well as a melodic voice in SCAR THE MARTYR). On some songs, like "Refrain And Re-Fracture" he reminds me a lot of the modern metalcore singers. On other songs, such as "Disastrophe", he sounds a lot like Chuck Billy (TESTAMENT). His intensity gives the songs validation, and he definitely grows on you.
The production is fantastic, accenting some nice dynamics and emphasizing rhythm guitar and drums. Shawn Drover's drumming is lightning fast, with tons of double bass, something he did sporadically on the MEGADETH albums he played on. Chris Broderick, who was already a bonafide guitar god even before he joined MEGADETH, takes his playing to another level for ACT OF DEFIANCE. Both his solos and rhythm playing are superb. Matt Bachand provides a steady backbone for the songs on bass. For a debut album, I am impressed by how complete and well-written the songs are. This album sounds like a band in its prime, after three or four releases, not a debut. Well done!
4.5 Out Of 5.0
Pre-order your copy of Birth And The Burial in the KNAC.COM More Store right HERE.




Please log in to view RANTS

If you don't have a username, click here to create an account!