SEPULTURA Live In Dublin, Ireland With Photos!


By Larry Petro, News Monkey
Tuesday, August 18, 2015 @ 5:22 PM


| | | |
| --- | --- | --- |
| | | At Dublin's Academy Venue |
Review And Photos By Justin Ryan
When compared to the exceptionally high standards of SEPULTURA's remarkable studio works recorded in their first ten years, the teeth grinding mediocrity of the two studio albums (in particular, 2001's Nation) that followed founding member Max Cavalera's sudden, shocking departure in 1996, led many to wonder whether one of the most important heavy metal bands of all time was grinding to a halt. Certainly, given the classic works that the band found themselves being reminded of by their rabid fan base as yardsticks for future material, the idea that they would be celebrating a thirtieth anniversary world tour this year must have been the furthest thing from the group's mind at the time.
To their credit, three of the five studio records that have been completed since 2003 have been worthwhile, decent efforts. Although nowhere near the same quality as the impressive material from their first decade, Roorback (2003), Kairos (2011) and The Mediator Between Head And Hands Must Be The Heart (2013) have been the bands answer to all of those who questioned SEPULTURA's ability to create work of substance since Max Cavalera's exit nineteen years ago.
Tonight's (Monday, 10th August, 2015) performance at Dublin's Academy venue is show number twenty-four on the European Leg of the current thirtieth anniversary world tour, which began earlier this year on the 4th of February in Santos, Brazil. Although presenting a band with a certain level of set list freedom that a regular tour wouldn't permit (where a new album's tracks would usually feature heavily in number), separate and stand alone anniversary tours in themselves can be a delicate proposition for both a band and its fans. If the band is still an active recording and touring entity, the danger of such a tour, should they not produce shows of real note, is the mud slinging opportunity it presents their critics and haters who can accuse them of cashing in on former glories. For the fans, one question usually arises. If the band had recently appeared on a studio album tour (as SEPULTURA did in Dublin in April 2014), will the band really pull out all the stops to celebrate such a milestone in their career or will they deliver a show quite similar to their last one which the fans have already seen?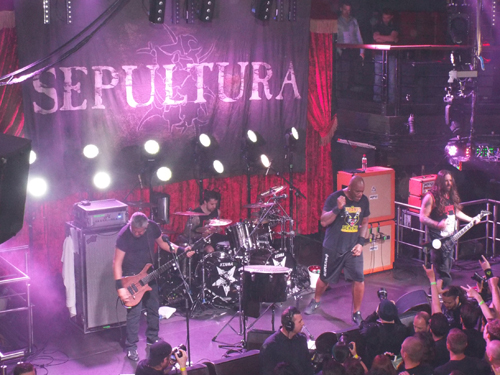 The thousand-strong crowd inside tonight's almost sold out venue on Abbey Street certainly didn't need any encouragement to create a fever pitch atmosphere before the predominantly Brazilian quartet (Derrick Green being American) took to the stage at 9pm sharp. The house lights were cut at two minutes to nine o'clock to which the crowd immediately responded to with a ear splitting, bellowing chant of, "SEPULTURA, SEPULTURA, SEPULTURA". Set up to play in front of a plain black banner containing their famous stylized,"S"(for SEPULTURA) logo and the band's name in white block capital lettering, guitarist Andreas Kisser was first onto the stage from the righthand side stage wings. He was quickly joined by the other players in the band; sole original member Paulo, Jr. on bass, Derrick Green (vocals) and drummer Eloy Casagrande. In addition to the extensive house lighting rig, the band had also positioned quite a few of their own lights behind and above the drum kit and on the stage itself. Maximum use of this lighting configuration was utilized throughout the show. An early indication of its visual power was exemplified by the whole venue being aptly cast into the color red from complete darkness as the band tore out of the blocks with the apocalyptic opener "Troops Of Doom". Without pause, the title track from 2011's Kairos album followed, Derrick Green's energetic use of the free standing drum positioned to the side of his microphone stand in tandem with Eloy Casagrande's thunderous skins work helped both to shake the walls of the compact venue and turned the floor standing section into one massive pit. "It's great to back, Dublin. We're celebrating thirty years of SEPULTURA on this tour. "This next song is called "Propaganda"" was Derrick Green's howling introduction to the concerts third song, which was immediately followed by "Breed Apart", one of four tunes from the album Roots performed on the night. The blistering early momentum continued unabatedly with two absolutely classic metal numbers, "Inner Self" and the spine tingling "Dead Embryonic Cells". More recent material, "Convicted In Life" and "Choke" followed; the latter was described by singer Derrick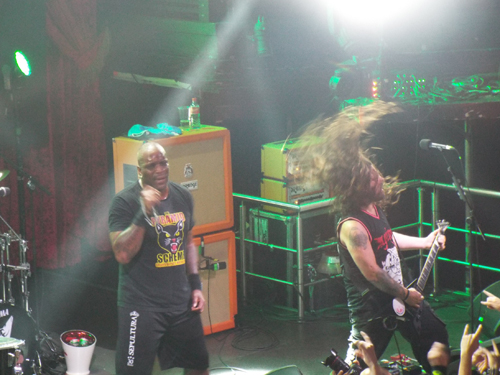 Green as "an important song in the history of SEPULTURA as it was the song used in auditions for their new singer". The intensity of the bands performance was reflected by the remarkable atmosphere in the venue; the whole ground floor standing section had turned into a scene of utter chaos. The numerous Brazilian flags being held aloft and the presence of quite a few yellow Brazilian soccer jerseys led Andreas Kisser to jokingly comment, "looks like seventy five per cent of the audience is from Brazil!". "Sepultura Under My Skin" was dedicated by Green to those fans whose passion for the band has reached tattoo proportions and the awesome "From The Past Comes The Storms" was presented by the bands front man as, "a song for all of the old people here, old like Uncle Paulo there!". The song's introduction may have been delivered lightheartedly but there was nothing humorous about its brilliant execution which was simply jaw dropping.
The hour mark saw the show's two cover songs performed successively. "We haven't played this next song in years. But since we're in Dublin tonight...", was Green's smiling introduction to SEPULTURA's version of arguably the best song that U2 ever wrote, "Bullet The Blue Sky" from their 1987 The Joshua Tree album. The crowd's roar of approval to the song's opening drums and growling bass line was memorable, as was the band's delivery of "Arise" and "Refuse/Resist". A five song encore followed which brought the running time of the concert to one hour and fifty minutes. Although a really tight set from a band in fine form had been delivered, it was surprising that a tour of this nature would not include either the performance of one of their classic albums in its entirety or, if that just wasn't possible for whatever reason, at least a much higher number of tunes from those works. A total of two songs from Arise and just one from Beneath The Remains hardly do those albums, this anniversary tour or the band's name justice. Given how important their early, classic material is to the history of the heavy metal genre, let's hope the band will consider including more of those early works in future tours, be they studio album, promotional or anniversary in nature.
Setlist:
"Troops of Doom"
"Kairos"
"Propaganda"
"Breed Apart"
"Inner Self"
"Dead Embryonic Cells"
"Convicted in Life"
"Choke"
"Cut-Throat"
"Apes of God"
"Sepultura Under My Skin"
"From The Past Comes The Storms"
"Territory"
"Policia"
"Bullet the Blue Sky"
"Arise"
"Refuse/Resist"
Encore:
"Bestial Devastation"
"Biotech Is Godzilla"
"The Vatican"
"Ratamahatta"
"Roots Bloody Roots"
Check out some more photos from the show!
All Photos By Justin Ryan




Please log in to view RANTS

If you don't have a username, click here to create an account!





HENDRIX: The Illustrated Story

L.A. GUNS The Missing Peace

ENSLAVED E

UFO, SAXON, JARED JAMES NICHOLS In Akron, OH With Photos!

ACT OF DEFIANCE Old Scars, New Wounds

JACKYL 25

REVOLUTION SAINTS Light In The Dark

TESLA, WEAPONS OF ANEW, VOICES OF EXTREME In Orlando, FL With Photos!

THE BLACK DAHLIA MURDER Nightbringers

SONS OF APOLLO Psychotic Symphony

OBITUARY, EXODUS And POWER TRIP In Ottawa, Canada

EVERY MOTHER'S NIGHTMARE Grind

FOZZY Judas

LYNCH MOB In Saint Petersburg, FL With Photos!

DIAMOND HEAD In Ottawa, Canada

VENOM, INC. Ave

NOCTURNAL RITES Phoenix

EXIT EDEN Rhapsodies In Black

MARDUK, INCANTATION In Ottawa, Canada

NIGHT RANGER In New Braunfels, TX

AVATARIUM, THE SLAYER KING In Sieburg, Germany

STEELHEART Through Worlds Of Stardust

SATYRICON Deep Calleth Upon Deep

SERIOUS BLACK Magic

CRADLE OF FILTH Cryptoriana - The Seductiveness Of Decay