KING DIAMOND Live At Mayhem In Colorado With Photos!


By Chaos G, Nomad Contributor
Wednesday, August 19, 2015 @ 12:11 AM


| | | |
| --- | --- | --- |
| | | As Part Of The 2015 MAyhem Festival |
All Photos By Chaos G/Smoking Barrel Photography
ALL HAIL THE KING!
This years Mayhem Fest hosted Danish Metal legend - KING DIAMOND for the main-stage. [& only stage on some dates] On the eighth stop of the tour in Morrison, CO at the epic Red Rocks Amphitheater the anticipation in the air was palpable. Some peoples lives were about to be changed, even if they were unaware.
The attendance would see almost all generations represented at the amazingly atmospheric venue. KING DIAMOND would go on to deliver a truly masterful & unbeknownst historic performance. From the two-leveled stage to the elaborate costumed story-lines & trademarked theatrics, KING DIAMOND fans & newbies were satiated alike. All band members were in absolute top-form, but the magic created from KING DIAMOND / ANDY LAROCQUEís tandem, was staggering. Thereís something about the pairing that just works on an astronomical level. The old-school Metal-Heads have been spoiled with this knowledge for many years, but new fans could be seen with literal jaws dropped. KING DIAMOND is an icon in our community to be celebrated. Itís not difficult to hear/see why massive reverence from such heavyweights as METALLICA, is well deserved. EVERY Metal-Head should see KING DIAMOND at least once. Even if itís not within the realm of your taste, itíd be a disservice by depriving yourself of one of the greatest musical experiences available.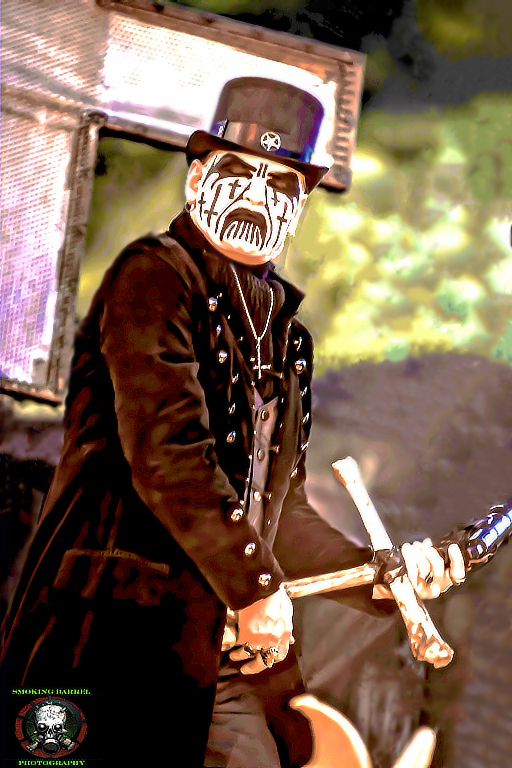 Did you miss KING DIAMOND on the last ever MAYHEM FEST? Well, youíre forgiven & get a second chance to catch them on the headlining tour [with EXODUS as main support] coming to North America this October. Check out the dates HERE.
One last thingÖ despite the health setbacks that have plagued him over the years, hats off to KING for sounding BETTER THAN EVER! All hail the KING!
* Make sure to check out the live photos!
SETLIST:
"Candles"
"Sleepless Nights"
"Eye Of The Witch"
"Welcome Home"
"Tea" / "Digging Graves" / "A Visit From The Dead"
"Evil"
"Come To The Sabbath"
"The Family Ghost"
"The 7th Day Of July 1777"
"Black Horsemen"
Check out some more photos of the show!
All Photos By Chaos G/Smoking Barrel Photography

Please log in to view RANTS