BULLET FOR MY VALENTINE
Venom
RCA Records




If there's such a thing as "middle of the road" metal, Welsh quartet BULLET FOR MY VALENTINE (BFMV) stand right smack dab in the center of it. Over four albums, the band has built a sound that combines thrash and speed metal/power metal/pop metal/traditional metal and plain old hard rock – with just a hint of death metal and metalcore. It's a lot of everything, without really being one thing in particular.

It's perhaps for that very reason that the band has managed to shift a sizable number of each of its releases – going gold with its debut The Poison back in 2005 when bands still actually sold albums! - without making near the overall impact of, for example, AVENGED SEVENFOLD, LAMB OF GOD and SLIPKNOT – the latter two with whom BFMV just toured - who have distinct identities despite painting from somewhat similar sonic palettes.

While album No. 5, Venom, doesn't find BFMV refining its modus operandi in any radical measure, it is certainly the band's heaviest and most aggressive release. And though the results, overall, are mixed, Venom - which already landed in the Billboard Top 10 – boasts the kind of genuine oomph that sticks over the long haul.

BFMV comes roaring out of the gate with the thrash/metalcore thunder of "No Way Out" and the "Whiplash"-like "Army Of Noise", delivering the kind of authority that harks back to the band's first two albums, but with a little something extra. "Army Of Noise" even borrows a lick and the crunching guitar tone from, of all things, "The Granulating Dark Satanic Mills" from the last CARCASS album Surgical Steel – which also was helmed by Venom co-producer Colin Richardson.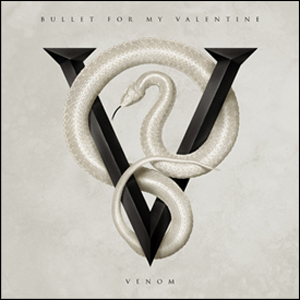 Indeed, Richardson and co-producer Carl Brown ensure there is plenty of heft in the guitars throughout Venom, be it on the boisterous "Broken", "Skin" and "The Harder The Heart (The Harder It Breaks)" or the mid-tempo, more anthemic – and somewhat bland - and "Worthless". Even the power-ballady title track has definite balls, and that's never a bad thing.
Frontman Matthew Tuck and Michael "Padge" Paget don't let this opportunity go to waste and offer the kind of meaty riffs, gut-punchy hooks and dog-fight leadwork and harmonies deserving of the heavy-handed production – and I mean that as a compliment – they receive. And while their metalcore-ish sing-scream-bark vocal back and forth is a bit rote and more often than not fairly pointless, the pair's guitar interplay is spot on and undeniably "metal".
With five albums now under its belt, BFMV is obviously quite comfortably with its mish-mashy songwriting. And it's probably too late in the game to expect that to really change – indeed such a move might smack of a certain desperation that, to this point, shouldn't exist as BFMV seems to be doing just fine, even if it's name doesn't resonate like some of its contemporaries, for what that's worth.
Venom, though, should help in that regard. It certainly kicks ass and asserts itself far more than the band's last couple albums, which were so unremarkable I can't even recall their titles without resorting to Wikipedia. Ouch! That won't be a problem this time.
3.0 Out Of 5.0
Grab your copy of Venom now in the KNAC.COM More Store right HERE.