LYNCH MOB Rebel


By Curt Miller, Editor at Large
Friday, August 28, 2015 @ 4:01 PM


| | | |
| --- | --- | --- |
| | | |
LYNCH MOB
Rebel
Frontiers Music




It goes without saying that George Lynch is a great guitarist. Since 1989, when LYNCH MOB was originally formed, the band has gone through several iterations in membership and a few changes in musical style, as well. The band's current release, Rebel, features original vocalist Oni Logan back out front, Jeff Pilson on bass, Brian Tichy on drums and of course, George Lynch, the band's only consistent member, on guitar.

While some might expect a musician like Lynch to put out a metal album featuring fast-paced tracks and blazing, high-pitched guitar solos, those are not to be found here. Rather, this is a bluesy, groove-oriented rock release. The songs certainly feature guitar solos, but they're of the subtler variety and are interwoven into the fabric of the music instead of those lying overtop of it. It's as if Lynch is making a statement by purposely not making a statement. He doesn't have anything to prove. Everyone knows he can shred if he wants to, so this is a rock album where, though the band bears his name, each band member shines equally.

"Automatic Fix" kicks off with a drum fill that leads into a slow and steady groove that permeates the entire song. It's a fitting start to an album loaded with similar material and Logan's lyrics make it clear that rock 'n' roll is his "Automatic Fix". It's his home, where his soul lives. "Between The Truth And A Lie" is a bluesy, in-your-face, "don't-let-the-door-hit-you-in-the-ass" anthem. A bit faster paced than the first track, but not by much, this song is all about a jilted lover who's been here before and isn't going to let this ordeal get him down.

"Testify" slows things way down. The boom/crack of Tichy's drums provide a palpable heartbeat to the song and it creates a solid transition between the two faster tracks on either side of it. "Sanctuary" jumps back into the faster, bluesy sound and here Lynch's solo is a bit more prominent than on some of the other songs.

"Pine Tree Avenue" is an old-school, blues-rock song through and through. The rhythm section does most of the driving; that is until Lynch lays down a killer, yet not overdone solo. Given the nature of the record, it would be incomplete without the ubiquitous "let's make love" song and "Jelly Roll" is just that song. The song is built around a pretty decent riff and Lynch delivers another nice solo mid-way through. As might be expected with this type of song, Logan's lyrics can lean a bit on the cheesy side, but that is kind of built-in to these types of songs. So be it.

"Dirty Money" brings back the slow, heavy rhythm sound of the record. Again, this song feels like more of a transition track. It takes the listener from two more blues-oriented songs into a song that's more on the alternative side of the spectrum.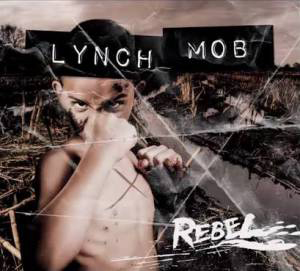 On "The Hollow Queen" Logan's lyrics are much more subtle. Tichy's kick drums provide a lot of punch to this slow, dark track. Even Lynch's solo seems as though it's being played from somewhere far away. All of these techniques seem to be there to create a bit of a spooky effect. "The Ledge" is another that fits somewhere between the rock and alternative genres. Like many of the songs on the album, it's dominated by a slow, thumping rhythm. It's equally as dark as the track just prior to it, perhaps even more so. Logan's vocals very clearly express the difficulty and pain expressed in the lyrics.
Like the album's first song, "Kingdom Of Slaves" starts out with a drum fill from Tichy and may be the slowest and hardest hitting track on Rebel. While the song starts out dark, mid-way through a light shines through as Lynch delivers a well-placed guitar solo laid over music that becomes decidedly brighter. After this brief reprieve from the song's dark undercurrent, it heads back into its original rhythm and riff as it closes out.
The final track, "War", is a rhythmic assault from Pilson and Tichy. Though certainly nowhere near the realm of thrash metal, it's definitely one of the faster paced songs on the record. Unlike some of the other songs on this album, Logan's lyrics provide more texture here than anything. This is more about the music. Lynch comes in near the end with one of the record's longer solos, which eventually leads into a closing round of choruses.
Rebel is one of those albums that really can't be pigeonholed into a particular category. This record is an amalgam of blues, blues-rock, and even some alternative. The common thread throughout is the dominance of LYNCH MOB's rhythm section. George Lynch can certainly be heard riffing and soloing throughout. Oni Logan contributes powerful vocals, yet stays within a very narrow range. One thing that's definitely noticeable about him is the clarity with which he sings. While it's become second nature to make out the lyrics of virtually any artist nowadays, Logan's take no work whatsoever.
4.0 Out Of 5.0
Grab a copy of Rebel now from the KNAC.COM More Store right HERE.




Please log in to view RANTS

If you don't have a username, click here to create an account!