MOTORHEAD Bad Magic


By Alex Yarborough, Orlando Contributor
Friday, September 4, 2015 @ 1:06 PM


| | | |
| --- | --- | --- |
| | | |
MOTORHEAD
Bad Magic
2015 UDR




Clearly a band is doing something right if they can reach their 22nd studio album. As denoted on the album's cover, Bad Magic marks MOTORHEAD's 40th year as a band. (Lemmy, Phil Campbell and Mikkey Dee have been playing together for more than half of that time). There's something to be said for that kind of longevity and determination. At this point, MOTORHEAD have influenced most rock, metal and punk bands on the planet.

Bad Magic finds MOTORHEAD as loud, vicious and acerbic as ever. Overall, the album seems to have more of an 'old school rock 'n' roll MOTORHEAD' feel to it than the last couple of albums, and I think the album is marginally better than 2013's Aftershock. My favorite MOTORHEAD songs are the ones where they punch you in the mouth right from the get-go, like openers "Victory Or Die" and "Thunder & Lightning". Plenty of punk attitude in these songs, which follows with "Fire Storm Hotel", an awesome track featuring my favorite riff on the album. "Shoot Out All Your Lights" features Dee pummeling the listener with double bass drums, in another of the songs that punches you square in the face. Also one of my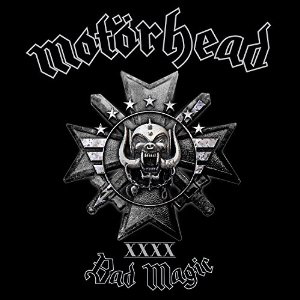 favorites on the album. Lemmy lays down a nasty groove on killer track "The Devil", which also features a stellar guest solo by QUEEN's Brian May.
Ballad "Till The End" is solid and a little reminiscent of "One More Fucking Time" from We Are Motörhead. Other standout tracks include "Teach Them How To Bleed", "Tell Me Who To Kill" and "Choking On Your Screams". The cover of THE ROLLING STONES' "Sympathy For The Devil" is fantastic and one of the best versions of the song I've ever heard. Overall, this is another classic MOTORHEAD album, a definite must-own for fans. Bad Magic has 13 songs totaling around 43 minutes. As usual, the songs are succinct and to the point (the longest song is 4:05, not counting the cover of "Sympathy For The Devil"), which is a nice alternative when you're taking a break from the new IRON MAIDEN epics.
The tour for this album has seen a few cancellations due to Lemmy's health. Here's hoping he recovers and returns to form. The world needs Lemmy and MOTORHEAD!
4.5 Out Of 5.0

Please log in to view RANTS