METAL ALLEGIANCE Metal Allegiance


By Curt Miller, Editor at Large
Tuesday, September 8, 2015 @ 8:31 AM


| | | |
| --- | --- | --- |
| | | |
METAL ALLEGIANCE
Metal Allegiance
Nuclear Blast




METAL ALLEGIANCE began in 2011 with the goal of bringing together some of metal's greatest musicians to perform and brainstorm new material, as well. After several years, the artists of METAL ALLEGIANCE are releasing their self-titled debut album on September 18, 2015. The record will feature 9 new songs, the Deluxe Edition to include a cover of DIO's "We Rock".

As one might expect, the music on this record spans quite a bit of the metal spectrum, but all the while remains very heavy. There's everything from thrash, to modern, to progressive metal on this release. Every song on the record feels right at home, though. Nothing sounds out of place.

"Gift Of Pain": LAMB OF GOD is pretty much taking over the world of late with its recent release VII: Sturm und Drang, so it's hard to imagine a better way to kick off an all-star metal collaboration than having Randy Blythe at the helm of the album's opening track. This song sets the tone for the entire record. This is not a bunch of musicians phoning it in for some "Best Of" release. No! This song and the whole album are definitely the real deal. "Gift Of Pain" is a powerful, thrash metal track that hits hard with Randy's vocals transitioning into all-out growls at times. The shredding guitar solo picks up the song's pace, which is retained until it closes out. (Vocals: D. Randall Blythe; Lead & Rhythm Guitars: Alex Skolnick; Bass: David Ellefson; Drums: Mike Portnoy; Additional Lead Guitar: Gary Holt)

"Let Darkness Fall": This song starts off with a killer drum lead-in by Mike Portnoy, then hits like a heavy metal freight train. After its brutal beginnings, it takes the listener on a trip one would never expect. A brief bass solo slows things way down in preparation for a Spanish-guitar-style guitar solo. Then, it's right back into crunching riffs and thundering kick drums for the final chorus. (Vocals: Troy Sanders; Lead, Rhythm & Acoustic Guitars: Alex Skolnick; Bass: David Ellefson; Drums & Percussion: Mike Portnoy; Additional Bass: Mark Menghi & Rex Brown; Additional Screams: D. Randall Blythe)

"Dying Song": After two fast-paced tracks, this song slows things down quite a bit. Dark, heavy guitar chords and riffs match well to the song's lyrics, its pain and sadness delivered perfectly through Philip Anselmo's vocals. The track is broken by two waves of solos at its bridge, the first coming in the form of four quick sets of drum fills. The second section is comprised of guitar solos broken by brief returns to the bridge riff. Though the song begins very slowly, by the end its tempo has picked up. Regardless, it never yields its dark, heavy undertone. (Vocals: Philip H. Anselmo; Lead & Rhythm Guitars: Alex Skolnick; Bass: Mark Menghi; Drums: Mike Portnoy)

"Can't Kill The Devil": This track may start off a bit slow, but after a quick high-hat count-in, it's pure, old school thrash metal. Blazing guitars and machine gun kick drums permeate this track and are well matched by twin, shredding guitar solos. It's thrash metal at its best. (Vocals: Chuck Billy; Lead & Rhythm Guitars: Alex Skolnick; Bass: David Ellefson; Drums: Mike Portnoy; Additional Lead Guitar: Phil Demmel & Andreas Kisser)

"Scars" Starting out with fast guitars and kick drums, this again has a thrash metal backdrop, though it quickly evolves into much more when the chorus comes in. Cristina Scabbia's melodic chorus changes the direction and pace of the song, which switches back to thrash again shortly thereafter. By the second chorus, though, the melodic begins to take over with Scabbia taking the third verse. As the song enters a guitar solo, it becomes a bit more progressive in nature. The music at its end along with Mark Osegueda's very aggressive closing vocals tie together the heavy theme the song has retained throughout. (Vocals: Mark Osegueda & Cristina Scabbia; Lead & Rhythm Guitars: Alex Skolnick; Bass: David Ellefson; Drums: Mike Portnoy)

"Destination: Nowhere": While equally as heavy as some of the others on the album, this song has the feel of more modern, melodic, and progressive types of metal. The kick drums are decidedly more syncopated. Matt Heafy's vocals, particularly during the chorus, are sung rather than growled. Placing this track next to one on which another modern vocalist, Cristina Scabbia, is "singing" the lyrics demonstrates some good planning on the part of the album's developers. (Vocals: Matthew K. Heafy; Lead & Rhythm Guitars: Alex Skolnick; Bass: David Ellefson; Drums: Mike Portnoy; Additional Lead Guitar: Matthew K. Heafy)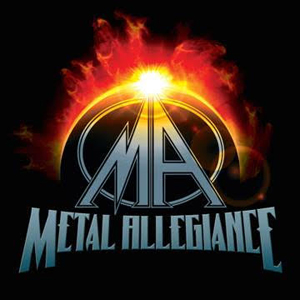 "Wait Until Tomorrow": Here again, the development team has to be given a lot of credit for song placement. This is a slow, heavy track with a modern metal feel. Placing it here on the album gives listeners a great juxtaposition between the melodic vocal styles of artists like dUg Pinnick, as apposed to the very aggressive vocal styles of others like Jamey Jasta, both of whom are featured on this song. After hearing the two prior songs, the first of which was a bit thrash in nature, the second one more progressive, this track offers listeners the full gamut. It begins slowly, with Pinnick's melodic vocals, arpeggiated guitar chords, and syncopated drums. It's then broken by Jasta's screaming vocals accompanied by grinding guitars. The song continues to build until harmonized vocals are sung along with the grinding guitars and steady kick drums. Eventually, the song comes full circle, and closes with Pinnick's vocals backed with a combination of arpeggiated chords and grinding guitars. (Vocals: dUg Pinnick & Jamey Jasta; Lead & Rhythm Guitars: Alex Skolnick; Bass: David Ellefson; Drums, Percussion & Additional Vocals: Mike Portnoy)
"Triangulum: I. Creation, II. Evolution, III. Destruction": This three-part track is a nod to the progressive metal genre and it does not disappoint. It delivers nearly 8 minutes of odd times signatures, one killer guitar solo after another, all backed by Portnoy's time-tested, monster, progressive metal drumming. With guitar licks matched precisely to the drum solos, and bass lines that follow every time change without anything ever sounding busy, this is progressive metal at its finest. One thing that permeates this entire album, but really stands out on this song, is the manner in which Mike Portnoy's drums have been tracked. His drums sound just right. They never have too much boom or clack, yet they're always perfectly clean. Throughout the record Mike Portnoy sounds like a human metronome. (Lead & Rhythm Guitars: Alex Skolnick; Bass: David Ellefson; Drums: Mike Portnoy; Additional Lead Guitar: Misha Mansoor, Ben Weinman, Charlie Benante, Phil Demmel, Matthew K. Heafy & Ron "Bumblefoot" Thal)
"Pledge Of Allegiance": After taking a break for some progressive metal magic, this track jumps right back into the realm of thrash metal. Like some of the earlier songs on the record, this one feels like old school thrash with its high-speed guitars and thundering kick drums. The vocals range from low growls to high-pitched screams, and though each are short-lived, the multiple, dueling guitar solos are very well executed. (Vocals: Mark Osegueda; Lead & Rhythm Guitars: Alex Skolnick; Bass: David Ellefson; Drums: Mike Portnoy; Additional Lead Guitar: Charlie Benante, Gary Holt & Andreas Kisser)
"We Rock" (Deluxe Edition Only): Pretty much anyone reading this is familiar with the DIO song, "We Rock", so what happens when 12 of the finest metal musicians get together and lay down one of the most epic metal tunes of all time? Well, it's amazing, that's what. The vocals are incredible! The drums are amazing! And, oh yeah, all of the guitar solos are killer, too! (Vocals: Mark Osegueda, Chris Jericho, Tim "Ripper" Owens, Alissa White-Gluz, Chuck Billy & Steve "Zetro" Souza; Lead & Rhythm Guitars: Alex Skolnick; Bass: David Ellefson; Drums: Mike Portnoy; Additional Lead Guitar: Andreas Kisser, Phil Demmel & Gary Holt)
Though METAL ALLEGIANCE is made up of quite a few members, four in particular make up its core: Mike Portnoy, David Ellefson, Alex Skolnick and Mark Menghi. They, along with all of the members of METAL ALLEGIANCE, are to be commended for their efforts. METAL ALLEGIANCE's self-titled debut is an incredible album and an absolute must-have in any metal fan's collection.
5.0 Out Of 5.0
Pre-Order your copy of Metal Allegiance in the KNAC.COM More Store right HERE.




Please log in to view RANTS

If you don't have a username, click here to create an account!