Symbol Of Salvation is a 13-song roller coaster of energy, melody and emotion and is considered a "must have" for any self-respecting heavy metal fan. Even though ARMORED SAINT achieved critical success with Symbol Of Salvation, the band disbanded and reunited numerous times, all the while recording albums and touring. I moved back to Florida during those years and never had the opportunity to see ARMORED SAINT live, but that would change some 23 years later.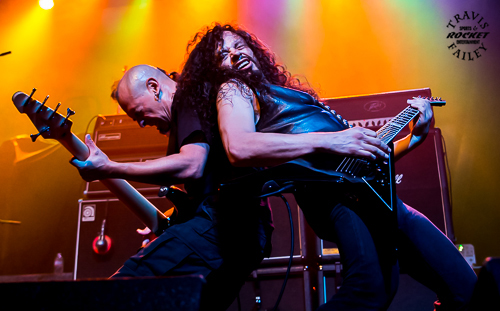 I have never experienced a show at the Center Stage Theatre in downtown Atlanta. Center Stage Theatre was packed as ALMAH (from Brazil) and DRAGONLAND (from Sweden) brought a bunch of their faithful fans with them. The sound in the venue was amazing. Center Stage Theatre is setup with an open floor and theatre seating that rises through the back up dome-shaped walls. I've been in a lot of musical venues across the country, and the Center Stage Theatre is truly special facility from an audio standpoint. There were a couple technical hiccups early in the set but they didn't affect the attitude of the band and the crew changed some gear out quickly.
With DRAGONLAND playing for the first time in the United States, they treated their fans to a 14-song set, which gave me the opportunity to take a few pictures and chat with the guys in ARMORED SAINT for a couple minutes before their set. Guitarist Phil Sandoval and I talked about La Raza, their 2010 release, which has a variety of styles and songs and I believe, is very underrated and unappreciated. As Phil and I talked, vocalist John Bush came in and warmed up by singing the title track from Win Hands Down. The guys were very gracious and even took some band pictures with me before they took the stage.
ARMORED SAINT got their fans fired up with the JUDAS PRIEST classic, "Delivering The Goods" blaring though the house speakers, then opened the curtain with the aforementioned "Win Hands Down". Their most recent single set the tone as the onslaught of power and energy was non-stop throughout their 11-song set that spanned their whole career. The title track from their first full length album "March Of The Saint" was next and the crowd sang the chorus with John Bush, who got the crowd involved early and often. Guitarists Phil Sandoval and Jeff Duncan are the epitome of a heavy metal guitar tandem with songwriting skills reminiscent of MAIDEN and PRIEST. Phil Sandoval is amazing to watch live and he is always performing visual guitar gymnastics with Jeff Duncan engaging the crowd throughout his performance.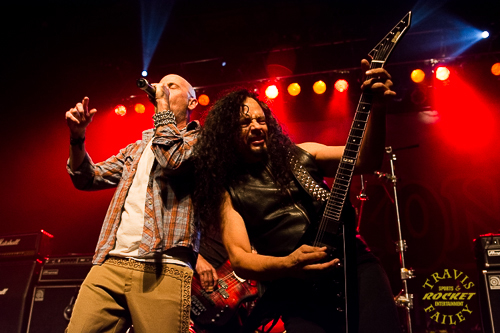 Another one of the highlights of their set was "Left Hook From Right Field" off of La Raza, which showcases John Bush's vocal range. I didn't hear any missteps or vocal mistakes from Bush all night. He also doesn't have to use ridiculous dance moves or dog videos to make up for lost ability due to aging or vocal destruction.
Tonight he brought frenetic energy and combined it with booming melodic vocals. He also left the stage and went deep into the crowd and made some fans' night by letting them assist him in singing their biggest hit to date in Symbol Of Salvation's "Reign Of Fire".
On a side note, I've heard John Bush live many times as the vocalist of ANTHRAX and he is amazing. I don't think that he gets the credit he deserves as a singer, and too many conversations revolve around the comparisons between Bush and ANTHRAX's original and current singer, Joey Belladonna. Everyone has their favorite ANTHRAX singer for various reasons and they love to tell you why they are right. It's a non-winnable argument. It's comparable to the VAN HALEN Dave vs. Sammy debate.
ARMORED SAINT also played a couple other songs from their new release, "An Exercise In Debauchery" and "Mess", which is a personal favorite from Win Hands Down. This song really showcased the vocal harmonies of Gonzo Sandoval, Jeff Duncan and bassist, Joey Vera. Vera provided driving bass lines all night while all the while being in perfect sync with Sandoval's thundering drum beats behind the kit. I know by now that you get it. It was an awesome show put on by ARMORED SAINT and they closed out their set with their first single ever, "Can You Deliver" and then "Madhouse" from their debut album, March Of The Saint.
The ARMORED SAINT show at the Center Stage Theatre in Atlanta gave this fan everything he wanted, except for maybe one thing: a longer setlist. Hopefully they will continue to tour and make a stop in Florida and give their fans what they want……and that is……more ARMORED SAINT.
For tour dates and other information on Armored Saint http://www.armoredsaint.com/
Setlist:
"Win Hands Down"
"March Of The Saint"
"Nervous Man"
"An Exercise In Debauchery"
"Raising Fear"
"Last Train Home"
"Mess"
"Left Hook From Right Field"
"Reign Of Fire"
"Can U Deliver"
"Mad House"
Check out some more photos from the show!
Photos By Travis Failey/Rocket Sports & Entertainment