SCORPIONS, QUEENSRYCHE Live In Cleveland, OH With Photos!


By Geoff Ketler, Cleveland Contributor
Sunday, September 27, 2015 @ 10:15 AM


| | | |
| --- | --- | --- |
| | | Celebrating 50 Years Of Hard Rock World Domination |
All Photos By Geoff Ketler/Aces High Photography
All the way from Hanover, Germany, the SCORPIONS were in town to put on a musical clinic, touching on each decade of their 50-year career. Whether it is the classic rockers like "Blackout" or the intoxicatingly good ballads like "Wind Of Change" – the SCORPIONS have tickled the musical palates of an array of fans across the world this last half-century. Ohio holds a special place in the hearts of the SCORPIONS, specifically Cleveland, because it was here that the band played their first show in the US. Vocalist Klaus Meine went on to explain to the packed house what a huge break "The World Series Of Rock" was for the band clear back in 1979. He asked if anyone in attendance was at the old Cleveland Municipal Stadium all of those years ago. I could only dream - SCORPIONS opened the show that featured AEROSMITH, JOURNEY, TED NUGENT and a Bon Scott-era AC/DC. The talent and rock n' roll prowess that graced the stage that day must have been epic. It is no wonder the Scorps love Cleveland.
I made my way down to "The Flats" on Cleveland's west side. Although the neighborhood has made great strides to revamp its venues and nightlife, it is still a ways off from the area's glory days. Nonetheless, I am happy to see old venues like the Odeon across the river opening its doors again and new clubs like The Music Box Supper Club – I take it as a sign that public interest in music and live entertainment is once again on the rise in the greater Cleveland area.
Direct support on the North American portion of this anniversary tour came by way of QUEENSRYCHE. Although I had seen the Geoff Tate-era of QUEENSRYCHE on multiple occasions, this was my first show since the infamous meltdown in Brazil and subsequent split with the long-time vocalist. Todd La Torre of CRIMSON GLORY fame had been wielding the microphone the last few years and doing a great job by all accounts. Geoff is known for having exceptional pipes, so although I was optimistic, I was still a little skeptical. Now all I can say is – skepticism-erased. Todd sounded phenomenal. He is the complete package; the pipes, the charisma and the stage presence. Guitarist Michael Wilton screamed through solos on his signature skull and crossbones ESP. Drummer Scott Rockenfield was precise with his intricate fills. The hits were well represented; "Walk In The Shadows", "Jet City Woman", "Empire" and of course "Silent Lucidity" were all performed with great care. The brief set was an excellent start to the evening.
Setlist:
"Anarchy-X"
"The Needle Lies"
"Walk In The Shadows"
"Jet City Woman"
"Silent Lucidity"
"Arrow Of Time"
"Eyes Of A Stranger"
"Empire"
"Queen Of The Reich"
A large curtain blocked the view of the now densely packed Jacob's Pavilion along the bank of the Cuyahoga River. From my point of view I could see the fog rolling in from back stage as Rudy, James, Klaus, Matthias and Pawel all took their positions. The curtain dropped and the SCORPIONS took the stage to "Going Out With A Bang". Large screens took up the entire backdrop and allowed live video feeds to show from the videographers in the pit and at the sound board as well as clips and album artwork. The stage was wide open with no monitors and the lights were blinding. It was a photographer's dream. Drummer James Kottack was on a riser connected to chains that would raise his set up and down. It would later tuck it away behind the video monitors as well. SCORPIONS are never short on production – fog, lighting, risers, etc. and a musicianship and live presence that I would put up against any band from any genre or any era.

The setlist was riddled with the classics as well as new material from their recent release, Return To Forever. That's right, let's not forget that after five decades the SCORPIONS are still making quality music and have never really stopped. With a half century of material to pick and choose from, it was a quality set, but naturally some things are going to get left out. I don't really want to dwell on it, but on my shortlist I had "Lovedrive", "Another Piece Of Meat", "He's A Woman She's A Man", "Tease Me Please Me" and (I might be reaching here) "Alien Nation" that were all left off of the lengthy list. On the flip side there are those ones that are considered "must-play" songs such as "The Zoo", "Blackout", "Wind Of Change" and "Rock You Like A Hurricane", among others. It is what it is. The Uli Jon Roth era was packaged into a medley that included "Steamrock Fever" and others.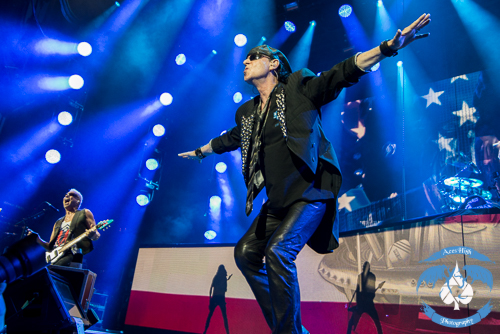 The ballads hit in the middle of the set. First it was an acoustic medley of classic and contemporary SCORPIONS and then it was the showstopper, "Wind Of Change". JAMES KOTTACK did his one-man-show of a drum solo entitled "Kottack Attack". He took the time to address the audience about how he loved playing Cleveland. It was good to see him back behind the drum kit after spending some time in rehab just last year and I felt it was classy of the Scorps to stand behind him until he cleaned up instead of running off and hiring a new drummer. One of the many highlights of the night was "Blackout". Guitarist Rudy Schenker busted out the gray flying "V" complete with exhaust pipe spewing smoke. There is never a dull moment with Rudy on stage. The night ended with the epic "Rock You Like A Hurricane". It is hard to imagine that this song has been blaring over the airwaves now for more than 30 years. After 50 years of hard rock and metal, it appears as though the SCORPIONS are beginning to wind things down a bit. Do yourself a favor and get to a show on this tour. You never know when it will be your last chance.
Setlist:
"Going Out With A Bang"
"Make It Real"
"The Zoo"
"Coast To Coast"
"Top Of The Bill / Steamrock Fever / Speedy's Coming / Catch Your Train" (Medley)
"We Built This House"
"Delicate Dance" (Instrumental)
"Always Somewhere / Eye Of The Storm / Send Me An Angel" (Acoustic Medley)
"Wind Of Change"
"Rock n' Roll Band"
"Dynamite"
"In The Line Of Fire"
"Kottack Attack" (Drum Solo)
"Blackout"
"No One Like You"
"Big City Nights"
Encore:
"Still Loving You"
"Rock You Like A Hurricane"
Check out some more photos from the show!
All Photos By Geoff Ketler/Aces High Photography




Please log in to view RANTS

If you don't have a username, click here to create an account!