Redd Kross Neurotica Re-Issue


By Frank Meyer, Contributing Editor
Friday, January 24, 2003 @ 1:18 PM


| | | |
| --- | --- | --- |
| | | (Five Foot Two Records) |
Redd Kross' Neurotica is one of my fave albums of all time, point fucking blank. It's glam, it's punk, it's pop, it's metal, it's hippy, it's dippy, it's a masterpiece of trashy, goofy fun.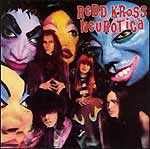 Folks may remember Redd Kross as the band that featured brothers Jeff and Steve McDonald, stars of the hilariously stupid comedy Spirit of '76. You'd never know it from that film, but they rocked, and rocked hard, around that time. Beginning in the late-'70s as a teenage hardcore punk band, they came up on the fringes of the Hollywood punk scene and slowly morphed from hardcore to hard edged rock n' roll, embracing as influences everyone from KISS to Sweet to the Beach Boys to the Bay City Rollers and the Runaways. Neurotica finds the band in the thick of this mish-mash phase and the results are nothing sort of glorious of every friggin' track.
Produced by Tommy Ramone and released in 1987, Neurotica sounds even better today, finally receiving the proper mix and mastering job it so deserved. From the scorchin' opening title track to the '60s Monkees bounce of "Play My Song," to the glam sleaze of "Frosted Flake," this album delivers punch after punch of strong songwriting, clever scene-bashing lyrics, and tight as shit musicianship. Lead guitarist Robert Hecker employs every trick in the book, from punk jangly Birds-style chords to metallic hammer-ons, while drummer Roy McDonald (no relation) lets loose in a manner that Mitch Mitchell would approve of and current snooty art-rock fucks would sneer at.
Lyrically, there's lots of anti-Hollywood tirades ("Laughing at all the assholes at the Rainbow/What a joke" from "Peach Kelli Pop") and poking fun at celebrities (songs like "McKenzie," "Tatum O Tot And The Fried Vegetables," and "Janet Jeannie and George Harrison") so things never get too serious. Even on the sappy ballad "Love Is You," one senses that the band is laughing their asses off as they coax such cheese out of their instruments.
Things get pretty metal on "Ghandi Is Dead (I'm The Cartoon Man)" and the Motorhead meets the Seeds sounds "What They Say," but in the end it all comes out sounding like one big, beautiful mess. The fact that one of the two bonus tracks here is a Sonny Bono cover is very telling.
If there was one record I have been praying would be reissued on CD this was it. It's at the top of my "Most Underrated Records of All Time" list and is right up there with Appetite For Destruction and Two Steps From The Move for the "Best Album of the '80s" award in my own personal contest. Now if only the McDonald brothers would reunite this lineup and remind us of how ahead of their time/behind the times they really were, I could die a happy, thoroughly rocked man.
* * * * *

Please log in to view RANTS