SAXON
Battering Ram
UDR Music




New Wave of British Heavy Metal legends, SAXON will release their 21st studio album, appropriately titled Battering Ram, on October 16 via UDR Music. The follow up to 2013's Sacrifice was produced by Andy Sneap (MEGADETH, TESTAMENT, EXODUS, ACCEPT) and features 11 tracks that cover the full spectrum of what SAXON fans have come to know, expect and love.

The title track "Battering Ram" is exactly that! The lyrics describe just what it's like being at a SAXON concert which truly is a "Battering" experience. To give fans a taste of the new album, the band has released the video for "Battering Ram" and you can check it out and see for yourself (video HERE).

SAXON has never been a band to rest on the successes of their past albums and has easily been one of the most productive heavy metal bands over the past twenty years. And given that within that time their lineup has for the most part remained intact with lead guitarists Paul Quinn and Doug Scarett, Nigel Glockler on drums, Nibbs Carter on bass and with founding member and front man Biff Byford leading the charge, the band has the formula down for delivering new music that resonates with not only the legions of SAXON fans all over the world but to rock and metal fans as well, and Battering Ram is no exception.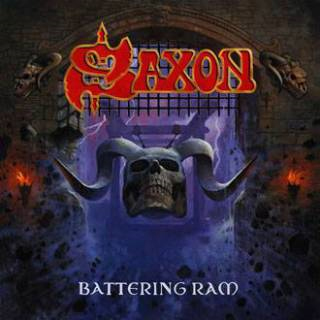 The track "The Devil's Footprint" is a mythical song centered on a 200 year old tale. It begins with a haunting spoken intro and leads into some bludgeoning guitar riffs that are sure to make this one a live favorite.
"The Queen Of Hearts" is another track that fans are going to eat up. Byford wrote this song based around the Red Queen from Alice In Wonderland. Rest assured, you're getting the SAXON version of the story and not the Lewis Carroll tale.
If we can call new songs classic, then "Destroyer, Hard & Fast, Eye Of The Storm" and "Top Of The World" are tracks that should qualify. They're what we've come to know, love and appreciate from one of the hardest working metal bands in history, classic riffs with seamless guitar solos, a thundering rhythm section and lyrics that draw you into the stories. Battering Ram has all of that and more. The more being a good old fashioned SAXON drinking song, "Three Sheets To The Wind", which could have just as easily found its way onto some of the Classic SAXON albums of the 80s, like Wheels Of Steel or Strong Arm Of The Law.
I recently caught SAXON live and had the opportunity to meet the guys and I only had one thing to say in regards to Battering Ram…"Thank You!" There's no surprises with Battering Ram, it's just a metal masterpiece from top to bottom, just what you'd expect from the Mighty SAXON.
5.0 Out Of 5.0
Pre-Order your copy of Battering Ram now in the KNAC.COM More Store right HERE