HATCHET Fear Beyond Lunacy


By Alex Yarborough, Orlando Contributor
Saturday, October 10, 2015 @ 10:03 AM


| | | |
| --- | --- | --- |
| | | |
HATCHET
Fear Beyond Lunacy
2015 The End Records




Bay-area thrash band HATCHET will unleash their new album Fear Beyond Lunacy on October 30th. The band is led and fronted by guitarist/singer Jules Ramos, who, along with guitarist Clark Webb, are the two remaining members from 2013's Dawn Of The End album. The new rhythm section of Joey Karpowicz (bass) and Ben Smith (drums) fit nicely in the HATCHET lineup. The playing by all members is top-notch.

HATCHET was part of the Bay-area thrash revival back in 2008 and have been supplying classic thrash metal to the masses since that time. Fear Beyond Lunacy perfects the sound the band started back on 2008's Awaiting Evil. The band's return in 2013 signaled a revised, sharpened sound and this new album is even more superior. As you would expect, a great deal of classic thrash influence can be heard on Fear…, especially in Ramos' vocals, which remind me of DEATH ANGEL's Mark Osegueda. To my ears, there is some EXODUS and SLAYER influence as well.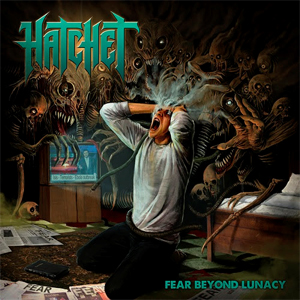 Similar to the Dawn Of The End album, Fear Beyond Lunacy begins with a short intro track; this one is called "Where Time Cannot Exist", and features acoustic guitar, building into power chords. This is the segue for the first proper track "Living In Extinction". From here the album grabs you around the throat and doesn't let go until the end. The song gallops along at a frenetic pace and features some awesome riffs. Ramos' howling vocals and the band's gang vocals sound great and accent the speed metal tempo. Next track, "Lethal Injustice", tackles the topic of the failed justice system. The band settles into a really cool groove and Ramos and Webb lay down some excellent harmony guitar. "In Fear We Trust" became one of my favorites from the album due mainly to Ramos' vocals and the twin guitar solo. "Killing Indulgence" seems to have some latter day SLAYER influence to it, nothing wrong with that. "Dead And Gone" picks up the pace again and features more excellent gang vocals. "Tearing Into Hell" is a speed metal track and one of the more aggressive songs on the album as well. "Prophet Of Delusion" contains another blistering harmony solo. "The World Beyond" has nearly the same intro as "Killing Indulgence" but then breaks into a speed metal attack and becomes one of the best songs here. "Frozen Hell" provides a nice, angry finish to the album.
HATCHET are one of the best examples of thrash excellence around today. This is no-frills, classic thrash metal, right down to the album cover. Fear Beyond Lunacy has 10 songs and clocks in around 45 minutes. If you need your thrash fix, and I know I do, then you can't go wrong with Fear Beyond Lunacy. In my opinion, it is easily the band's best work to date. There isn't a bad song on the entire album.
4.5 Out Of 5.0
Pre-order your copy of Fear Beyond Lunacy in the KNAC.COM More Store right HERE.




Please log in to view RANTS

If you don't have a username, click here to create an account!