FEAR FACTORY Genexus


By Cary Gordon, Metal Geek
Monday, October 19, 2015 @ 4:18 PM


| | | |
| --- | --- | --- |
| | | |
FEAR FACTORY
Genexus
Nuclear Blast




I will preface this review by stating the fact that the 1995 album, Demanufacture from FEAR FACTORY is to this day one of my favorite albums and I never tire of listening to it. I will also preface that I have always been a pretty big fan of the band, even through changes and evolution. Genexus is hands down my favorite album since the reformation of the band in 2009 and is truly a worthy successor to Demanufacture.

The band have continued with the conceptual overtones of using Man Vs. Machine imagery for the songs, and it helps build this great overarching concept throughout the album. The album starts off strong with "Autonomous Combat System" which begins with sound effects straight out of some dystopian future where the machines have won and flows into a nice piano intro, before kicking it into high gear. Other stand out tracks on the album include "Dielectric", which I imagine will be another crowd favorite. It bounces around with a nice heavy chugging guitar.

When FEAR FACTORY have their mindset to write and record an ultra catchy pop metal song in the vein of "Replica" from Demanufacture, they will ultimately always reach that goal! Don't get me wrong, there is nothing negative or condescending about that at all. FEAR FACTORY can write some amazingly catchy music, and "Soul Hacker" from this album takes that honor this time around. It is definitely an earwig, and becomes automatically stuck in your head, all the while being a heavy as hell track with some heavy low end. This song was written to be a fan favorite during their live sets.

I absolutely am amazed with "Battle For Utopia" as the juxtaposition of the heavy guitar and the poignant keyboard work of Rhys Fulber. One of my absolute favorite tracks from the band. Definitely worth a listen to. The keyboard work in the first minute is evocative of something that would have been from an 80's pop synth band mixed with the brutalness of the backing track. The closer track, "Expiration Date" mixes everything I love about the band from the production, the harmonies, the strange drums; it all just works, and turns into a hauntingly beautiful albeit mechanical song. It almost reminds me of something that Devin Townsend would produce. Burton's mid range vocals pull this song together. The later part of the album gets into a little bit different territory, with a few remixes that would fit on the techno influenced Remanufacture album, but does not deter from the album because they are honestly bonus tracks to my version of the album.

One of my only complaints is that sometimes the clean vocals of Burton have a strangeness to them, maybe a little too overproduced, but it just doesn't seem quite natural and doesn't match the rest of the song, especially the chorus part of "Protomech".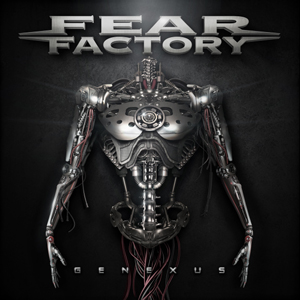 Everybody in the band is on point with this album. Burton is in top form on this album and the dichotomy of his brutally heavy vocals and clean vocals blend together against the wall of sound accompanying him. Dino Cazeres proves again why he the master of the chugging guitar style, and produces some heavy guitar tones. The thundering bass notes of newcomer to the band at least, Tony Campos is most welcome and is a great compliment to the groove filled drumming of Mike Heller from Death metal band MALIGNANCY. Can I reiterate about how happy I am that Rhys Fulber is back in full force on this album bringing with him haunting keyboard work and tons of complementary effects to the heaviness of the songs? Everything just works in complete unity.
The subject matter of a dystopian future where man has lost the war and the machines have taken over have always elicited the best songs and albums from FEAR FACTORY, and I am ecstatic they have returned to this concept.
This is a true return to form for the band, and does indeed feel like a regeneration. When FEAR FACTORY is firing on all cylinders, something remarkable happens, and that is exactly what we have with Genexus. It was actually quite difficult to write this review, as I have listened to it over and over, and the words became hard. FEAR FACTORY once again prove that they are the reason that most of the most popular bands even exist today, and do it again with their own unique style. The only thing I can do once I am done with the album to press play, and listen to it all over again! All hail the mighty FEAR FACTORY!
4.5 Out Of 5.0
Pick up a copy of Genexus in the KNAC.COM More Store right HERE.

Please log in to view RANTS