ARCHITECTS OF CHAOZ
The League Of Shadows
Metalville




When I heard that Paul Di'Anno, he of course, of IRON MAIDEN lore, was putting together a new band, it was welcome news as a couple of years back the man has said he was retiring from music. And we know how that goes eh, KISS, PRIEST, SCORPS???

I will say with certainty that Paul's stint fronting MAIDEN made me the fan I am today. I still vividly remember walking into Texas Tapes & Records, the supermarket of Rock & Roll (now sadly defunct) and spotting the debut album (Iron Maiden). The artwork of Eddie by Derek Riggs was mesmerizing and in the days before the interweb, cellphones & computers (gasp!) most of my music buying was done on looks, songtitles and/or instruments played (Flying V's for example, or maybe 'Bulldozer Bass'). Needless to say, while staring at the cover when the needle hit the grooves of opening track "Prowler" and that chainsaw guitar kicked in, my life was forever altered on how heavy music could be!

Sadly, Di'Anno's tenure was short lived as the band went on to recruit Bruce Bruce (aka Bruce Dickinson from SAMSON) and the rest, as they say, is history.

Since MAIDEN, I have kept up with all of Paul's other endeavors, including GOGMAGOG, KILLERS and BATTLEZONE and his self-titled band DI'ANNO, all with mixed results and varying degrees of minor success. So what would Di'Anno 2015 have to offer?

Starting off, no longer riding on the coat tails of his name, he started with a clean slate with that, so to speak. Featuring his German solo touring band, it features Christoph Lücker on bass, Dominik Nowitzki (BLACK HORIZON) on drums, and the twin guitar attack of Joey Siedl (ANGELS CRY) and Andreas Ballnus (from the killer band PERZONAL WAR).

Album opener "Rejected" gets things started with an uptempo beat and a patented Di'Anno scream, twin guitars riffing and lyrics talking about being looked down upon by society. A memorable chorus and Paul's voice sounding as fit as ever, and aggressive in parts makes it a storming way to keep the album proper off.

"How Many Times" begins with a chugging riff and is a mid-tempo banger, talking about love lost including some high-pitched wails by Paul. The chorus has an instant hook that is truly memorable, a fave for sure to these ears.

"Horsemen" is about the 4 Horseman of the Apocalypse and musically fits with Paul's lower register getting a workout as the band showcases its chops. A crystal clear production by Martin Buchwalter gives the music room to breathe as well.

"Switched Off (Released)" is a ballad, and like "Strange World" off the MAIDEN debut, shows that Di'Anno's voice and melody is criminally underrated. Lyrically talking of dying and taking the journey to the other side, it still packs a heavy punch musically, never drifting into sap or hair rock mode. Outstanding!

"Erase The World" is the end of our time here as the Watchers of the World come back to retake the planet and destroy us and musically with Paul again with an aggressive lower register and the band thrashing thru the chorus this is a pounder, sure to have the necks sore!

"Dead Eyes" is a mid-paced grinder with another great hook, and talks about the coldness of our world today while the guitar wails in the background. "I see your face and those dead eyes". Indeed!

Self-titled track "Architects Of Chaoz" reminds me a bit of early ALICE IN CHAINS musically and with Paul's melody line as well.

"When Murder Comes To Town" starts off with a crunching riff and never strays as the track not only bludgeons musically but lyrically as well as you hide from the killer as he takes your families life. Chorus melody is 'killer' as well (pun intended). Standout track to be sure.

"Obsidian Black" begins like an ancient recording before crashing into today as a slow plodding double-bass pounder. Paul's voice in fine form on this as you join him lyrically as his sanity is fading. A staccato mid-section keeps it interesting as well.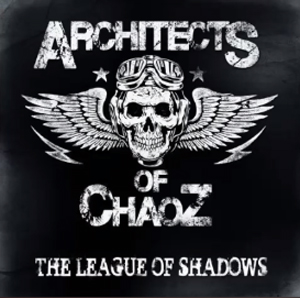 "Angel Of Death" joins the growing list of songs with that title and lyrically fills the bill as well as Paul sings "you've been kissed by the wings of the Angel of Death", musically a mid-tempo number with a bit of MAIDEN-esque harmony guitar thrown in the middle for good measure. Paul hitting a huge scream ending the track, good stuff.
"Apache Falls" is about the righting of the white man's wrongs at the hand of The Apache Nations, musically a more uptempo track with heavy riffing from Joey & Andy, another great melody hook for the chorus as well as a feature bass line by Gonzo. More twin harmony leads flourish as the song draws to conclusion along with a haunting piano fade out. A nice touch.
"Soldier Of Fortune", a cover of the legendary DEEP PURPLE Mk. III lineup finishes off the album in fine form and it may well be one of Di'Anno's finest vocal performances. It actually gave me chills as the ballad stylings of the song really suites his voice well. I think David Coverdale would be pleased.
All in all a pleasant surprise and outstanding debut by this troupe. It's good to see Paul moving on to original music again instead of just living on his past glory with IRON MAIDEN. A worthy addition to your collection for Paul Di'Anno fans and Metalheads in general. They haven't reinvented the wheel here, but a strong first punch for AOC. Hopefully it goes more than one round.
And for my Vinyl brothers & sisters, it IS in fact out on Wax! Limited to 500 copies worldwide, be quick or be dead!
4.3 Out Of 5.0 Skulls
Grab your copy of The League Of Shadows in the KNAC.COM More Store right HERE.