CLUTCH
Psychic Warfare
Weathermaker Music




So much for aging gracefully. As Maryland's CLUTCH approaches its 25th anniversary, the oddball quartet is showing itself to be feistier, ballsier and more aggressive than ever.

2013's Earth Rocker brought a more pronounced hard rock punch and friskier pace to band's music, which for the decade or so before had been bluesy, jammy, trippy and delightfully or frustratingly – depending on your mindset - unpredictable. Psychic Warfare takes Earth Rocker's lead and ratchets up the muscle and spunk.

CLUTCH flat-out rocks from start to just about finish on this its 11th studio album. The brief intro, "The Affidavit", finds the band being invited to make a statement of sorts, and make a statement it does. Warfare kicks into gear with the rousing "X-Ray Visions". Powered by the ZEPPELIN-esque rhythms of bassist Dan Maines and drummer Jean-Paul Gaster and Tim Sult's beefy riffs, it's as kooky as it is crunchy thanks to frontman Neal Fallon's curious rambling confessional involving telekinetics, astrology and "the angry spirits of Ronald and Nancy Reagan," among other things.

Fallon's got a long history of loopy, seemingly extemporaneous storytelling – going all the way back to the band's delirious 1993 debut full-length Transnational Speedway League – and this is right up there with some of his weirdest work. It also makes an already catchy, kick-ass tune all the more compelling.

The narrative is a bit more linear on the full-tilt boogie of "Firebirds" and hooky swagger of the ZZ TOP homage "A Quick Death In Texas" that fittingly name drops Billy Gibbons in its tale of Yankee debauchery gone wrong in the Lone Star state. The revved up "Sucker For The Witch" continues in this vein, with Fallon easing his Catholic guilt by admitting to being powerless to his lust of "some brand of Stevie Nicks".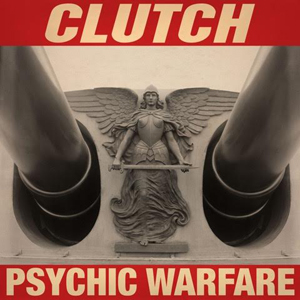 "Your Love Is Incarceration" explores a mysterious "thing that happened in Chattanooga" with a brash dash of roiling funk buoyed by Maines' nifty popping basslines and Fallon's emphatic "Uhhs" before the band finally take a breather for Sult's short Western guitar foray "Doom Saloon".
From here on out, the album offers more of a back and forth. The MOTORHEAD-ish barnstormer "Noble Savage" - where Fallon boasts of being an "unapologetic lifer for rock and roll" – and mid-tempo thump of "Behold The Colossus" and "Decapitation Blues" are offset by the stark cowboy blues of "Our Lady Of Electric Light" with its shimmering riffs and squall of slide guitar, and the swampy Southern twang-and-roll of the epic "Sons Of Virginia" that gives Warfare a truly grand finale.
Like Earth Rocker, Warfare is a loose, inviting album that isn't quite as murky as, say Strange Cousins From The West or From Beale Street To Oblivion. The band churns out its abundant raucous grooves with gusto and guile here, boasting the energy of a bunch of young whippersnappers but the smarts of the wily veterans they are.
Fallon's somewhat penitent lyrics contrast regret with devil-may-care roguish and plenty of cheek, on the one hand asking "May God have mercy on my wicked soul" on "Sucker For The Witch" while on the other admitting "I can't help myself." Or, upon recalling messing with the wife of a jealous husband in "A Quick Death In Texas", he notes that "Sometimes I swear I have less sense than a bag of hammers." But his delivery is always exuberant, making Psychic Warfare all the more engaging and entertaining.
4.0 Out Of 5.0
Grab a copy of Psychic Warfare in the KNAC.COM More Store right HERE.