ACT OF DEFIANCE in Mesa, AZ With Photos!


By CrpnDeth, Staff Photographer/Writer
Thursday, November 5, 2015 @ 6:24 PM


| | | |
| --- | --- | --- |
| | | Broderick and Drover team up post-Megadeth |
Photos (c) by CrpnDeth
I have to admit, this was one of those nights that you never like to see. It seems for ACT OF DEFIANCE this might have been a train wreck from the get-go. There was no mass casualty derail, but not only did the stage lights keep them in the dark most of gig (something this club is notorious for), a miscount on the second song (or rather, maybe the wrong song order all together) or ...well...the small ass crowd in attendance.
The band played phenomenally however, not taking notice and still working out some kinks on this second stop of the tour. Chris Broderick constantly had a smile on his face and thoroughly enjoyed the gig. Behind him on the drums was fellow former MEGADETH skinsman Shawn Drover, and the two provided the brutal yet melodic journey of the night, with bassist Matt Bachand keeping it tight.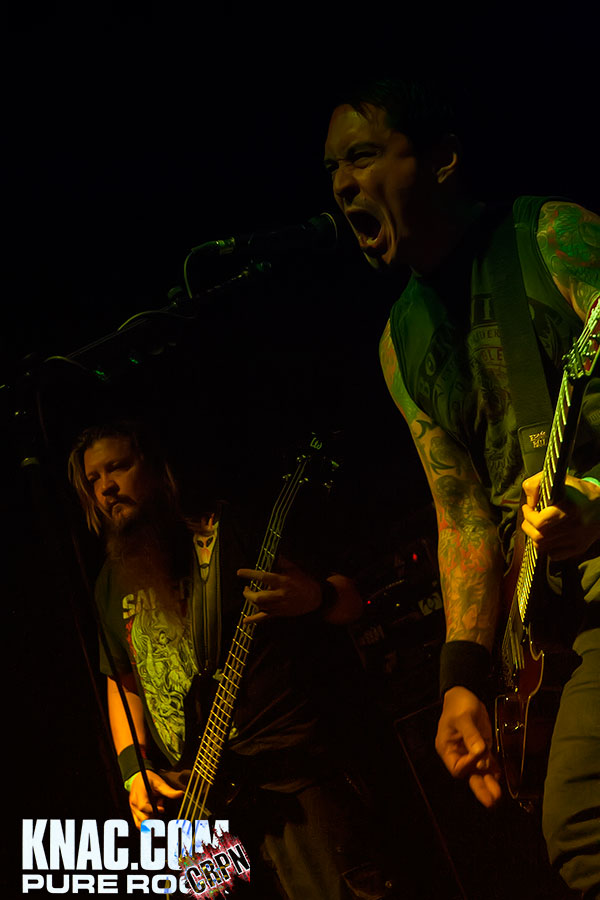 The band's short set included "Disastrophe (A New Reality)", "Legion Of Lies", "Obey The Fallen", "Refrain And Re-Fracture", "Poison Dream" and "Thy Lord Belial". A handful of others were thrown in as well, but the momentum from the previous two bands seemed to diminish, and proved trying just to maintain. As the band sounded and played like the professionals they are, something was just amiss tonight. We'll chalk it up to the beginning of a tour blues.
ALLEGAEON was second on the three band bill, and proved deadly onstage. I have to hand it to the band as, well, they had the largest crowd of the three tonight, and surprisingly a large percentage of concert goers left before ACT OF DEFIANCE. The band tore in to the crowd with "Accelerated Evolution", "Secrets Of The Sequence", "Our Cosmic Casket", "Tartessos: The Hidden Xenocryst", "Dyson Sphere" and "Grey Matter Mechanics", and a few others I didn't catch rounded out the night for the band, and further exhausted the crowd.
Local support came from heavyweights CHEMICALS OF DEMOCRACY, and their rabid audience always comes out in droves. The band opened with "1134", followed by "Hey Ma, Toxic, Fire In The Hole", "WTMA", "Contamination" and "Judas". The set was short but blistering. CoD has long been known to bring the metal when tapped as national support.
Check out a few photos from the show!
Photos (c) by CrpnDeth




Please log in to view RANTS

If you don't have a username, click here to create an account!