The World Famous MUSHROOMHEAD Halloween Show With MORTIIS And UNSAID FATE With Photos!


By Geoff Ketler, Cleveland Contributor
Wednesday, November 11, 2015 @ 7:31 AM


| | | |
| --- | --- | --- |
| | | Celebrating Halloween In The (216) With Industrial Metal Heavyweights |
All Photos By Geoff Ketler/Aces High Photography
As the leaves begin to fall and cool nights set in across Northeast Ohio, the giants of the Cleveland metal scene, MUSHROOMHEAD descend upon the Agora Theater every year, bringing us one epic night of over-the-top production, celebration, entertainment and terror. Fans are able to expect certain things from the show each year, but what made this year's event different was the recent lineup changes. Several weeks ago, while out on tour, long-time vocalist Waylon Reavis took to social media to declare his separation from MUSHROOMHEAD. This was quickly followed by rumors that original member and keyboardist, Tom "Shmotz" Schmitz had also parted ways. The group was immediately thrusted into turmoil. Everyone and their brother had something to say, but at this time, there still has been no official word from the band addressing the departures. All I can say is that Shmotz and Waylon were both absent, but MUSHROOMHEAD is no stranger to lineup shake-ups, so on with the show.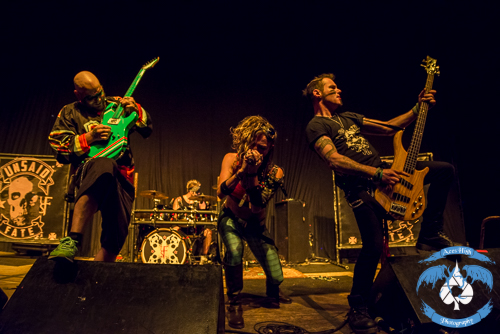 Long-time tour companions UNSAID FATE, now featuring MUSHROOMHEAD guitarist, Tommy Church on bass, started the night off right following a long list of local openers that played on two stages. Vocalist Jackie LaPonza offers delightful clean vocals over a hard rock – almost punk rock sounding vibe. Their set included a cover of RAGE AGAINST THE MACHINE's "Bulls On Parade". The band brings a ton of energy, although musically they are not always the cleanest players, but it is more than made up for by their intense personas and their ability to get the crowd involved.
After UNSAID FATE left the stage, things took a turn for the weird. Direct support for this tour came in the form of the Finnish band MORTIIS. Picture a death metal version of ANDREW W.K. with a rockabilly flare, much in the vein of NEKROMANTIX. The entire band was all decked out in makeup. It was fast, grinding, heavy music with lyrics about demons that almost had a swing feel to it. The crowd's reaction was much like my own…curious, but unable to really get into it. There were tons of backing loops and synth. MORTIIS was out there…maybe even a little too much for this crowd.
I have said it many times before – you cannot just pick up a MUSHROOMHEAD record and appreciate it for what it is. MUSHROOMHEAD needs to be experienced. The albums are good, but they can't compare to the live spectacle. Trust me. Every year, the Halloween show seems to exceedingly get better. 2015 would be no different.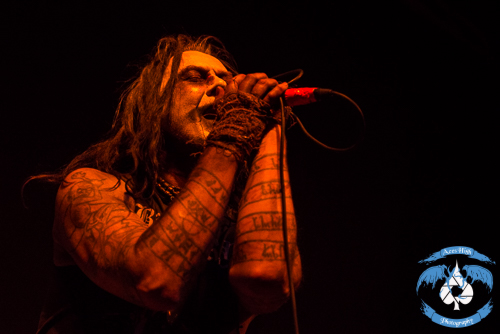 As the black curtain lifted during the eerie intro to "Fear Held Dear", a dense fog billowed out from under it and deep blue lighting cascaded down onto the falling snow…yeah…snow; and not that plastic shredded crap, I watched it melt as it hit the ground. The stage was setup to resemble a dilapidated, high-security prison, complete with guards in the guard towers. The band logo, "x-face", was plastered on the back walls that appeared to be crumbing. For 22+ years now, MUSHROOMHEAD has been blending art, theatrics and music into an all-out onslaught. Drummer and Commander in Chief of the War Machine, Steve "Skinny" Felton once told me that he gets up every day and tries to think of new ways to "pimp-out" his band.
I will be honest, although the set was musically tight, Waylon Reavis brought a certain intensity that just seemed to be missing. He was always getting the crowd involved and was always unpredictable. His departure came right in the middle of a tour and the band had no chance to really regroup, so in MUSHROOMHEAD's defense, that is a lot to handle with zero time to get it polished. Vocal parts needed to be re-assigned and with everything coordinated for three vocalists, it can't be easy to retool like that, especially while still being out on the road. That being said, it was still an epic night of entertainment. Highlight of the set was hearing the latest track that was recorded for the Game Of Thrones soundtrack, "Among The Crows", which also features UNSAID FATE's Jackie LaPonza as guest vocalist. Other than that the set featured staples of the MUSHROOMHEAD diet. Several songs were dedicated to the Cleveland local music scene pioneer Jim Konya who recently passed away. After being off for the next couple of weeks, the War Machine that is MUSHROOMHEAD will be hitting the road again, beginning black Friday with direct support of 9ELECTRIC. Do yourself a favor…see them in person.
Setlist:
"Fear Held Dear"
"Bwomp"
"Qwerty"
"Sun Doesn't Rise"
"Our Apologies"
"We Are The Truth"
"Solitaire/Unraveling"
"43"
"Kill Tomorrow"
"One More Day"
"Before I Die"
"For Your Pleasure"
"Out Of My Mind"
"Becoming Cold'
"Damage Done"
"When Doves Cry" (PRINCE Cover)
"Among The Crows"
"Empty Spaces" (PINK FLOYD Cover)
"Born Of Desire"
Check out some more photos from the show!
All Photos By Geoff Ketler/Aces High Photography




Please log in to view RANTS

If you don't have a username, click here to create an account!