MEGADETH Live In Dublin, Ireland With Photos!


By Justin Ryan - Dublin, Ireland, Contributor
Sunday, November 15, 2015 @ 11:07 AM


| | | |
| --- | --- | --- |
| | | At 3 Arena |
All Photos By Justin Ryan
In advance of their upcoming January 2016 release of studio album number fifteen titled Dystopia, metal heavyweights MEGADETH appeared live at Dublin's 3 Arena tonight (9th November, 2015). The predominantly American band's current line up consists of founding members Dave Mustaine(rhythm guitar,vocals) and David Ellefson(bass guitar), accompanied by new members Chris Adler(drums, also drummer of LAMB OF GOD) and Brazilian Kiko Loureiro(lead guitar). Tonight's show represented the bands first headline gig at this venue in twenty-three years; although playing main support to JUDAS PRIEST here in 2009, MEGADETH's previous appearance as headliners at this arena (known then as The Point Theater) was on the 25th September, 1992 as part of their Countdown To Extinction European Tour.
Delivering the outstanding works of Peace Sells...But Who's Buying?(1986) and Rust In Peace(1990), the California based quartet, who formed in 1983, deservedly built up a large, global fan base over their first ten years. However, MEGADETH's second decade inadvertently became a case study for musicians and record company executives as to the deep career pit falls that can be experienced by a non-mainstream band who alter course in pursuance of commercial chart success. Although 1994's above average Youthanasia didn't ruffle too many feathers, it indicated to many that the band were venturing towards new, less thrashy waters. It didn't overly alarm many fans at the time, as it seemed
incomprehensible that the band would ever consider playing music that was any less heavy than the hard rock on Youthanasia. The album did, after all, contain five worthwhile additions to the MEGADETH reportoire: "Reckoning Day", "Train Of Consequences", "Addicted To Chaos", "The Killing Road" and "Black Curtains". However, it wasn't until 1997's disappointing Cryptic Writings and 1999's dire Risk that it became clear to all that the band and their management/record label were blatantly pursuing chart pop rock success at any cost. Their management at the time even considered changing the name of the band, such was their determination to turn the group into a mainstream pop rock act. Although some fleeting success came their way, the band quickly realized that today's pop sensations are tomorrow's flatliners and so began an eight year uphill battle to re-establish their credibility in the world of heavy metal. This proved to be a far rockier road than they may have expected; although delivering memorable live shows when they toured successive hit and miss studio album material, it wasn't until 2007's United Abominations that MEGADETH delivered a full album worth of quality material for the first time in fifteen years(1992's Countdown To Extinction being the previous one). This was followed in 2009 by another excellent effort, Endgame, with Thirteen in 2011 keeping the band flying high. Whether the momentum that kicked into gear in 2007 will be sustained should be revealed with the upcoming Dystopia album. Although containing three fine tracks("Kingmaker", "Dance In The Rain" and "Beginning Of Sorrow"), Supercollider's(2013) overall lack of quality and noting that six of Thirteen's tracks were co-written by producer Johnny K, MEGADETH's doubters are out in force again.
The stage set up for this evening's show featured three giant video screens positioned on the stage, one directly above the drum kit and one on either side of it. It was the first time MEGADETH had utilized video screens at a Dublin concert; historically the band have always performed in front of a large banner bearing the band's name and the artwork from their latest studio album. A heavy advertising campaign by the promoter for tonight's event was activated a couple of weeks before tickets went on sale and continued right up until show time. This, no doubt, helped in no small way to draw in the massive number of people at the venue this evening. Having played to club size crowds(up to fifteen hundred people) in Dublin since Youthanasia(which was the one and only time MEGADETH ever performed two nights in Dublin at the fifteen hundred capacity S.F.X. Club), a crowd of approximately seven thousand people were in attendance for tonight's show. As to how many people the support bands brought in is anyone's guess, but judging by the thousands of MEGADETH t-shirts being worn inside the venue, it certainly seemed to be a mostly MEGADETH crowd. Interestingly, when Dave Mustaine asked the audience during their set as to how many people were attending their first MEGADETH show, around half the crowd raised their hands. This indicates that the band have picked up a large number of new fans since they last visited Dublin in 2009. Can that many number of new fans be attributable to their last few studio records alone? Or has the advent of media platforms such as Youtube allowed new metal fans to discover bands such as MEGADETH on a "try before you buy a concert ticket" basis? It would appear that the current thrash metal revival which is drawing large crowd numbers to live events suggests that the music industry doom mongers who screamed and shouted in opposition to Napster may have been correct at the time about future compact disc sales, but had no idea of its apparent positive impact on live ticket sales.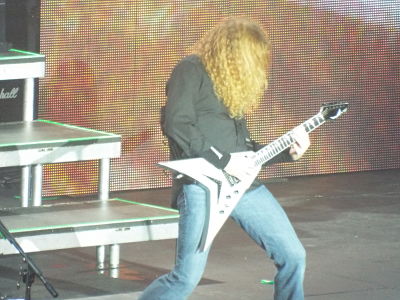 With an early doors opening time of 5:30pm, England's SYLOSIS kicked off this evening's proceedings, followed by Finnish melodic death metal band CHILDREN OF BODOM. Main support act and second band on the bill was Richmond, Virginia's LAMB OF GOD. Taking stage at exactly 8pm, they selected "Walk With Me In Hell" as the opening number to their thirteen song, sixty minute set. The first surprise of the evening was Randy Blythe's vocal performance which is usually a combination of guttural cookie monster barks and a "fingers caught in a door" screech. However, tonight his vocals weren't anywhere near as loud, overwhelming or grating as they can be. This may have been a result of their sound engineer's mixing desk handy work or it may have been a result of Blythe having been violently assaulted in Dublin city the night before in a random attack by local street thugs. "Good evening, Dublin. We're LAMB OF GOD from Richmond, Virginia. We've crossed an ocean to come back to Dublin to throw it down with you again. I'd like to dedicate this next song to the fucking assholes who attacked me in Dublin city last night. I'm on the street and the next thing I know it, I'm being smashed right in the back of the head. What a welcome to Dublin. So, if I pass out during tonight's show, you'll know why. I hope those five fucking assholes get their fucking heads kicked in." "This song is "512"" was the front man's introduction to their fourth song of the night. Their set list was immensely heavy, although the utter relentlessness of their music may be one dimensional for those who like at least some melodic lights to compliment their heavy metal darks. That said, their material does contain some quality riffs and sudden tempos changes that can't help but impress. Unfortunately, the same can't be said about the video footage they selected to be broadcast via the stage side video screens; frankly, it was both tediously boring and a distraction to the band's music. The band played in almost complete darkness for extended periods of their show to a video screen bombardment of 180 photo stills a minute of U.S. military personnel(did they consent to their images being used by the band?) on active duty during "Now You've Got Something To Die For", natural disaster images during "Still Echoes"(does anyone still find footage of floods and tornadoes entertaining?), blood soaked images of physical attack victims(something Blythe will now no doubt have a greater understanding of following his attack in Dublin) during "512" and footage of the 1993 siege of the Branch Davidian compound in Waco, Texas. All of this may have kept those in the crowd who don't watch the news, read newspapers or don't have National Geographic or Crime Investigation television channels at home entertained, but for the rest of us it was simply one long, boring, repetitious reel of old news footage. Conversely, the best part of their live show was during "Black Label", when the band were brought out of near darkness by stage lighting and the video screens simply depicted the band's LOG logo as seen on the cover of the album Wrath. So, two things LAMB OF GOD can take away from their visit to Dublin; firstly, be on guard at all times when you walk the mean streets of Dublin city and secondly, sometimes at a live show, less is more.

LAMB OF GOD Setlist:
"Walk With Me In Hell"
"Now You've Got Something To Die For"
"Still Echoes"
"512"
"Ghost Walking"
"Ruin"
"Hourglass"
"Set To Fail"
"Omerta"
"Vigil"
"Laid To Rest"
"Redneck"
"Black Label"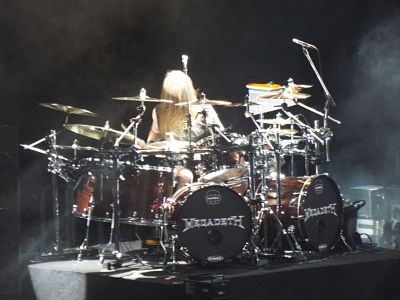 The only MEGADETH-style song on the aforementioned Risk album, "Prince Of Darkness", was played over the house PA system before the band entered the stage ten minutes after their listed stage time of 9:30pm. A song which still stuns twenty-five years after its release, "Hanger 18", was selected to open the show and on its completion, with the slightest of pauses, the similarly uptempo but lightweight "She-Wolf" immediately followed. Before the third song of the night, which is another one of their genuine classics, "Wake Up Dead", was delivered flawlessly, their redheaded front man and creative force thanked the substantial crowd in the venue for their attendance. A song that Mustaine wrote on hearing from a music journalist named Metal Maria of Cliff Burton(METALLICA)'s untimely, tragic road accident related death(Mustaine claims that nobody in the METALLICA camp bothered to contact him about the incident), "In My Darkest Hour", transported all at the venue back to 1988's So Far,So Good...So What! record and found the crowd in fine voice. Three of the next four songs were taken from Rust In Peace before Mustaine introduced the extremely heavy new song "Fatal Attraction", which is the first song published from their forthcoming album. "So, we pulled into Dublin a couple of days ago and we visited a few bars around the city. We're talking to one guy and we tell him that we've got a new record coming out called Dystopia. He asks me what the fuck the word dystopia means(Mustaine imitates the man's Dublin accent)? So, I tell him that I'll put him on the guest list for tonight's show, that way he can find out what the word dystopia means! If he doesn't like what we do, he won't have lost anything as he didn't have to pay to get in!" Time will tell, but if the rest of the new album is of a similar high quality to the song "Fatal Illusion", thrash metal fans everywhere are in for a real treat.

"Ok, since we're in Dublin, it's like we have to play this next song.[Voice from the front row shouts out the wrong song title]. What? No, wrong song. You're obviously working off a different set list to the one I've got! The song we are going to do is a song from THIN LIZZY, this is "Cold Sweat", which followed "Trust", the second of two songs played on the night from the subpar Cryptic Writings. A double from Countdown To Extinction preceded another all time metal classic, "Peace Sells", with band mascot Vic Rattlehead making a brief walking appearance onto the stage to the delight of the crowd. Incredibly and unexpectedly, the band bade their audience good night after "Peace Sells", which was just over an hour or so into the concert. A brief pause followed before another all time great, "Holy Wars...The Punishment Due", was brilliantly delivered as the gig's single song encore. After individual and group bows, the house lights were turned back on in full at just before 11pm, one hour and twenty minutes from MEGADETH's start time. While appreciating that there were three support bands on tonight's bill at no extra charge, such a short set by the headline band was very disappointing, with no material from nine of their studio albums being played at all. Let's just hope that the shows being delivered at the moment turn out to be just a sampler of what will be delivered live, in full, on a brand new Dystopia world tour, once the new album comes out.

MEGADETH Setlist:
Intro "Prince Of Darkness" (Not Performed Live, On Tape Via Venue PA)
"Hanger 18"
"She-Wolf"
"Wake Up Dead"
"In My Darkest Hour"
"Sweating Bullets"
"Dawn Patrol"
"Poison Was The Cure"
"Tornado Of Souls"
"Fatal Illusion"
"Trust"
"Cold Sweat" (THIN LIZZY Cover)
"Skin O' My Teeth"
"Symphony Of Destruction"
"Peace Sells"
Encore:

Please log in to view RANTS




YNGWIE J. MALMSTEEN, GLENN HUGHES In Worcester, MA With Photos!

ALICE COOPER Road

RAT ROD Four On The Floor

GIRLSCHOOL WTFortyFive?

DANKO JONES Electric Sounds

AVATAR, ORBIT CULTURE, THE NATIVE HOWL In Houston, TX With Photos!

THE DEAD DAISIES In Hollywood, CA With Photos!

KILL DEVIL HILL Seas Of Oblivion

THE DEAD DAISIES In Ottawa, Canada

MAMMOTH WVH In Santa Ana, CA

UADA Crepuscule Natura

BARONESS Stone

KAMELOT, BATTLE BEAST, XANDRIA In Houston, TX With Photos!

CRYPTOPSY As Gomorrah Burns

RAY ALDER II

GHOST, AMON AMARTH In Houston, TX With Photos!

U.D.O. Touchdown

DETHKLOK Dethalbum IV

STEVE VAI In Ottawa, Canada

PANTERA, LAMB OF GOD In Houston, TX With Photos!