VEHEMENCE Forward Without Motion


By Peter Atkinson, Contributor
Friday, November 20, 2015 @ 2:19 PM


| | | |
| --- | --- | --- |
| | | |
VEHEMENCE
Forward Without Motion
Battleground Records

The comeback album from Arizona cult metallers VEHEMENCE has been quite a while in coming. After two brief splits in 2005 and 2006 — following a four-year stretch that yielded three albums — the quintet regrouped in earnest in 2007 with nearly all of the original line-up intact and set to work on new music. And then worked and worked and worked. It wasn't until 2012 that recording actually began.

Three years later, and eight years after reuniting, VEHEMENCE finally has issued its fourth album, Forward Without Motion. Has it been worth the METALLICA-length wait? For the most part, indeed it has, though the album does at times suffer from the sort of aimlessness one might expect from something a band ruminated on for so long.

Instead of taking the time to make judicious edits and really hone the music on Forward — which revels in tech-death, melodic death metal and even some black metal — to its meatiest, most brutally effective bits, it seems like the band tried to cram in as much as it could. Thus some tracks come off sounding like so much riff salad.

That's not to say a lot of the riffing isn't pretty awesome. The tag-team of Bjorn Dannov and Kyle Moeller is athletic and elastic throughout, but too much so here and there, starting with the meandering seven-minute opener "I Don't Want To Look Inside" — though its harmonized leadwork is spectacular. At eight-plus minutes, "Murdered By The Earth" and "A Dark Figure In The Distance" offer more of the same — whirling dervish-like near constant motion, lots of intricacy and stellar guitar work, but not enough songiness to really make it all stick.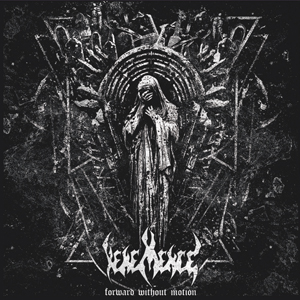 Comparatively taut, and certainly shorter, numbers like "Imaging The Loss", "Jim The Prophet", "In The Shadows We Dwell" and "It's All My Fault" make more of an impact by taking the same ingredients, stripping away some of the fat and indulgence and letting the natural dynamics do their thing. There's more heft and less busy work. "Jim The Prophet" — about People's Temple leader Jim Jones — adds an initially mournful, AMON AMARTH-like crunch that is countered later by the hardcore-meets-black-metal fury of "My Fault", and make for some intriguing twists.
"She Fucks Like She's Alive" though, seems unusually crass and out of place here, recalling the band's lewd and crude, vintage CANNIBAL CORPSE-like beginnings back in 2000 with its death by oral sex storyline. Musically, it's the strongest of the album's more complex tracks, a shape-shifting triumph. But the lyrics are laughably sophomoric.
And yet, despite its jokey, BLACK DAHLIA MURDER-like title, "There Are So Many Reasons To Give Up On Religion" follows with a thoughtful, reasoned argument about the power of inner strength and the senselessness of slavish devotion and blind faith, making for a truly grand finale to the album.
As a comeback, Forward Without Motion is an uneven, but ultimately worthwhile effort. Despite the sometimes overwrought material and occasional trip-ups, the band's performance is crafty and inspired overall. And the raw but bold production and frontman Nathan Gearheart's fearsome rasp ensure that even the noodliest tunes never lose their brutal edge.
3.0 Out Of 5.0

Please log in to view RANTS