LOUDNESS Live In Houston, TX With Photos!


By Larry Petro, News Monkey
Saturday, November 21, 2015 @ 8:31 AM


| | | |
| --- | --- | --- |
| | | Tour-Ending Show At Eastdown Warehouse |
All Photos By Larry Petro/Petrofyed Photography
Out on the road in celebration of the 30th anniversary of their classic album, Thunder In The East, Japanese heavy metal export LOUDNESS swung into Houston, Texas for the final show of their North American tour at Eastdown Warehouse, a venue that's been in business for a couple of years now, though I hadn't really seen any shows listed for there that would require my attendence prior to this particular evening (November 7th).
Thanks to John Escamilla and Jetspeed Entertainment, who book a lot of the club and small arena shows in Houston, we were in for a full night of metal as five opening acts would precede LOUDNESS on the stage. That's right, count 'em, five openers!
Getting first draw at performing for the evening was METALLOYD, a band of somewhat youngsters whose music combines elements of IRON MAIDEN, MEGADETH and METALLICA. A set of all original material from them was just what was needed to get the festivities started. Next up was KNOCTURNAL MADDNESS, who also put on a very spirited set that was a bit more on the thrashy side than their predecessors. Third up was one of two of my favorite Houston bands that were on the bill this night, TAME FURY. This band, featuring the drummer who recently underwent a heart transplant, really got things rolling along by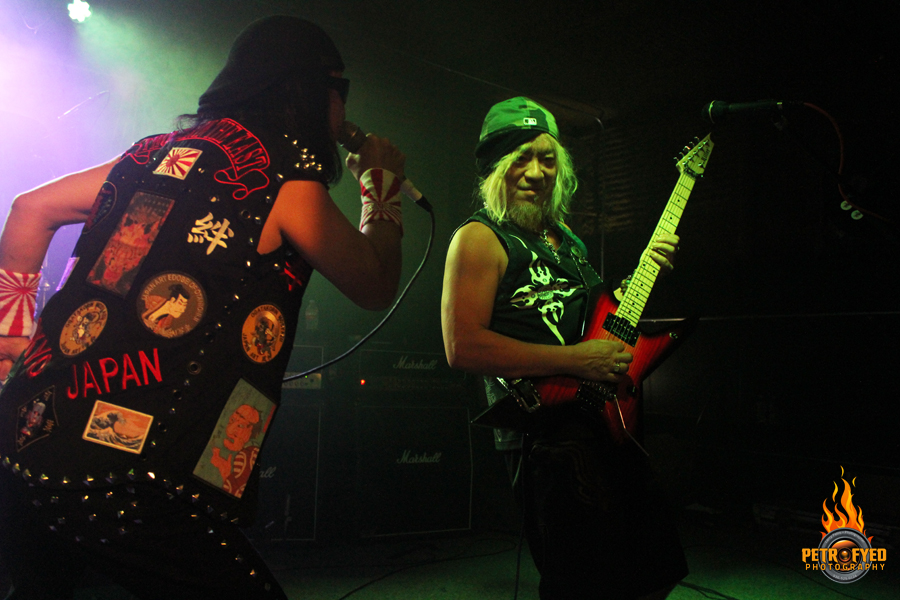 focusing a good portion of their set on new material that would be forthcoming on their new CD. They were followed by BELLICOSE, the only non-Houston based opener as this band is based in Dallas. With absolutely no offense to the other openers, BELLICOSE was a nice surprise as I had never heard of them or had the opportunity to see them, but they came out and kicked major ass! The band formed way back in the mid-80's, then going inactive for the 90's and 2000's before reactivating a couple of years ago. It was classic 80's metal throughout their set.
The final opening act for the evening was the other of my favs, LOVE & WAR. I've been friends with the guys for a few years now and have seen them open for numerous national acts along the way. I had been told in advance what to expect from their show and, true to their word, it was every bit as amazing as BELLICOSE. Their entire set, save one cover and one other song, was brand new material, most of which had not been performed in a live setting. Their debut CD, Up The Annie, was good but this new material took it to a much heavier level. Guitarist John Adams was an absolute beast onstage and, complemented by drummer Donny Bragg, bassist Ray Soliz and giant frontman in the form of Jeff Vandenburghe, the band almost made everyone forget that there was still the headliner to come. The band closed their set with the JUDAS PRIEST classic, "Delivering The Goods". Look for their new material early next year.
Finally, it was time for LOUDNESS. It had been a few years since their last visit to Houston and LOUDNESS was another of those 80's bands I never got the opportunity to see, so needless to say I was pretty stoked. Right around 11:30 the band hit the stage and interestingly enough, opened with arguably their most famous song, "Crazy Nights", which was certainly a strange choice given that most bands save their biggest hit(s) for the encore. Nevertheless, it definitely got the crowd pumped for the remainder of their show. The band was tight and sounded fantastic as they rolled through a 13 song set with tracks like "Let It Go", "We Could Be Together" and "The Sun Will Rise Again". Guitarist Akira Takasaki, who has been referred to as the Japanese Eddie Van Halen, showed his prowess throughout the show, with vocalist Minoru Niihara never sounding better, even after nearly 35 years. The band, rounded out by original bassist Masayoshi Yamashita and drummer Masayuki
Suzuki (who replaced original drummer Munetaka Higuchi following his untimely death from liver canceer in 2008), was having a great time and definitely fed off the crowd's energy. The band didn't perform (to my knowledge) any material that featured other vocalists, which wasn't really a surprise, but one song in particular was missed, that being "You Shook Me", from the band's 1989 Soldier Of Fortune album which featured Mike Vescera on vocals. The band finished off their evening with two encores, "Crazy Doctor" and "S.D.I.". What a great way to finish off a tour!
Setlist:
"Crazy Nights"
"Like Hell"
"Heavy Chains"
"The Sun Will Rise Again"
"In My Dreams"
"Street Woman"
"Black Star Oblivion"
"We Could Be Together"
"Let It Go"
"Clockwork Toy"
"In The Mirror"
"Mortality"
Encore: Check out some more photos from the show!
All Photos By Larry Petro/Petrofyed Photography

Please log in to view RANTS