Who Are The EAGLES OF DEATH METAL?


By Justin Ryan - Dublin, Ireland, Contributor
Saturday, November 21, 2015 @ 8:53 AM


| | | |
| --- | --- | --- |
| | | Show Review From Ireland 3 Days Before Paris Attacks |
Editor's Note:

The EAGLES OF DEATH METAL are one of those bands that a lot of people have probably heard of but few actually know anything about them. They formed in 1998 in Palm Desert, California by Josh Homme, who also performs in the band QUEENS OF THE STONE AGE. The band has released four studio albums including Zipper Down, which was released this year. Homme once described the sound of the band as a combination of "bluegrass slide guitar mixed with stripper drum beats and CANNED HEAT vocals."

The band has been thrust into a dubious spotlight because of the recent terrorist attacks in Paris which claimed the lives of over 120 people, most of whom were attending the band's concert at the Le Bataclan venue. The band's merchandise handler that night, Nick Alexander, was among those killed though the band managed to escape safely.

The following show review was sent to KNAC.COM by Justin Ryan, a contributing writer from Ireland who attended the band's concert in Dublin just 3 days prior to the Paris show. This review is dedicated to those fans (and Nick) who only wanted to enjoy an evening of live music and ultimately paid for it with their lives.....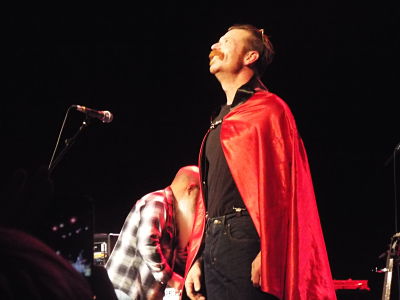 Review And Photos By Justin Ryan
Eleven shows having already been completed throughout England as part of their current European Tour, EAGLES OF DEATH METAL(EODM) arrived into Dublin to perform at the Olympia Theater this evening(Tuesday, 10th November, 2015). Jesse 'Boots Electric' Hughes and Joshua 'Baby Duck' Homme (the latter whom rarely appears live with EODM) have been the bands only two permanent members since its inception in 1998. Their present touring line up consists of the aforementioned Hughes (vocals, guitar), Darlin' Dave Catching(guitar,vocals,bass), Matt McJunkins(bass, vocals, also bassist for A PERFECT CIRCLE), Julian Doro(drums, also drummer for THE WHIGS) and Eden Galindo(guitar,vocals). Promoting their new studio record, Zipper Down, tonight's sold out show is their first appearance in Dublin since August 2009, when they played the somewhat smaller Academy venue(capacity 1000 people approx) on Abbey Street.
Main support on the night was provided by drums and guitar two piece, WHITE MILES. A band who describe their own music as,"dirty pole dance stoner blues rock" certainly proved the stoner blues rock part of the description with a thirty minute set of raw, crunchy riffs and thunderous drums. Thrashing, gyrating and being completely immersed in the sounds of her own guitar and drummer Hansjorg"Lofi" Loferer's intense rhythms, Medina Rekic seemed oblivious of the thirteen hundred people already in the sold out venue. The crowd's approving cheers at the completion of each of their songs on the night briefly distracted the smiling Rekic from her ax; it wasn't difficult to imagine her happily playing on for two hours had time permitted it.
Smiling broadly, the charismatic Jesse 'Boots Electric' Hughes led the Palm Desert, California four piece(guitarist Eden Galindo appeared only briefly during the set) onto the stage to an ear splitting welcome at 9:20pm. Dressed in black jeans, a black t-shirt and an item of clothing that no self respecting rock n' roller should ever be without, a red cape, the bushy mustache wearing front man acknowledged the crowds enthusiastic applause before leading the band into "I Only Want You". The pulsating
boogie swagger of the set's opener immediately brought both of the two seated sections in the venue to their feet; the atmosphere in the theater was electric from the off and was sustained throughout the show by a combination of the band's smile inducing songs, tight delivery and Hughes' interaction with the audience. Before the gig's fourth song, "Complexity", Hughes addressed the crowd for the first time on the night. Referencing his Irish heritage he said, "Your Irish American rock n' roll band is back! You have no idea how happy I am to be on this stage tonight. Dublin, are you ready to burn this house to the ground![Loud cheer from audience].I mean that figuratively!".
One of five songs played on the night from 2004's I<>Peace, Love, Death Metal record, "Kiss The Devil" was preceded by Hughes joking that "Every time I look at those stage side boxes, I think the two guys[theater critics Statler and Waldorf] from The Muppets are in there saying some zany shit about us!". He needn't have worried as even the harshest of critics couldn't help but be impressed by the intoxicating brew of stoner/garage/desert/blues rock/rockabilly grooves being delivered by the smiling faces on stage. If the band's intention is to create a rock n' roll party atmosphere at their shows, they certainly did so tonight, with effortless cool. Hughes took time to joke with members of the audience("Your t-shirt says Palm Springs? Have you ever been there? No? I'm not surprised you didn't go when you saw what the fuck Palm Springs did to us!"), to an open invitation to the large contingent of female fans in the crowd, "for a cherry cola, a milk shake and a see what happens at Eddie Rocket's[an Irish fast food chain] after the gig!", to showing thirteen hundred people his new QUEENS OF THE STONE AGE underwear that Josh 'Baby Duck' Homme sent him, which bore the legend, "I never say no!". When this humor is added to the impeccable delivery of the band's music, it results in a seriously unserious vibe at their show, which is a lot more difficult to create than it looks.
A five song encore followed the initial thirteen song set."I wish I had some THIN LIZZY ready for you tonight", Hughes soliloquized, before leading the band into a cover of BACHMAN TURNER OVERDRIVE's, "Takin' Care Of Business". A lengthy guitar duel between Hughes and Catching then took place including, for several minutes, Hughes leaving the stage to continue his part of it in the stage side boxes(twice,at two different levels!), to the delight of the fans who were seated there. Three stormers, "The Reverend", "I Want You So Hard(Boy's Bad News)" and "Speaking In Tongues" brought the show to a rousing end, with Dave Catching being very lucky to have the ring that had flown off his hand into the crowd while throwing guitar picks pointed out by a fan in the front row.
Setlist
"I Only Want You"
"Don't Speak (I Came To Make A Bang!)"
"Secret Plans"
"Complexity (BOOTS ELECTRIC Cover)"
"Kiss The Devil"
"Cherry Cola"
"Silverlake (K.S.O.F.M.)"
"Whorehoppin' (Shit, Goddam)"
"Oh Girl"
"I Love You All The Time"
"I Got A Feelin (Just Nineteen)"
"Save A Prayer" (DURAN DURAN Cover)
"Wannabe In L.A."
Encore:
"Midnight Creeper"
"Takin Care Of Business" (BACHMAN-TURNER OVERDRIVE Cover)
"The Reverend"
"I Want You So Hard (Boy's Bad News)"
"Speaking In Tongues"
More Photos From The Show
Photos By Justin Ryan




Please log in to view RANTS

If you don't have a username, click here to create an account!