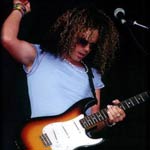 WEST WARWICK, Rhode Island (CNN) -- A grand jury convened in Rhode Island Wednesday to investigate last week's deadly nightclub fire but went home without talking to surviving band members of Great White.

The band members, whose pyrotechnics display set off the blaze, returned to Rhode Island Tuesday night to appear before the grand jury under subpoena.

The question of whether the band had permission to use the pyrotechnics has descended into finger-pointing, with neither the band nor the club owners accepting responsibility.

The band's lawyer, Ed McPherson, said the owners approved their use. The owners have repeatedly denied giving permission.

Rhode Island Attorney General Patrick Lynch is pursuing criminal charges in the case and said band members have cooperated with the investigation but the club's owners have not.

Lynch has criticized owners Jeffrey and Michael Derderian for not responding to questions from law enforcement, while giving interviews to news outlets.

He said again Wednesday that both Derderians have been asked to come in and have not done so.

Jeffrey Pine, attorney for the club, said his clients have not rejected any specific requests for an interview from the attorney general.

"I can only state again that I remain ever hopeful that that occurs," Lynch said. "I believe they can supply answers which can help all of us get to the bottom of this."

Jeffrey Derderian, a local TV news reporter, has said he is willing to provide information to investigators, but declined to say when. He said he and his brother were "devastated" by the fire and lost friends in the disaster.

Pine said his client has provided documents to the West Warwick Police Department and the attorney general's office, and spoke with a West Warwick police officer and prosecutor the night of the fire. Lynch said Wednesday he has not seen any such documents.

Pine said local law enforcement's apparent aggression has given his client some concern.

"The chief of the West Warwick police said he expected criminal charges would be filed against the club owners," Pine said. "Nobody in their right mind would be willing to walk into the attorney general's office" after the police chief has said charges were pending.

Owners vs. band members

McPherson, Great White's attorney, said the band's tour manager, Dan Beakley, routinely discussed the use of pyrotechnics with club managers about a week before the band played a particular venue.

"He had a lengthy conversation with Mike Derderian, who is one of the owners of the venue, approximately a week before this show -- told him exactly what the band wanted to do and got very specific permission from Mr. Derderian," McPherson said.

But the club's stage manager/sound technician Paul Vanner told reporters he mentioned his safety concerns about pyrotechnics months ago to one of the club owners.

"I just said, I am having serious issues with these pyro guys, and I can't guarantee safety," Vanner said, as he began re-enacting the conversation he says he had with Mike Derderian. "You want guaranteed safety, Mike? None. There is no gray area here ... just black and white. And that's the guarantee that I can give you.

"Certainly, he seemed to take it to heart."

Vanner said that after that conversation, The Station didn't book any more bands that used pyrotechnics. He also seems positive the two brothers had no idea the heavy metal rock group was planning to use the indoor fireworks during their performance there.

"I'm under the impression [Great White] didn't tell anybody anything," said Vanner.

Lynch said media reports make it seem like a "he said, she said -- the band vs. the Derderians." But he said he has no short list and is looking at "anybody and everybody who may have committed a crime that caused people to perish."

Rhode Island Gov. Don Carcieri has ordered a moratorium on the use of pyrotechnic displays in clubs accommodating 300 or fewer patrons, and said 200 deputy fire marshals would fan out to inspect those sites for possible code violations starting Monday.

The governor also said that two specially trained dogs from Connecticut would search the fire site as part of an effort to "go the extra mile" in determining all bodies are recovered. He said Tuesday there was a possible discrepancy with one missing person report that authorities are trying to clarify.

But on Wednesday Carcieri said that after three sweeps of the rubble of the nightclub with the canine teams, the search was ended with no more bodies being found.

Carcieri announced a family resource center would open Wednesday for victims' families to receive a variety of help in one place. He also said the families had requested assistance in setting up a peer support group to help each other through the coming months.

Eighty people remained hospitalized, 24 of them in critical condition, he said.

Officials announced Tuesday that only four of the 97 victims who died in the fire remain unidentified. Among those killed in the fire was Great White guitarist Ty Longley, 31, whose body was identified Monday.