JOEL HOEKSTRA'S 13
Dying To Live
Frontiers Music Srl - 2015
http://www.joelhoekstra.com/




The new solo album from Joel Hoekstra is billed as if it is a full fledged band project, but make no mistake, Dying To Live is almost entirely sprung from the mind of the current WHITESNAKE guitarist. While he has an all-star cast of musicians helping to make the album, other than a single co-write from singer Russell Allen on the song "Changes" (oddly, the weakest song on the album), Hoekstra wrote and produced everything you will hear on this album.

And there is nothing left to chance as the music explodes out of the speakers from the get-go with a furious trio of tracks to open things up. Russell Allen (SYMPHONY X, ADRENALINE MOB) uses his rougher edged vocals to make "Say Goodbye To The Sun" easily mesh with the highly energetic and aggressive bent to the music. With Vinny Appice on drums and Tony Franklin on bass, the musical pedigree for the musicians is unquestionably outstanding. PRIDE OF LIONS singer Toby Hitchcock handles backing vocals on the album and Derek Sherinian does the keyboard work.

Allen follows up with "Anymore", which has an instantly catchy sound to it. Jeff Scott Soto sings lead on "Until I Left You", which is a song that would've been a huge commercial hit back in the 80's. All three of these songs (like every track contained herein) feature outstanding guitar work, including smoking hot solos from Hoekstra.

"Long For The Days" changes speed throughout the length of the track and is a solid power ballad track with a instantly memorable and powerhouse chorus: "There's no denyin' that I've lost my way / or that I'm crying every single day and I / can't seem to fight the fact that I've gone astray/ I long for the days, I long for the days in your soul".

Jeff Scott Soto is probably better known as the more melodic and smooth sounding vocalist compared to Russell Allen, but he steps into a far more metallic vocal sound on "Scream", a track that just blows the roof off the proceedings. He also does a great job on "The Only Way To Go", but Hoekstra owns that song the most with some compelling guitar work, including a fantastic main riff that opens the song. Also, check out "Start Again" for a huge anthemic chorus. Hell the entire song is instantly memorable and, dare I say, easy to find yourself singing along to.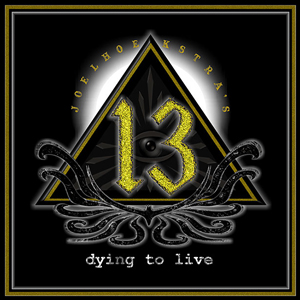 Allen's work on the title track and "Never Say Never" shows of the dexterity in his performance. The latter track is a highly commercial sounding track, however, he wears the song well. When he shifts gears and the more growly vocals re-appear on the title cut, the vocal take helps add just an extra dash of intensity to a song already filled with a kickass vibe. When the chorus to the song kicks in the pacing picks up and it helps make the song one of the best on the album. I was struck funny by how profane some of the lyrics were on the song but instead of sounding amateurish, they worked inside of the framework of the song. And Hoekstra's pinpoint accuracy for his attacking guitar work shines throughout the song.
The album closes with the song "What We Believe", an epic cut that has a highly developed cinematic feel to it. I think part of what gives an extra bit of dramatic heft is the appearance of TRANS-SIBERIAN ORCHESTRA singer Chloe Lowery as a co-lead singer for the track. She sounds fantastic.
I became a fan of Joel Hoekstra after seeing him on That Metal Show as a guest guitarist playing the show in and out of commercial breaks. A few months later I saw him and his energetic & leonine live performance with NIGHT RANGER and became an even bigger fan. I don't know what my expectations for this album were, given how a lot of releases from Frontiers have started sounding the same recently, but they were surpassed with no trouble at all. Dying To Live is a superb offering of melodic rock and Hoekstra's phenomenal songwriting and playing means you get it with an extra dose of balls too! A fine work that deserves a place in any fan's collection.
4.8 Out Of 5.0
Grab your copy of Dying To Live in the KNAC.COM More Store right HERE.