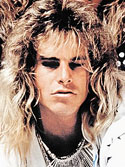 (From the Orange County Register)

Former Orange County musician Scott Griffith gave up his ambitions to be a rock 'n' roll star to take care of his teenage daughter. After playing lead guitar in local bands like Jagged Edge, Night Fall and StepChild, he went to tech school, got a day job in computers and eventually was transferred to Warwick, Rhode Island. His days as a rock musician were behind him. But then, Great White vocalist Jack Russell and guitarist Mark Kendall, two longtime friends, came to town. He wasn't about to miss their Thursday night gig at The Station nightclub.

Griffith, 41, was standing near the stage when flames leaped out of control during an opening-number pyrotechnic display. Officials notified his family that he was one of 96 people to die in the deadliest U.S. nightclub fire in 25 years.

Griffith, a former Mission Viejo resident, was a longhaired, rhythm-pounding, animated performer who battled drugs and alcohol during his 20-year music career, family and friends said.

But he successfully completed drug rehabilitation after a 2000 arrest in Garden Grove, gave up his music career, enrolled in a computer course and learned a trade.

"He went from long hair to short hair and went to school to make a better life for his daughter to give her all the things that she deserved," said Susan Griffith of Mission Viejo, his sister-in-law. "Scott felt it was a better life for Kacie, and he worked very hard on it."

"We were all pretty proud of him," said Jimmy "Animal" Costa of Anaheim, road manager for two of Griffith's Orange County bands.

Kacie, 13, was staying with friends Thursday night when her father went to the concert. Family members said Red Cross officials informed them Friday evening that Griffith had perished. His mother flew to Rhode Island on Saturday to give Kacie the news.

Russell and Kendall escaped from the Rhode Island nightclub alive. But Great White guitarist Ty Longley is missing and presumed dead.

Orange County drummer Paul Wilson, who played with Griffith in two bands, said Saturday that he remembers the time Griffith was bug-eyed and gagging while playing the last song of the last set at a Sunset Boulevard rock club.

"He was looking at me with his mouth all weirded out and I knew something was wrong," Wilson said. "Then Scott ran off backstage after the number and I followed. Then I saw him bent over this table hacking and hacking, and something flew out of his mouth. He got a pick stuck in there, and he couldn't breathe. If something was going to happen on stage, it was going to happen to Scott."

Griffith, Wilson added, was also one of the kindest, most fun and most caring musicians anywhere. "He always had my back," Wilson said. "I loved him like a brother and I cried, man, for hours when I found out what happened."

Costa said Saturday that Griffith was a fantastic musician who also played in the Orange County bands Section 8 and Prophecy, performing throughout the West Coast at such venues as the Coach House in San Juan Capistrano, the Galaxy in Costa Mesa, and the Roxy, the Troubadour and the Whisky A Go-Go in West Hollywood.

Besides being lead guitarist, Griffith also was a songwriter. "He wasn't much of a singer, though," Costa added. "But he was a good yeller."

Costa said that Griffith's most treasured possession was a classic, all white, Gibson Les Paul guitar that he played in several bands. Griffith actually cried once when he thought the guitar had been stolen along with a truckload of gear during a West Coast tour. But Costa said he kept the guitar out of the truck because he knew how much it meant to Griffith.

"He made me promise then and there that if he ever died, he wanted to make sure that he was buried with that guitar," Costa said. "And it really stinks that that's going to happen."