CHASTAIN We Bleed Metal


By Wendy Jasper, Black Metal Aficionado
Thursday, December 10, 2015 @ 1:05 PM


| | | |
| --- | --- | --- |
| | | |
CHASTAIN
We Bleed Metal
Pure Steel Records




You know her name; you know her power. She's the female Dio; she's the Ruler of the Wasteland. She's Leather Leone and there is nothing better than the knowledge that she is once again fronting CHASTAIN and is in top form.

The band's latest offering, We Bleed Metal, starts out with a kick in the teeth. In past productions, the band may have lead the listener in with a slower, more ambient start to their songs, but from the title track on, CHASTAIN and company are in high gear. The second song on the album, "All Hail The King" is thrashy, fast-paced and commanding power metal at its finest. It only gets better as the album directs us into "Against All The Gods". Leone is in perfect command of her voice and she has remained consistent over the years. From her days with RUDE GIRL and MALIBU BARBIE to the first of her albums with CHASTAIN, she has maintained her signature sound. She is definitive in her vocal inflection and there is never any doubt who you are hearing. There is no one else quite like her.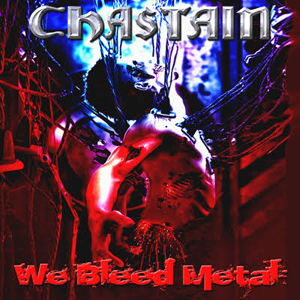 David T. Chastain is also waging war with this record. The veteran shredder and producer has been able to generate some of the finest metal on the market in his tenure in the genre and this record is no exception. While he has remained behind the scenes for a while, fans are happy that he has reemerged so strongly with two records back to back. The release of Surrender To No One in 2013 had fans of the band ecstatic about their return. The idea that the band may do some one off shows and several scheduled appearances by Leather herself made fans very happy.
Returning to participate in the recording of this album are bassist Mike Skimmerhorn and drummer Stian Kristoffersen. Their powerful rhythm section is seamlessly complimentary to Leone and Chastain.
Other notable songs on the record are "Don't Trust Tomorrow", "Evolution Of Terror" and "Secrets", but there is truly not a poorly composed piece of music anywhere on this album. From start to finish it keeps the listener enthralled. Whether it is the masterful crafting of each tune or the idea that we have another album featuring Leather Leone, you don't want to stop listening. This is a record that you will play over and over again. It actually may make you want to run home, pull out your vinyl copies of Ruler Of The Wasteland, The Voice Of The Cult, The 7th Of Never and For Those Who Dare. And if you have a copy, you may just want to have a Leather overload and throw Shock Waves on the turntable…and why stop there, CJSS and David Chastain's solo work can finish off your night.
It is inevitable that this album is going have a rating of 5 out of 5 stars from this KNAC.COM correspondent.
Track Listing:
"We Bleed Metal"
"All Hail The King"
"Against All The Gods"
"Search Time For You"
"Don't Trust Tomorrow"
"I Am A Warrior"
"Evolution Of Terror"
"The Last Ones Alive"
"Secrets"
5.0 Out Of 5.0

Grab a copy of We Bleed Metal in the KNAC.COM More Store right HERE.

Please log in to view RANTS