Andy McCoy Exclusive Interview: Back To The Mystery City Of Hanoi Rocks

By Frank Meyer, Contributing Editor
Tuesday, January 1, 2002 @ 2:46 PM

| | | |
| --- | --- | --- |
| | | From Hanoi Rocks To Hanoi Revi |
When you think of outlaw gypsy rock n' roll gunslinger guitarists, several names come to mind. First off is the king himself, Mr. Keith Richards, the man who invented the elegantly wasted, glam-tinged style. But then there are the iconoclastic select few that follow, Ronnie Wood, Johnny Thunders, Izzy Stradlin', and the Cosmic Ted himself, Andy McCoy. Forever decked out in leather pants, adorned in fringes and jewellery, covered in scarves, planted in cowboy boots, with a cool, ruffled, multi-coloured shirt to speak volumes, Andy McCoy just looks like a rock star. There is no doubt that he chose the right path in life, he could swagger down no other road. He is a superstar and has been from day one, whether you've heard of him or not.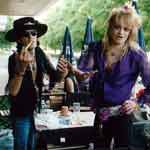 And like all good rock stars, he also has a reputation that proceeds him. McCoy is known throughout the world not only as a top-notch guitarist and they-don't-make-'em-like-that-anymore personality, he is also known as a world-class junkie. Though he's been clean for five years now, his heroin days and sordid stories are rivalled by only Richards and Thunders themselves in terms of sheer decadence and glorious self-abuse…and Thunders is dead. But a bad reputation and a knack for survival can in some cases turn a fuck up into a legend over the course of 20 odd years or so and Andy McCoy, if not rich and famous, is certainly a legend. Just ask Slash and Izzy about him, they'll tell ya. Just ask Buckcherry and the Backyard Babies. Just ask any trashy hard rock band that fancies themselves debauched, dangerous or depraved. They'll all tell ya they own every record of his former band Hanoi Rocks, Finland's answer to the Stones, and swear they are underrated classics. And they are…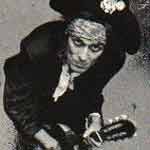 Yes, most fans know him as the lead guitarist and chief songwriter of notorious '80s cult heroes Hanoi Rocks, an outfit many consider to be the precursors and main influence of Guns N' Roses and Poison and the only true successors of the Stones, Aerosmith or the New York Dolls, but he has quietly accomplished much more through his career and staying alive is one of them. Hanoi cut merely five full-length studio efforts yet redefined the glam rock genre, twisting punk and metal into a beautiful mess that reeked of both Mott the Hoople and the Alice Cooper band. Fronted by the androgynous, glamorous Michael Monroe and anchored by guitarist Nasty Suicide, bassist Sam Yaffa (later of Jet Boy), and sophomore drummer Razzle, Hanoi were huge in Europe and Japan but called it quits before making a dent in the States. Just as their first worldwide major label album hit the streets, the Bob Ezrin (Kiss, Cooper, Pink Floyd) produced Two Steps From The Move, the band began their first U.S. tour. However, tragedy stuck as Razzle was killed in a drunk driving accident with buddy Vince Neil (Motley Crue) while on a day off in L.A. While Neil got off with public service and some time in a minimum security jail, Hanoi quickly disintegrated in the wake of the best friend's death. For many, the story ends there, as only Monroe went on to a visible solo career that '80s hard rocks fans seem to be aware of (at least in the U.S., that is). However, always the underground gypsy, McCoy has actually been very active over the last two decades and has recently reunited with Monroe under the name Hanoi Revisited to perform sets of classic Hanoi material around the world.



"The timing was finally perfect. We do some Hanoi material and are performing new songs as well. It felt like a timewarp, like we had just been apart a week or so."

After Hanoi disbanded in 1984, McCoy went on to immediately form the cult-supergroup Cherrybombz alongside with Nasty, Dave Tregunna of the Lords of the New Church, Terry Chimes of the Clash, and vocalist Anita "I Eat Cannibals" Chellamah (of the new wave group Toto Coelo) At the same time they kicked out two EPs and a live album, he and Nasty formed the short-lived side-project the Suicide Twins, who released the acoustic gypsy blues album Silver Missles and Nightingales. After the 'Bombz split up, McCoy went on to form the equally short lived band Shooting Gallery, a sort of metallic Hanoi clone that managed to get signed to a major label but dropped just a quick. Two solo albums leaked out over the years, Too Much Ain't Enough and Building On Tradition, as well as a reunion album with his pre-Hanoi band Briard. McCoy also hooked up with Rolling Stones piano player Nicky Hopkins for a short tour, toured with Iggy Pop in '88, appeared on a UK Subs album, and was the subject of a surreal semi-documentary film titled The Real McCoy (where he is dressed up like a fly at one point and flies around Finland!). He also got married, had a kid and managed to kick heroin. Though all evidence and medicinal logic point to the fact that he should be dead by now, somehow family life and rock n' roll have kept him alive and, as of these days, well.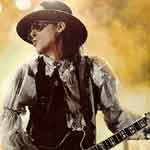 This past year has been a busy and significant time for the ace guitarist. He penned a book called Sheriffi McCoy about his life and times in the music game and his struggles with addiction and lifestyle abuse and finally reunited with his partner in crime Michael Monroe for a series of shows under the name Hanoi Revisted. The reunion they said would never happen, McCoy and Monroe managed to rekindle their creative spark and have turned what might have been a merely a series on gigs around Finland into an upcoming new album and worldwide tour. Though there is no word yet of any participation from Nasty or Yaffa, just having the "noxious twins" (or "Muddy Twins" as they used to be called) back together and on stage is a good enough shot in the arm for rock n' roll fans everywhere.

Andy recently took the time to email KNAC.COM and brief Q&A to let his fans know what he's been up to, what sparked the reunion with Monroe, and what lies ahead for him. He confirmed that he and Monroe have already cut said album together and have plans to tour outside of Finland with Hanoi Revisted sometime in 2002 He also answered some random questions that we threw at him for fun and assured us that he would be bombarding fans around the globe with his trademark guitar runs and flash-express personality soon enough.

Take it away, Mr. McCoy!!!

KNAC.COM: What made you decide to finally reunite with Michael Monroe and do Hanoi Rocks material? Did you enjoy those first bunch of reunion shows together?
ANDY: The timing was finally perfect. Yes, we do some Hanoi material. We have a record full of new material. We are performing new songs as well. It felt like a timewarp, like we had just been apart a week or so.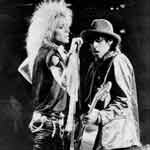 KNAC.COM: Any thoughts of brining back Nasty Suicide and Sam Yaffa and doing an actual reunion?
ANDY: This is an actual reunion. Regarding Nasty and Sam, you never know.

KNAC.COM: Any plans for a studio album or live album with you and Michael together?
ANDY: Many plans are in the works at the moment. A studio album will be released.

KNAC.COM: Any plans for a full-sale Euro tour and/or a US tour? Japan?
ANDY: In the planning process at the moment.



"HYPE" is my middle name.

KNAC.COM: Will you be doing any more solo albums or Briard albums? Any in the works?
ANDY: Maybe in the future. Not at the moment.

KNAC.COM: What are your thoughts on the film, The Real McCoy. Did you like the film? Did it capture your spirit? Why did they dress you up like a fly???
ANDY: I enjoyed the film. My wife trained me to act. Everyone thinks it´s all true. Some of the movie is true, but most of it is acting. As an actor I felt it did capture my spirit. This fly part came from an idea how we evolve karmically.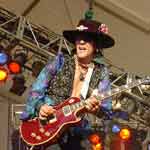 KNAC.COM: Will your new book be released in the US or in an English version? What made you decide to write a book?
ANDY: In the works at the moment, please be patient for my book publisher already wants a part two. And it will most probably be released as one book in English, Japanese, etc.

KNAC.COM: Ever talk to Anita Chellamah? Any chances of a Cherrybombz reunion????
ANDY: Would love to, but lost touch. Hope she´s OK. No Cherrybombz reunion in this lifetime.

KNAC.COM: What's your favourite guitar?
ANDY: 1958 black beauty.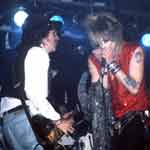 KNAC.COM: Who is your favourite guitarist?
ANDY: I love many types of guitarist. The list would be endless.

KNAC.COM: What's your favourite album?
ANDY: Higher than high by The Undisputed truth.

KNAC.COM: I hear you and Michael have an Alice Cooper tribute band. How did that come about? Any more upcoming gigs?
ANDY: I played one song, "Under My Wheels," with Mike at this Alice Cooper tribute night. It came about when Mike called. Not anymore upcoming tribute gigs at this moment.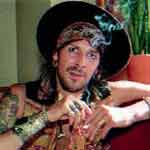 KNAC.COM: How did you hook up with Stones piano player Nicky Hopkins? Any funny stories from that?
ANDY: Nicky called me and we decided to do a tour in Scandinavia. Too many great stories to mention. R.I.P.

KNAC.COM: Hanoi jammed with Johnny Thunders a lot, was he as fucked up as legend has it or is that all hype?
ANDY: Sometimes, yes, most of it is hype. R.I.P.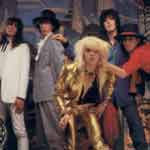 KNAC.COM: Are YOU as fucked up as legend has it or is that all hype?
ANDY: I´ve been off heroin for five years now. So "HYPE" is my middle name. I´m in great physical and mental health.

KNAC.COM: I read somewhere that years back you got together with Alice Cooper to write songs. Whatever happened with that? Are there any unreleased tapes from that?
ANDY: That's when I was still using and I was only 21 years old. So the unreleased material? Speaks for itself.

KNAC.COM: Do you still keep in touch with Iggy Pop? Did you enjoy those tours with him? Why did you guys not continue on together?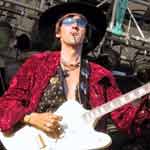 ANDY: I haven´t been in touch lately. I enjoyed working with Jim a lot. I have my own material and I would have been just Iggy's guitar player.

KNAC.COM: What plans do you have for 2002?
ANDY: Monroe & McCoy (ex Hanoi) are planning our schedule at the moment. Confirmed plans are Midem Music expo in France, where we are gonna ROCK LIKE FUCK. Please send my love to all my fans internationally. Hopefully we´ll be playing in your hometown soon.