FEAR FACTORY Live In Dublin, Ireland With Photos!


By Justin Ryan - Dublin, Ireland, Contributor
Sunday, December 27, 2015 @ 3:56 PM


| | | |
| --- | --- | --- |
| | | At The Academy Venue December 10th |
All Photos By Justin Ryan
As part of their Demanufacture twentieth anniversary European tour, FEAR FACTORY arrived into Dublin, Ireland on Thursday, the 10th of December to play the one thousand capacity Academy venue situated on Middle Abbey Street. As the band had given advance notice to fans that shows on this twenty-nine date celebratory European tour would include the ground breaking Demanufacture record being performed in its entirety, it was no surprise that tonight's show was a complete sellout in advance of concert day.
Main support on the night was provided by ONCE HUMAN who released their debut album The Life I Remember on the 4th of September, which coincidentally was the same day that IRON MAIDEN released their highly impressive The Book Of Souls album. ONCE HUMAN were founded last year by Logan Mader, whom many will remember both as MACHINE HEAD's original guitarist and as a metal record producer since 2003. Accompanying Mader on guitar, his new band consists of Australian Lauren Hart(vocals), Skyler Howren(guitar), Frenchman Damien Rainaud(bass) and Dillon Trollope(drums). It was obvious from the muted response to the start of each one of ONCE HUMAN's songs tonight that few in the crowd were familiar with their heavy metal/melodic death metal material. However, each song in turn did get a positive reception on conclusion from the audience. "I know most of you here tonight don't know our material and that's ok. However, I'd be pretty sure that most of you here recognize the man on my right hand side. [Crowd roars approvingly]. Yes, that's right, it's Logan Mader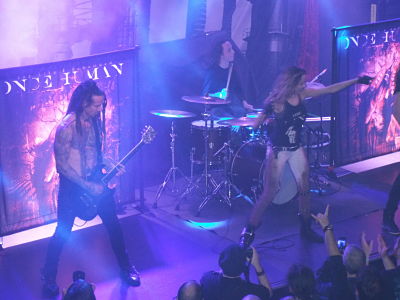 and this is a song you all know, this is "Davidian"" was diminutive singer Lauren Hart's introduction to the final song of their eight song set, a tune which turned the entire floor standing section into a scene of utter, thrashing chaos. Unlike the slightly modified version that MACHINE HEAD delivered at this venue recently on their 2014 Bloodstone & Diamonds European tour(mysteriously, they chose to play the final part of the song at a much slower tempo than on the record), the version delivered tonight was faithfully played exactly as on the Burn My Eyes album; even if Hart's Angela Gossow(ex-ARCH ENEMY)-style vocals don't really fit the song and don't compare to Robb Flynn's originals, it was still a stunning reminder of the song's adrenaline filled knock out punch.
Setlist:
"Ground Zero"
"You Cunt"
"Pick Your Poison"
"Terminal"
"The Life I Remember"
"Demoneyes"
"Time Of The Disease"
"Davidian"(MACHINE HEAD cover)
And so to the headliners. At 9:03pm, the Californian quartet took to the stage in front of a banner depicting the skyline of an industrial complex. Prowling the stage like a caged UFC fighter before taking an arched bodily position in front of his microphone stand, vocalist and a man once fittingly described as a "dry lung martyr", Burton C. Bell resembled a man about to commence battle rather than one about to perform as a professional singer. Just before his fellow musicians of Dino Cazares(guitar), Mike Heller(drums) and Tony Campos(bass) struck the initial notes to show opener, "Demanufacture", Bell roared to the swaying audience, "This is "Demanufacture"". This bellowing vocal introduction to the show indicated to all that twenty years of time has in no way diluted Bell and FEAR FACTORY's "man versus machine" themed fight as documented on Demanufacture; the sheer ferocity of Bell's vocals and the bands lazer precision delivery was utterly jaw dropping. Mixing Bell's contrasting vocal styles of death metal roars and clean melodic singing with Cazares razor sharp, no frills riffs and Heller's machine gun drumming recreated exactly Demanufacture's breathtaking sound tonight, a record which was aptly described twenty years ago as not just industrial metal, but industrial metal containing a groundbreaking, "futuristic" feel to it. Incredibly, it still sounds futuristic with the audience being musically transported into a FEAR FACTORY world of sounds as harsh, clinical and unforgiving as the industrial machines and industrial complexes that inspired those songs in the first place.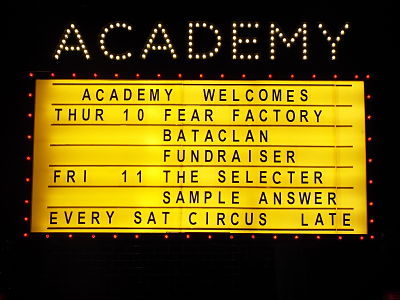 The band raged through the uptempo songs from Demanufacture in an onstage vibe of controlled chaos; the slower numbers were delivered eerily with little stage lighting. Unlike ANTHRAX, who performed Among The Living non-sequentially in its entirety in Dublin recently, FEAR FACTORY performed the album tonight in exact album running order, pausing only twice to address the ecstatic crowd. "Replica" was introduced as "one of the singles from the record" and before "New Breed", Burton chanted repeatedly at the crowd, "Dublin, you are the new breed". The use of yellow and orange lighting during "Dog Day Sunrise" was visually impressive and gave added atmosphere to the song itself. By the time "A Therapy For Pain" had concluded the Demanufacture part of tonight's set, the atmosphere created by the group in the venue was absolutely incredible. The band's delivery of the material was so tight and without fault that the performance may as well have been titled "this is how you perform an industrial/thrash metal concert". A brief pause was taken by the band before a six song, thirty minute encore was performed. Two in a row ("Shock" and "Edgecrusher") from 1998's Obsolete album were followed by three fine cuts from 2015's impressive Genexus record. Bell graciously thanked the audience for their continued support which "makes shows like this possible" before the brutal "Martyr" (including some vocals on Bell's microphone from a fan in the front row) from Soul Of A New Machine completed a hugely enjoyable gig which was, by some distance, metal gig of the year in Dublin in 2015.
Setlist:
"Demanufacture"
"Self Bias Resistor"
"Zero Signal"
"Replica"
"New Breed"
"Dog Day Sunrise"(HEAD OF DAVID cover)
"Body Hammer"
"Flashpoint"
"H-K(Hunter Killer)"
"Pisschrist"
"A Therapy For Pain"
Encore:
"Shock"
"Edgecrusher"
"Soulhacker"
"Diaelectric"
"Regenerate"
"Martyr"
Check out some more photos from the show!
All Photos By Justin Ryan




Please log in to view RANTS

If you don't have a username, click here to create an account!






BLACK LABEL SOCIETY, PRONG And OBITUARY In Portland, OR With Photos!

GEMINI SYNDROME 3rd Degree - The Raising

DORO/WARLOCK Triumph And Agony Live

BETWEEN WORLDS Between Worlds

ALCATRAZZ V

BEHEMOTH Sventevith (Storming Near the Baltic) Reissue

ALICE COOPER, ACE FREHLEY In Nashville, TN With Photos!

CARNIFEX Graveside Confessions

BLOOD RED THRONE Imperial Congregation

GUS G. Quantum Leap

BILLY IDOL The Roadside EP

AVATAR, MAGIC SWORD In Houston, TX With Photos!

APRIL WINE, MONKEYJUNK At The Ottawa Bluesfest

MINISTRY Moral Hygiene

CRYPTA Echoes Of The Soul

SKILLET In Houston, TX With Photos!

Immortal Axes: Guitars That Rock Book

IRON MAIDEN Senjutsu

GRINDER BLUES El Dos

GEORGE LYNCH Seamless Review #2

IN THIS MOMENT, BLACK VEIL BRIDES In Houston, TX With Photos!

WARLANDO Festival 2021 Photo Gallery

KISS In Ridgefield, WA With Photos!

LAURENNE/LOUHIMO The Reckoning

TREMONTI Marching In Time

ROCKLAHOMA 2021 Day 3 Photo Gallery

ROCKLAHOMA 2021 Day 2 Photo Gallery

ROCKLAHOMA 2021 Day 1 Photo Gallery

CARCASS Torn Arteries

SETH La Morsure de Christ

GEORGE LYNCH Seamless

POWERWOLF Call of The Wild

BRAINSTORM Wall of Skulls

THE BLACK CROWES, DIRTY HONEY In Ridgefield, WA With Photos!