HOLY GRAIL Times Of Pride And Peril


By Alex Yarborough, Orlando Contributor
Friday, January 29, 2016 @ 4:51 PM


| | | |
| --- | --- | --- |
| | | |
HOLY GRAIL
Times Of Pride And Peril
2016 Prosthetic Records




Pasadena, California-based HOLY GRAIL have been blurring the lines between power metal and thrash/speed metal for several years, and are set to release their third studio album, Times Of Pride And Peril, on February 12 through Prosthetic Records.

Members of WHITE WIZZARD formed HOLY GRAIL in 2008 and they exploded on the thrash revival scene with their promising debut, Crisis In Utopia in 2010. They followed that album with the excellent Ride The Void in 2013. The band's non-stop touring to promote those albums, with bands such as EXODUS, ANTHRAX, AMON AMARTH and DRAGONFORCE exposed them to quite a few new fans, myself included. Their high energy performances easily won over thrash and true metal purists.

Times Of Pride And Peril was recorded with Grammy-award winning producer John Spiker (TENACIOUS D) and more or less picks up where Ride The Void left off, with a lot of energy and a ferocity that tells me this band still knows it has something to prove. The guitars, played by Alex Lee and Eli Santana, have a slightly more compressed sound to them than on Ride The Void, but are blazing from beginning to end. Blake Mount's bass playing and Tyler Meahl's drumming are both top notch as before. James Paul Luna's vocals are given a little more attention here than on previous albums; it sounds like he is a little higher in the mix. Make no mistake, he is the star of the show, and his fantastic range and enthusiasm makes these songs come alive.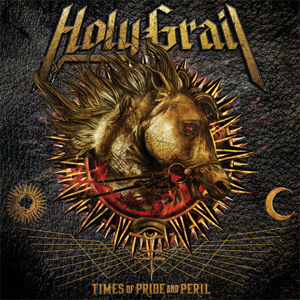 Times Of Pride And Peril is a concept album of sorts, as it chronicles the rise and fall of a kingdom. It opens with "Crystal King", a track that describes this expanding mythical kingdom. The song finds Luna singing the verses in his upper register with great effect. "Waste Them All Away", a tale of revenge, builds to a grinding gallop and features Luna wailing a battle cry in the chorus, "Waste them all away… let the war begin!" "Sudden Death" picks the pace up and rolls along with a fantastic chorus. As you get deeper into the album, some of the best tracks are found; "Those Who Will Remain", "Apotheosis" and "No More Heroes" are stellar songs. "No More Heroes" was in fact the debut single from the album. The track "Pro Patria Mori" (Latin for "Die For Your Country") tells of a sailor serving his country "through frost and fire". It is another amazing track on the album; the guitar riff is slick and the chorus is catchy. The final song, "Black Lotus" (also the longest at 9:34) is possibly the best track on the album. I can't get enough of this song. The death metal section at the end is just deadly!
Times Of Pride And Peril contains 10 tracks at around 48 minutes. This is a very solid album featuring a stylish and cryptic cover. With this album, HOLY GRAIL have produced yet another winner, which should please both thrash and traditional metal fans alike. The album will be available through Prosthetic Records in a variety of formats: CD, black vinyl, orange vinyl and sand marble vinyl. HOLY GRAIL will tour in support of MARTY FRIEDMAN in February and BLACK TUSK from February through April. It won't be long before this band is the headliner, so don't miss a fantastic live band on the rise!
4.5 Out Of 5.0
Pre-order your copy of Times Of Pride And Peril in the KNAC.COM More Store right HERE.

Please log in to view RANTS