EXMORTUS Ride Forth


By Andrew Depedro, Ottawa Corespondent
Wednesday, February 17, 2016 @ 8:57 AM


| | | |
| --- | --- | --- |
| | | |
EXMORTUS
Ride Forth
Prosthetic Records




Since forming in 2002, Whittier, California-based progressive metal quartet EXMORTUS have been a growing mainstay in their respected genre. With their eclectic fusion of progressive, death and power metal as well as some classical influences, EXMORTUS have saddled up hundredfold for their fourth recording, Ride Forth. As one would expect from the album cover, adorned with the image of sword-wielding knights on horseback charging forward from the outskirts of a pillaged city, this is an album rife with songs about moments of glory, tenacity, survival, loyalty and other topics usually associated with the first four MANOWAR albums.

Luckily, from their own beginnings, EXMORTUS keep it raw and exciting throughout Ride Forth and keep it straightforward. Opening with "Speed Of The Strike", the quartet tear shit up with the wild guitar work of Conan Moreno and David Rivera channeling each other on this number. Elsewhere, their soloing goes from technical to full-on ferocious on blisteringly rapid tracks such as "Death To Tyrants" and "Black Sails". But Ride Forth isn't just about epic tales of victory with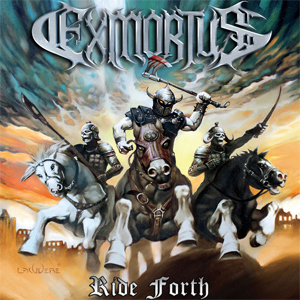 some impressive guitar solos tossed in between; the instrumental track and Beethoven cover "Appassionata" opens with some equally stellar classical guitar work from Moreno and Rivera and ends with the smooth bass work of Mike Cosio. Even "For The Horde" and "Let Us Roam" showcase their precise playing in parts and reveal a developing skill yet intricate balance between the band's ability to play both fast and melodic, which would also explain why those songs were before "Appassionata", almost as a teaser for the listener to investigate further - or ride forth, if you will - into the album's sonic journey.
At a time when most of their contemporaries in the extreme progressive metal genre have strayed off from their own path only to be too far gone afterwards, EXMORTUS have kept their trusted steed focused on the chartered course ahead. Ride Forth may exhibit lots of over-the-top horseplay but it's kept the wild stallions of EXMORTUS hungry and challenged enough to break forth from the pack. Don't expect them to be hoofing it to the glue factory any time soon.
4.5 Out Of 5.0
Grab a copy of Ride Forth in the KNAC.COM More Store right HERE.

Please log in to view RANTS