HEMLOCK, EKTOMORF In Houston, TX With Photos!


By Larry Petro, News Monkey
Wednesday, March 30, 2016 @ 11:06 AM


| | | |
| --- | --- | --- |
| | | The Groove Assault Tour Hits The Bayou City At Acadia |
All Photos By Larry Petro/Petrofyed Photography
Houston, Texas was assaulted on March 19. Assaulted as in the 2016 "Groove Assault Tour" featuring Hungarian groove metallers EKTOMORF and American thrash bashers HEMLOCK. The brutal 40-shows-in-45-days, 7 week tour was making an impressive SEVEN stops in the Lone Star State and though not my normal musical fare, KNAC.COM was there for the Houston annihilation at Acadia Bar & Grill, and in a one word description of the show, it was FUN, not normally the first descriptor that comes to mind when describing a thrash metal show.
Local act and fellow groove metal personnel (exactly what is 'groove metal' anyway?) DARKNESS OF TOMORROW was the first act to take the stage and, according to vocalist Carlos Lopez, the band had only been a complete unit for a week or two and this was their first ever live performance. Had he not mentioned that fact no one in attendence would have been the wiser, save the band's spouses and friends, because the band sounded like a veteran, tight group of musicians throughout their brief set. The band was quite impressive and Lopez's vocal delivery would make even the Cookie Monster proud.
https://www.facebook.com/darknessoftomorrow/
Next up on the list was another local act, VICIOUS CYCLE, who brought their own brand of "East Texas Swamp Metal" to the stage. This band was almost the oddball of the bunch as they were the only ones to present a clean-signing vocalist in the form of frontman Chaney Wheeler, who also serves for the most part as the band's lead guitarist. With a Duck Dynasty-style beard and a soulful, Southern voice, his versatile talents were on full display as VICIOUS CYCLE gave those in attendence a brief respite from the full-on thrash assault that was the theme of the evening.
https://www.reverbnation.com/viciouscycletx
https://www.facebook.com/vcbandtx/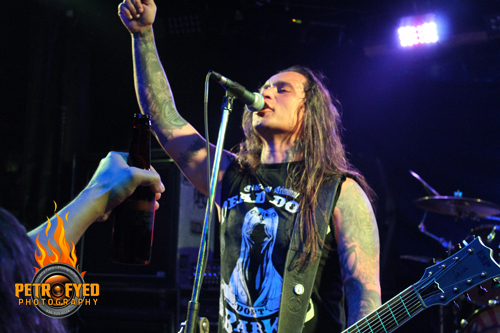 The mad Hungarians EKTOMORF then took the stage. Though the band has been around for over 20 years (1993), the "Groove Assault Tour" marked just the band's second appearance in the States! The band wasted no time, getting the thrashing started with a pair of songs from their most recent album Aggressor that was released last October, "I" and the title track "Aggressor". Led by frontman, guitarist and sole remaining original member Zoli, the band delivered a ferocious set of thrash music and growling vocals that included the first 7 tracks from the Aggressor disc if you don't count the brief intro. The band also dug deep to include some older tracks like "I Know Them" (Destroy, 2004), "Fuck You All" (Instinct, 2005) and "Outcast", from the 2006 album of the same name. A great performance from these Europeans and let's hope they make their way back to the U.S. soon.
Finally it was time for headliners HEMLOCK. The band consists of brothers Chad Smith (vocals/bass), who booked the entire tour himself and also serves as tour manager, chief cook and bottle washer, among other duties, Brian Smith (drums) and guitarists, relative newcomers James Gelber and Jezy Ward. The band hails from Las Vegas and has also been around since 1993. Chad was the first person I ran into when arriving at the club and I have to say, the guy exudes happiness. For him, the band and its shows are all about having fun, and a load of fun is what they delivered! Though apparently classified as thrash, the band definitely has elements of melodic rock in their music and clean singing backup vocalist Ward provided a nice contrast to Smith's intense growling. Because the band has eight albums to choose from they try and change up their setlist every night. Some songs though, as you might imagine, are played every night and they included most of the video-made tracks like "Revolution", "No Money No Love", "Where Angels Fear To Tread" and "Mouth Of The Swine". The pure enjoyment on the band's faces, particularly Chad's, was never in question throughout the evening, with Smith urging the crowd to applaud themsleves at least a half dozen times during their set.
HEMLOCK spends the better part of a year (around 8 months) on the road and has played alongside numerous big name acts such as SLAYER, SLIPKNOT, DISTURBED, LAMB OF GOD and MACHINE HEAD. In fact, following the conclusion of this tour the band will head out once again with DEVILDRIVER, HOLY GRAIL and INCITE, then hooking back up with EKTOMORF in the Fall for a European run, so you'll have multiple chances to catch these guys in concert and I strongly encourage you to do so! After all, metal should be fun and HEMLOCK serves it up in spades!
Remaining "Groove Assault Tour" Dates:
3.30 - Tuba City AZ at Legacy Inn
3.31 - Flagstaff,AZ at The Green Room
4.1 - Grand Junction,CO at The Mesa Theater
4.2 - Salt Lake City,UT at The Royal
4.3 - Idaho Falls,ID at The Falls Venue
4.4 - Butte,MT at The Times
4.5 - Bozeman,MT at The Eagle's Ballroom
4.6 - Billings,MT at The Railyard
4.7 - Missoula,MT at The Darkhorse
4.8 - Great Falls,MT at The Hideout
4.9 - Sheridan,WY at My Buddy's Place Bar
4.10 - Casper,WY at the Black Gold Grille
4.11 - Riverton,WY at Odd Fellows Hall
4.12 - Cheyenne Wy at Redwood Lounge
4.14 - Denver,CO at The Roxy Theater
4.15 - Colorado Springs,CO at Sunshine Studios
4.16 - Scottsbluff,NE at the Oregon Trail Lounge
4.17 - Piedmont,SD at Elk Creek Steakhouse
4.18 - Sioux Falls, SD at Bigs Bar
4.19 - Fargo,ND at the Nestor Tavern
4.20 - Deerwood MN, at Deerwood Auditorium
4.21 - Sioux City,IA at The Chesterfield
4.22 - Omaha,NE at The Lookout Lounge
4.23 - Des Moines,IA at Lefty's
HEMLOCK With DEVILDRIVER, HOLY GRAIL, INCITE
4.27 - Las Vegas, NV @ Vinyl
4.28 - Reno NV $ PB&Js **HEMLOCK only**
4.29 - Boise, ID @ Knitting Factory
4.30 - Seattle, WA @ Studio Seven
5.1 - Spokane, WA @ Knitting Factory
5.3 - Grand Junction, CO @ Mesa Theatre
5.5 - Kansas City, MO @ Riot Room
5.6 - Milwaukee, WI @ The Rave
5.7 - Flint, MI @ Machine Shop
5.9 - Cincinnati, OH @ Bogarts
5.10 - Nashville, TN @ Exit/IN
5.11 - Grand Rapids, MI @ The Stache
5.13 - Steger IL at Steger VFW **HEMLOCK only
6.11 - Battle Creek MI @ Music Factory **HEMLOCK only.
6.13 - Columbus, OH @ Park Street Saloon
6.14 - St. Louis, MO @ Fubar
6.15 - OKlahoma City OK.**HEMLOCK only**
6.16 - Albuquerque, NM @ Sunshine Theater
6.17 - Window Rock, AZ @ Window Rock Sports Center
6.18 - San Diego, CA @ Brick By Brick
6.25 - Livermore CA at Pine Street Tavern **HEMLOCK only**
6.30 - Ft Duchesne UT at Native Voltage **HEMLOCK only**
Check out some more photos from the show!
All Photos By Larry Petro/Petrofyed Photography




Please log in to view RANTS

If you don't have a username, click here to create an account!